Government through the Ministry of Agriculture, Animal Industry and Fisheries has began operations to harvest the remaining weeds /suds that have recently posed a risk to the Nalubale hydro power dam.
On Tuesday, Hellen Adoa, the State Minister for Agriculture along with other officials officiated at the launch of the exercise.
Recent rises in water levels on Lake Victoria have resulted into an increase in the magnitude of floating weeds; some in form of floating islands and commonly referred to as suds.
This has affected Nalubale hydropower dam, some bridges and landing site infrastructure in different parts of the country. Over a week ago, one of the suds (12-acre wide) caused a national power outage causing disruption across the country.
Minister Adoa told reporters that the Ministry has put in place an operational plan linked to the national intervention plans, to control the floating islands on the respective water bodies.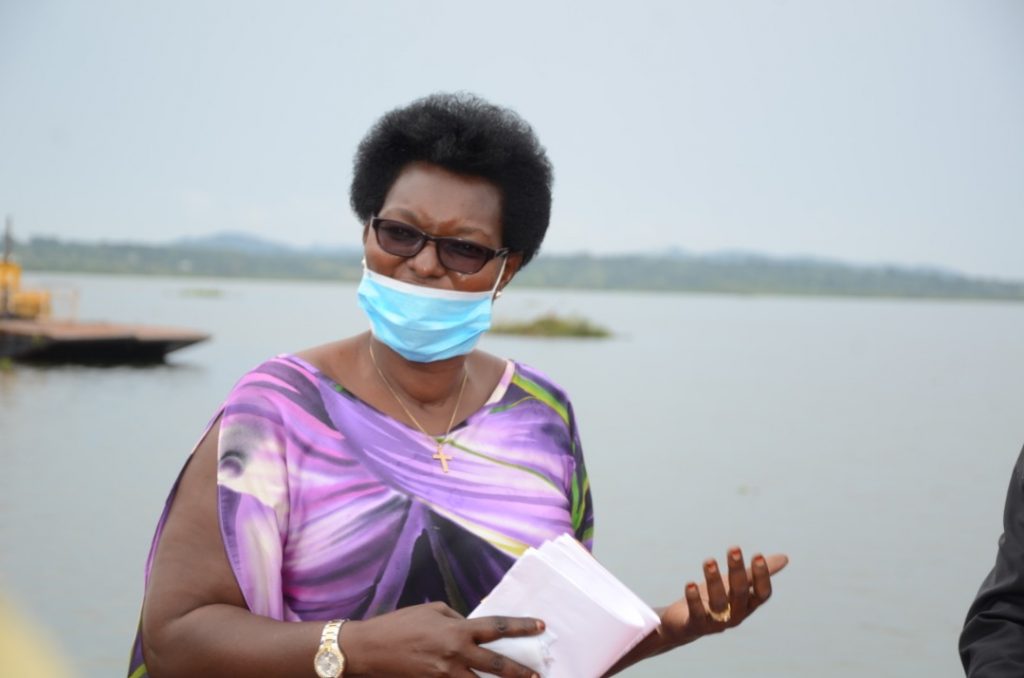 A multi-sectoral team led by Agriculture has been instituted to carry out Sud Control Activities at Portbell and downstream Nalubale dam (Masese area).
The team consists of; Ministry of Works and Transport; Ministry of Water and Environment; Ministry of Energy; Ministry of Defense; Ministry of Internal Affairs; Eskom (U) Ltd and National Agricultural Research Organization (NARO).
Currently, there are about 100 hectares of floating weeds in Portbell and 10 hectares of floating weeds in Jinja all being worked on mechanically. 
There are also other problem areas where many floating islands are roaming and these include Bunjako Bay (Mpigi/Kalungu), Sango Bay and River Kagera (Kyotera), and Fielding and Thruston Bays (Jinja/Mayuga). This poses a threat of reinfection to the dam.
Equipment has been deployed at the Nalubale Dam including 2 Long Arm Excavator – 17 m long, 3 two tons Dump Trucks, 2 self-loading trucks, 1 Barge, 1 Fisheries Research Vessel and a ferry from Ministry of Works and Transport to harvest any remains of weeds/suds for the safety of Nalubale dam. 
At Port Bell, equipment has also been deployed. This included 2 barges, a harvester, a ferry, 2 excavators and 2 self-loading trucks, and a ferry from Ministry of Works and Transport.
"The objective is to harvest existing weed masses so as to avert a threat in case of floating weeds escaping to the dam or moving to landing sites. So far about 30hectares of weed have been harvested at the dam," the Minister said.
Government has employed surveillance using 4 drone based imagery surveys in Murchison Bay (port bell) and one in Jinja area, to closely monitor the floating islands movements and guide machine deployment to right targets.
The Minister however noted that a bigger challenge still lies ahead on Lake Kyoga which is already affected with many heavy floating weed mats including the Kariba weed.
She revealed that the Ministry is working with other stakeholders to undertake surveillance and monitoring on Lake Kyoga to ascertain the current abundance and distribution of weed mats with the aim of unblocking and dredging the lake in the near future.
The equipment on Lake Kyoga (that is at the Kokooge and Moone landing sites) is to be fully maintained and operationalized to harvest the suds as was the case in the blockage that was experienced between 1998 and 2000.
On the impact of rising water levels on state of fisheries in the country, the Minister said it is affecting fishing industries, fishermen and processing because the levels are ever rising and it could be fatal.
"Those who built around the wetlands are suffering. Crop husbandry is not yielding much….. Among the floating islands are gardens of yams, banana plantations," she said.