The Association that brings together tour operators in Uganda has in collaboration with Europe-based sustainability company, Tourcert, launched a project that seeks to promote environmental friendly tourism products in Uganda.
To implement the project, the Association of Uganda Tour Operators (AUTO) will also partner with Kenya's Sustainable Travel & Tourism Agenda (STTA)
The "Tourism Excellence Uganda" project was launched Monday at Skyz Hotel in Naguru, at an event attended by various stakeholders in the tourism industry.
Partnering organizations will be implementing specific further training on sustainability practices. The sponsored training will target AUTO's over 300 member companies to inspire them towards responsible tourism business practices.
This project is supported by the Austrian Development Agency (ADA) and it initially included a train-the-trainer programme which enables AUTO to accompany tour operators on their journey to sustainable economic development in the future.
A brief by AUTO indicates that during implementation, focus will be placed on whether Ugandan businesses in the service industry serve locally produced foods.
The project will also assess the extent to which resorts avoid waste and dispose of it in an environmentally sustainable manner. The other indicator will be whether tour operators in Uganda are considerate about natural resources when designing a tourism product, e.g. in terms of water and energy supplies, nature conservation, and protection of species.
Partners will also seek to establish how much carbon dioxide a single customer emits on the way to and from the different tourist attractions, and whether there is any offsetting scheme in place.
Speaking at the launch, the Chief Executive Officer of the Uganda Tourism Board (UTB), Lilly Ajarova who was the Chief Guest, congratulated AUTO for leading this initiative and affirmed Government's commitment and support.
"Tourism is one of the pillar sectors of Uganda's economy. It can and must play a key role in delivering sustainable solutions for our country, our environment and people," said Ajarova.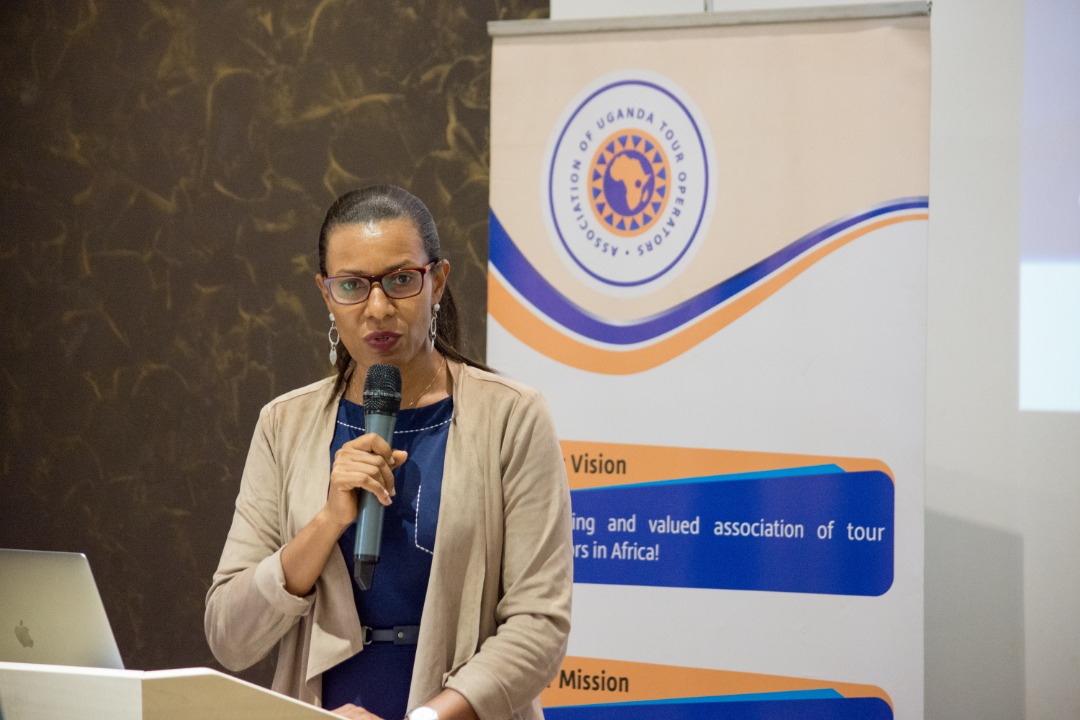 The Board Treasurer of AUTO Charlotte Kamugisha in her remarks mentioned that the Tourism Excellence Uganda project will help in influencing a positive shift and equip the association's members with the adequate skills to run their businesses in the most responsible way, in respect of the environment and the communities that live therein.
Gloria Tumwesigye the CEO of the country's tour operators' umbrella, passionately called upon tourism stakeholders to rethink the tourism they develop.
"The tourism we practice should be about making better places for people to live in and better places for people to visit, and this is the form of tourism we must all advocate for today; whether as tourism associations, tour operators, hoteliers, governments, civil society, local people and tourists. We must take responsibility and take action to make tourism more sustainable," Tumwesigye said.
Marco Giraldo the Tourcert CEO told stakeholders at the launch that since tour operators work with a large number of different partners including hotels, incoming agencies, tour guides who provide various partial services, they have a decisive influence on the quality of the country's tourism product.
"We believe that you, safari companies, have a strong role to play in ensuring that the service providers you work with promote responsible tourism so that future generations can also enjoy and discover our planet".
Judy Kepher-Gona of STTA encouraged tour companies to demand a lot from themselves and search for financially viable ways of operating their individual businesses, that are environmentally sustainable and socially correct.
"We must be in a continuous dialogue with our partners and customers to continuously improve our services, reduce our negative impacts on the natural environment and improve the lives of host communities".
Uganda is known for its beautiful nature, its unique flora and fauna and the wealth of its cultural heritage making it a very attractive tourist destination. In order to put tourism on a sustainable path that strengthens local value addition and preserves natural resources and ethnic heritage, the country must focus on sustainable tourism development.
As the United Nations 17 Sustainable Development Goals (SDGs) and the corresponding 169 SDG targets offer the world a new direction, tourism as an economic powerhouse has the potential to contribute, directly or indirectly to specific goals like ending extreme poverty, fighting inequality and injustice, and fixing climate change.