The Uganda Cancer Institute at Mulago hospital has Thursday commissioned the Bhabhatron II radiotherapy cancer treatment machine that was donated to Uganda by the government of India.
The machine was part of the numerous commitments made by Indian Prime Minister, Narendra Modi during his visit to Uganda in July of 2018.
Modi announced that India would donate a Bhabhatron Cancer Therapy machine to assist Uganda's efforts towards eradicating the malaise of cancer.
President Yoweri Museveni said at the time that the availability of the machine would reduce the number of Ugandans who travel abroad for cancer treatment.
"You know what this means, most of our people travel to India for treatment and this proposal can help us reduce the number of people travelling out for treatment," said Museveni in 2018.
This is the second radiotherapy machine that uses Cobalt 60 at the Uganda Cancer Institute. It uses Cobalt 60 as its source of radiation and was installed by a team from India.
On Thursday, the newly installed machine was commissioned by Uganda's Minister of Foreign Affairs at an event also graced by H. E Ravi Shankar, the High Commissioner of India to Uganda.
Cobalt 60 radioisotope based Bhabhatron II is a highly advanced digital teletherapy unit with features like Record and Verify interface and DICOM compatibility which not only makes the system paperless but also ensures seamless connection between the simulator, treatment planning system and Bhabhatron II.
High end features like asymmetric collimator, motorised wedge and 6-hour battery backup combined with the sophisticated interlocks and indexed carbon fibre couch ensures accurate treatment delivery without compromising the safety of patients and the end user. 
It has cutting edge technology, and unparalleled patient safety. Due to how fast and efficient the Bhabhatron II is, it will allow the Cancer Institute to treat more Cancer patients in a day as compared to before.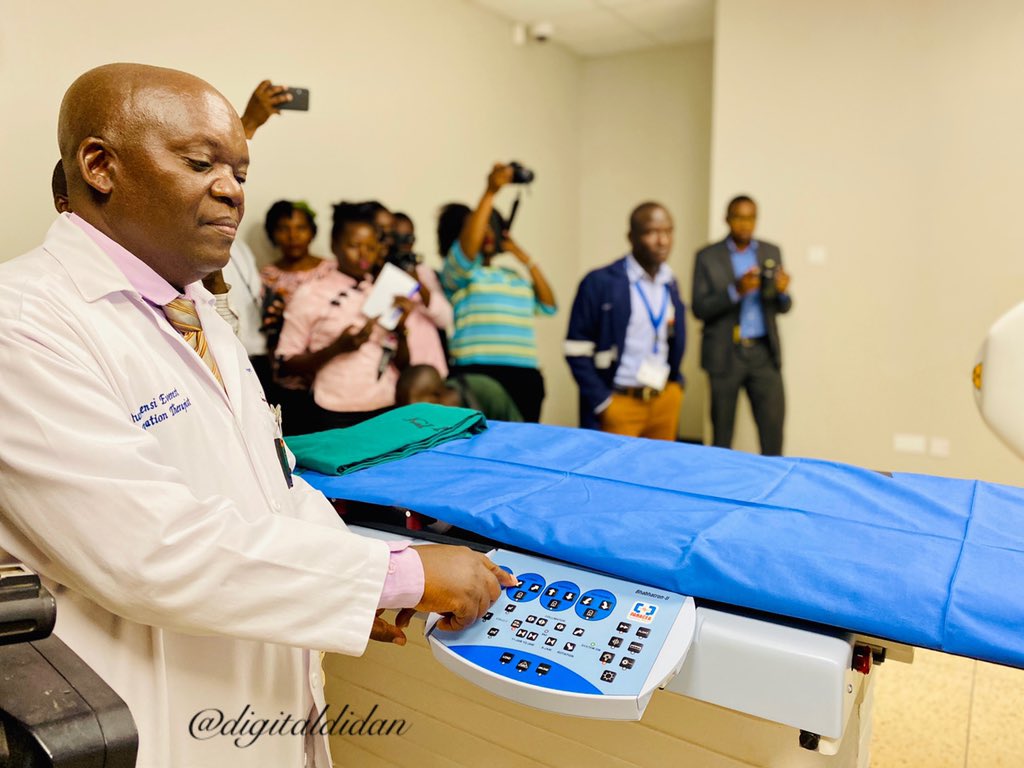 The Indian High Commissioner to Uganda said:  "The radiotherapy machine is not just a gift from India to Uganda but it's a gift of life from the Government of India to Uganda".
"We have provided support to over 10 other countries with such machines in Cancer fight. In recent years we have contributed Cancer drugs amounting to over $1M and we expect that we will continue to do this in the future," H.E Ravi Shankar said.
The cancer machine will supplement the available ultra modern machine Cobalt 60 teletherapy unit, for radiotherapy treatment against cancer.
Minister Sam Kutesa said Uganda is privileged to increase its capacity to fight cancer with this donation from India. He said Uganda and India enjoy a vibrantly warm relationship and encouraged more Indian investors to the health sector.
Akisophel Kisolo, the Secretary General of the Uganda Atomic Energy Council gave assurance that tests have been conducted to ensure that the machine is in good condition and of a good quality to be good for use.
Prior to the machine arriving in Uganda, a special group of doctors and technicians was sent to India to get training on how to use the machine and address all technical problems that may arise.
State Minister of Health, Robinah Nabanjja said availability of cancer medicine is now at 90%.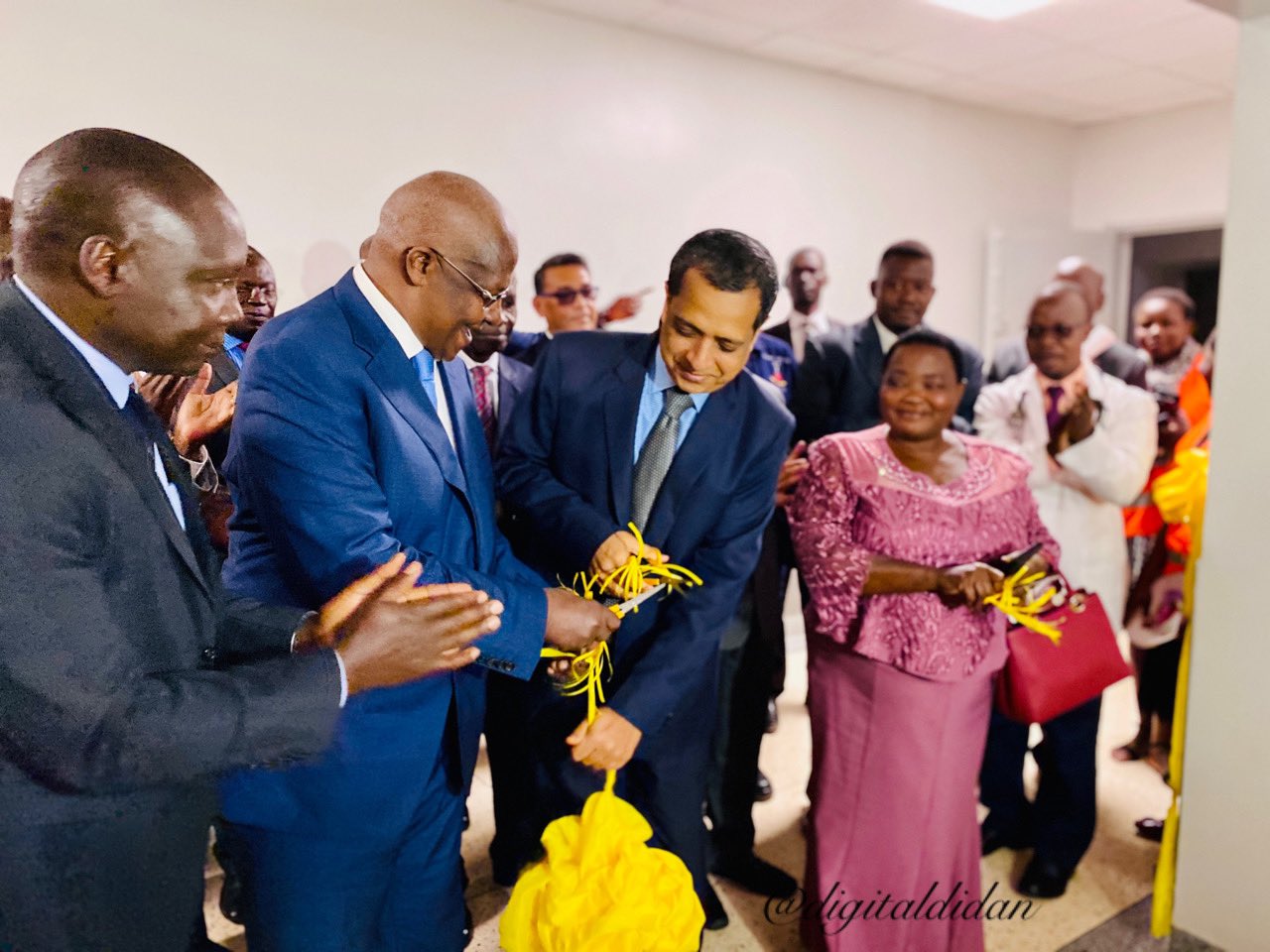 In 2018, an Indian based charity, Samta Memorial Foundation donated a mobile mammography unit to the Uganda Cancer Institute (UCI) of Mulago hospital to support the diagnosis and early detection of cancers that affect women.
The bus houses a mammography machine and other components used for carrying out tests for cervical and breast cancer.
Following the breakdown of the old radiotherapy cancer machine, Uganda stopped offering radiotherapy services for 2 years, referring patients for treatment to Kenya. Another machine was later procured and installed.
Another machine, a linear accelerator, is expected shortly according to the Uganda Cancer Institute. 
This machine will be the first of its kind in East, Central and South Africa.
In 2018, UCI revealed that the number of new cancer cases registered annually shot up by 500, rising from 4,000 in 2016 to 4,500 in 2017. The cancer institute treats about 48,500 patients, with 75 percent of them receiving radiotherapy treatment.
The incidence of cancer in Uganda has more than doubled over the last 10 years. Out of 100,000 Ugandans, 320 are new cancer patients while mortality rate stands at 80 people per 100 cancer cases in a year's period.
Cancer is the second leading cause after cardiovascular diseases, and it accounted for 8.2 million deaths in 2012, according to World Health Organization. Radiotherapy is said to contribute significantly to treatment for its cost effectiveness.