At just about 5 feet away from where we stood gazing and wondering what this creature was doing, an adult chimpanzee lay on its back with arms and legs spread apart. And it maintained this posture for over 15 minutes really un-bothered that a group of humans were very close to it. From its exposed genitalia, you can tell it's a male.
Sometimes, he closed his eyes for about a minute, as if catching an afternoon nap. Then he occasionally stared at us. It was a very surreal moment for me to take in, and I can bet the same was true for others in the group too. I couldn't help but marvel at this view. I remember capturing shots of numerous positions of this chimp from different angles. It wasn't only the first time I was seeing a live chimpanzee. It was also the first time I chanced at being in such a close range.
This very scenario had opened my eyes to the unpredictable possibilities you will encounter while tracking chimpanzees in their natural habitat – Kibale forest national park, 358 kilometers West of Uganda's capital Kampala. Chimpanzees – another one of the hundreds of diverse and rare animal species that Uganda's wild has to offer, another reason Uganda is the Pearl of Africa. Whereas some people have had an opportunity to visit Ngamba island on Lake Victoria which is home to about 50 chimpanzees, but to find them at their best freedom, uncaged and roaming the forest, playing, fighting and making noises, is an incomparable adventure anyone should live to have.
"His name is Efuuzi which means orphan," Alex, our tour guide tells us referencing the chimp lying on the leafy surface of the forest. "It was taken care of by the other big males," he added.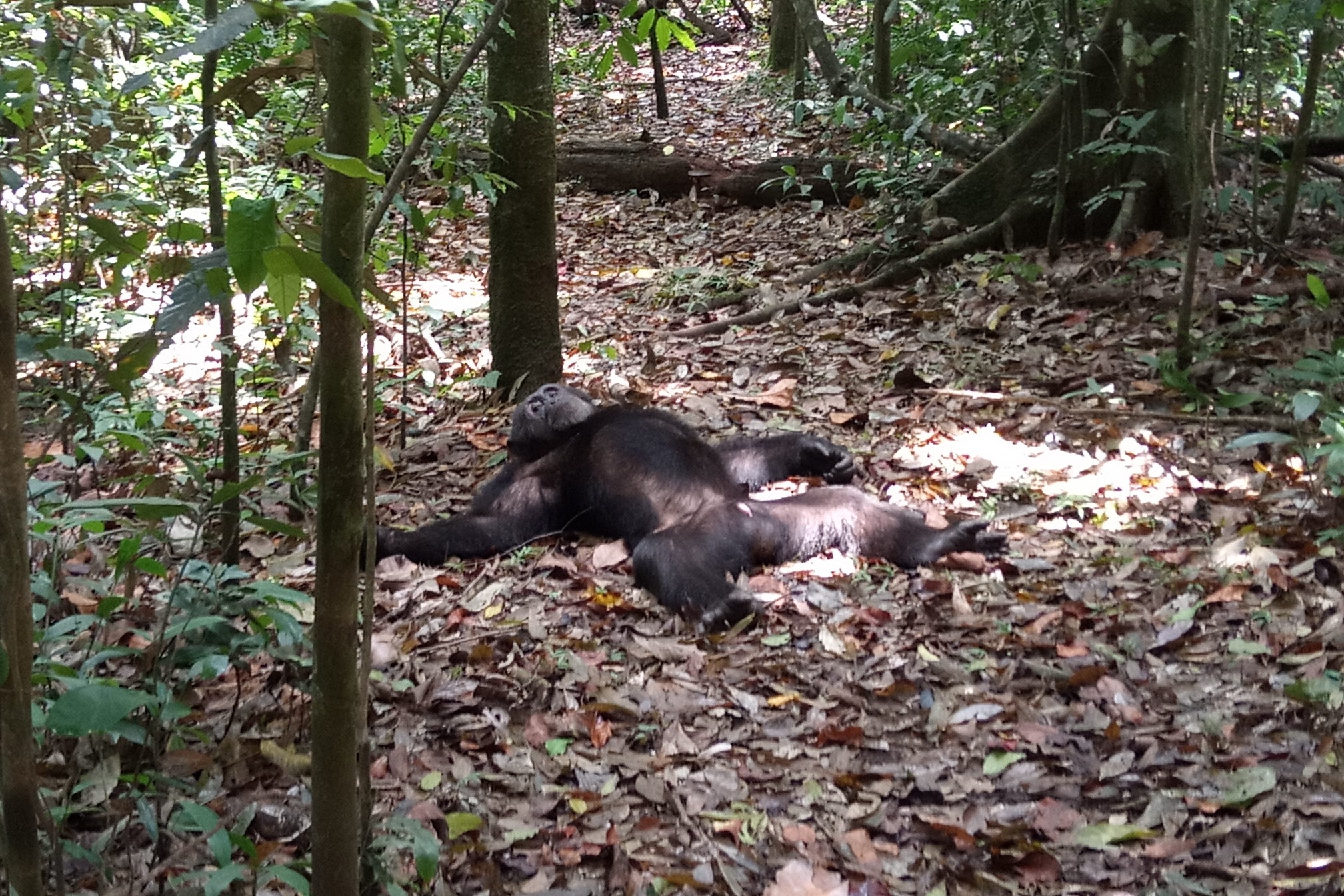 Efuuzi, aged 27 to 28, has been the alpha male for two years. The chimpanzee community he heads is called Kanyantare community. As is the case with the other primates like gorillas in the wild, chimpanzees are organized in groups or families and there is always a leader – a male. He is the dominant member and the rest pay allegiance to him.
These primates stay in groups that occupy specific home ranges. The forest in Kibale is home to about 13 to 15 communities of chimpanzees but not all of them have been habituated – they are not used to human presence.
Kanyantare, the community that Efuuzi heads has 120 members.
He was our second chimpanzee sighting on our track on a sunny afternoon after we set off from Kanyanchu where the Kibale national park headquarters are situated. We had arrived there at around 10:30am as a group of about 30 local journalists.
The headquarters run all the daily operations of the national park and handle all the bookings made by tourists. There, you will undergo registration detailing your names and country of origin as well as what activity you are interested in within the park. If you care to carry with you memorabilia and souvenirs, which is ideal for a traveler, there is a gift shop with a range of items; locally crafted handiwork, wooden replicas of chimps and much more. The walls outside the main building bear every important information relating to the national park, the different species as well as statistics and trends.  From time to time, safari cars arrived with tourists, majority being foreign.
At the centre, Godfrey Baryesima, the Head Warden of the park told us the tropical forest which measures 795 square kilometers is home to 250 species of butterflies, 71 species of mammals and 21 species of reptiles.
It is important to grasp the instructions on the DOs and DONTs given during the briefing, lest, your experience could suddenly turn nasty. For example, you'll be allowed to move with your cameras in the forest, but the use of flash photography is prohibited as it scares the chimps.
"You are not supposed to mimic their vocalizations, you may mimic an aggression call," the warden added.
It is then that we also learnt that it is not advisable to eat anything in the presence of the chimps except for water which has no scent. We were told they have a great appetite so chances are, if you are eating something that is attractive to them, a chimp could attack you and grab whatever it is you're eating. Even worse when a family of them comes scampering for whatever it is you are holding. In the forest, you must keep a distance from the primate but stick together as a group.
"If you isolate yourself, they often think you intend to capture the young one. So, the males will attack you," Baryesima tells us. It is a position you don't want to be in. Why? The body mass of a chimp alpha male is equal to that of 3 humans (adult males). What are the odds you will survive the fight?
Tracking of the chimps in the forest takes 2 to 3 hours and Kibale being a tropical rain forest, it could pour down when you least expect it. Carry a rain jacket for such an eventuality. Do wear tracking boots, clothes whose colors are not bright and it is very important to have trousers on, not shorts. Then tuck the trousers in your long socks. Soon, you will understand how I personally learned the hard way.
It is midday when the briefing ends. When we set off for the forest, the sun has emerged and it is beginning to get warm after a morning drizzle. Each park ranger/guide, armed with a rifle, accompanies a group of 6 tourists.
We are driven on our minibus and in about 20 minutes, we branch off from the tarmac to a dirty road. Soon, the bus makes a stop over at a homestead where we disembark for the trek. In the compound, about five baboons loitered around in an apparent search for what to eat, caring less about the humans with whom they shared the compound.
Another, though strange, of the many settings that you will interact with baboons while in Kibale. I can guarantee as you drive on the main tarmac road, you will spot these primates by the roadside. The hint that is hard to ignore in these creatures' domineering presence is 'This is our home. In us you'll find an accomodative community'.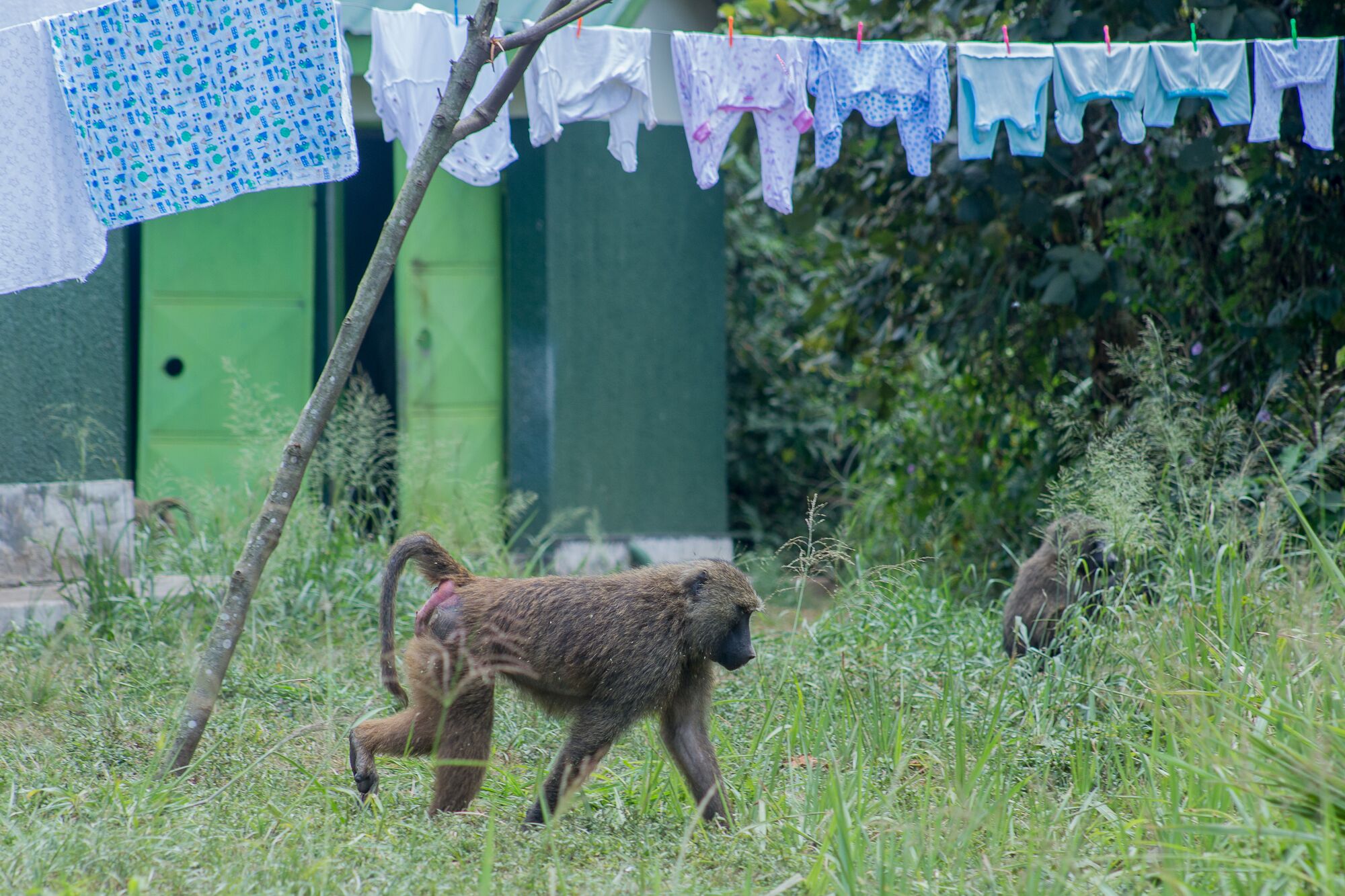 We make a 30-minute trek before entering the forest. The earth is wet and covered with leaves, you have to be mindful where you land your foot. This is because occasionally, you walk over decomposed logs, broken branches and roots. There's a lot to stumble on. It is a moment that requires each of your senses to be cautious. The hands are as critical as the feet as you'll constantly need to move plants out of the way.
Largely, it is the tall and thin trees that make up the vegetation, but you will sometimes come across very tall and large tree species that have stood in this jungle for decades. These include the fig tree from which the chimpanzees feed. In total, there are 350 species of trees in Kibale national park.
As we trek on, twice we come across elephant and chimp poop. These are important sightings – they communicate a presence, although only time can tell when you will make the actual discovery.
On an expedition of this nature, the two senses of hearing and seeing must equally be alive. Spotting fresh poop or hearing pant-hooting (sounds made by excited chimps) for example can be a signal that the primates are in the vicinity. The deeper we get into this natural forest, hearing insect and bird sounds becomes inevitable. A reminder that this is not just a haven for chimpanzees but a place where diversity and nature come in handy.
Our first sighting, 50 minutes into our trek is a red-tailed monkey sitting on a tree branch. We would have missed it had it not been for our very observant guide, Alex. It is among the 13 species of primates that the national park is home to. The list includes olive baboons, black and white colobus monkeys, red colobus monkeys, blue monkeys, vervet monkeys and Uganda mangabey. All these primates are diurnal (active during the day) except four – Thomas Galago, Eastern/elegant needle clawed galago, demidoff's galago and potos which are nocturnals.
About 5 minutes later, we encounter the first chimpanzee – a female which gave birth about 3 weeks ago. The closer we get, the more of these primates we notice. We are lucky a whole family of them is on the ground, our guide says in what comes out as a boost of our spirits. This is the spot where we encounter Efuuzi and his Kanyatare community.
When he later ends his nap and joins the rest, we hear them make chants. According to our guide, those particular chants are of female chimps welcoming the alpha male. A young chimp walks past Efuuzi and makes a gesture that we come to learn is a show of respect to authority. There, it dawns on you – the privileges of heading a chimp family are not so different from what the case is among humans.
There is too much activity in a space of about 20 minutes we have been in these primate's locale. It is hard to predict what could happen next. Another group (about 12 of them) including an adult female carrying a baby wanders off to an opposite direction from Efuuzi's family. Occasionally, some sit and cross their arms and scratch their bodies. At times, it appears they are meditating. No hostility toward us thus far. A group of six foreign tourists who joined us moments ago have been taking photos all the time. For them, this is a dream come true. It's time to savor the moment they have awaited for weeks, months, years or even a lifetime.
Enyanja, an adult male in his late 40s is one of the oldest in the forest. He escorts the group that also includes Tintina (fearless), Bwana, and Tabu (problem), a survivor who almost lost his left hand to a wire snare used by poachers to trap and kill wild animals. They (group) suddenly respond to calls from their peers down the slope and dash off.
Either they had not seen their colleagues since morning, so the reaction is out of excitement, our guide tell us.
The thin trees which dominate the forest allow plenty of light through the canopy, making it easy to see as far as 50 meters from where you stand. The beauty with that is, there is little room for surprises.
Our exhilarating encounter – over a dozen chimps in a space of just about 30 minutes – only confirmed what the park warden had said to us earlier. That; "We (Kibale) are known as the primate capital of world because we have the highest concentration of primates".
Put in quantifiable terms, Kibale alone has over 1,450 chimpanzees out of the 5,000 chimps estimated to be in Uganda, but the park warden projects that this population (in Kibale) could have exceeded 2,000 following a recent survey whose findings are not yet public. The chimpanzees we had sighted so far are part of the five communities that have been habituated. Habituation means that the primates have undergone a gradual process of familiarizing them with human presence, to a point where they get used to tourists.
Also in the vast forest are three centres – Ngongo and Kanyawara which coordinate research studies on chimps on a global scale. The third one is in Sebitori, an area where park authorities plan to introduce a canopy walk to add some adrenaline rush type of experience to the adventure. Picture yourself walking say 60 metres over a forest for say 300 metres on a rope bridge. Incredible.
Following the footsteps of our armed guides, we tracked the primates, sometimes going down and up steep slopes. The guides who are scattered across the habitat keep in constant communication with each other using walkie-talkies, sharing updates on where the chimps are.
Later on, the numerous groups of chimpanzees that had been wandering on the ground have scaled the trees. We are told chants they responded to moments ago were an invitation from their peers to join them for a food discovery. For us, it is also a perfect moment to take a breather.
And it is then that it dawns on me that wearing shorts was a terrible idea. But it is a little too late. My legs are itching and I am feeling very uneasy, constantly scratching them. In a forest with plants of different kinds, the itchy feeling could have been triggered by anything. Ants that crisscross the footpaths in the forest are everything to worry about too. You constantly have to check where you are standing, lest you get bitten.
Our group rests just at the foot of the trees on whose leaves the primates are now feeding. There, we sat on a huge lifeless log, hearing the vocalizations of the chimps as they swung from branch to branch. A young one is seen wrapping its palm tightly around a branch while it uses the other hand to pluck leaves. Moments ago, it was riding on the mother's back, but in a matter of seconds, it has let go of the comfort in order to fend for itself. While chimp traits are often associated with those of humans, in Kibale, you will learn that their survival instincts are quite advanced. That particular baby chimp had left me pondering for a moment.
Soon enough, we realize their lunch break could stretch on for longer than we anticipated. Typical of the unpredictability that goes with chimp tracking. It is an adventure full of surprises. Some (tourists) will be unlucky to find the primates, others will walk lengthy distances before spotting them and sometimes, they (chimps) will have a bad mood which affects the way they interact with you. It's a gamble!
On our way back to the park headquarters, we meet about 6 other groups (all whites) who are hoping to sight the chimps. On average, 50 people track the chimpanzees in Kibale national park. Foreigners part with USD 150 (Shs 570,000) which translates into Shs 28.5m daily revenue earned by the park, only for chimp tracking.
Visitors to the park have been growing since 1993 when Kibale was gazetted as a park. Today, it receives 18,000 annual visitors. Many of these (about 90 percent) are foreigners. Over the last three years, USA has been the leading source market for these tourists followed by Germany, U.K, Netherlands, Uganda and Belgium. In financial year 2017/18, a total of 2,859 visitors came from USA, Germany (2,651), UK (1,671), Netherlands (1,746) and Uganda (1,451).
The percentage of visitors who visit the park with particular interest in tracking chimpanzees has grown from 31 percent in 2015/16 to 43 percent in 2016/17 and 51 percent in 2017/18.
On a long retreat to our starting point, despite the fact that the guide constantly gives you false hope on how much more distance there is to cover, the feeling that comes with walking in a natural forest while listening to all sorts of natural sounds is as satisfying as the primates you interacted with. It is a realization that the comfort we consider the buzzing urban lifestyle to be remains incomplete until you step out and explore nature in its rawness.