While the much anticipated one-day UN Climate Action summit in New York concluded Monday with a torrent of new announcements, it is one highlight that stood out – a passionate scolding towards world leaders by 16-year-old climate change activist, Greta Thunberg.
The teenager who has developed an international following for her persistent efforts to get the international community to combat climate change, criticized world leaders for not doing enough to reverse the climate change trend.
"You have stolen my dreams and my childhood with your empty words. And yet I'm one of the lucky ones. People are suffering. People are dying," Thunberg said.
"Entire ecosystems are collapsing. We are in the beginning of a mass extinction. And all you can talk about is money and fairy tales of eternal economic growth. How dare you!"
This is all wrong. I shouldn't be standing here. I should be back in school on the other side of the ocean. Yet you all come to me for hope? How dare you!
She said that whereas for more than 30 years, science has been "crystal clear" on the climate threat the earth faces, political leaders and other polluters continue "to look away, and come here saying that you are doing enough, when the politics and solutions needed are still nowhere in sight".
"With today's emissions levels, our remaining CO2 budget will be gone in less than 8.5 years. You say you hear us and that you understand the urgency. But no matter how sad and angry I am, I don't want to believe that. Because if you fully understood the situation and still kept on failing to act, then you would be evil. And I refuse to believe that".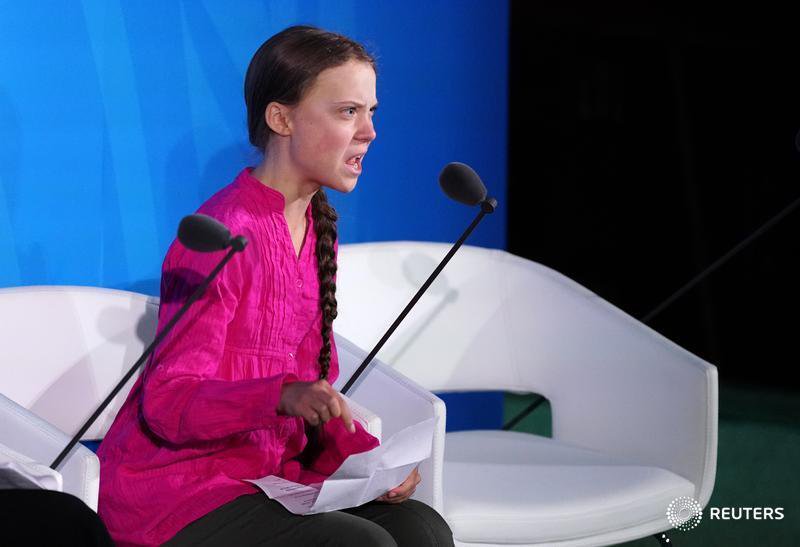 She added that the popular idea of cutting our emissions in half in 10 years only gives the earth a 50% chance of staying below 1.5C degrees, and the risk of setting off irreversible chain reactions beyond human control.
"Maybe 50% is acceptable to you. But those numbers don't include tipping points, most feedback loops, additional warming hidden by toxic air pollution or the aspects of justice and equity," the teenage who could not control her emotions as she spoke said.
"A 50% risk is simply not acceptable to us – we who have to live with the consequences".
Citing figures by the Intergovernmental Panel on Climate Change, Thunberg said to have a 67% chance of staying below a 1.5C global temperature rise, the world had 420 gigatonnes of carbon dioxide left to emit back on 1 January 2018.
But this figure is already down to less than 350 gigatonnes, she said.
"How dare you pretend that this can be solved with business-as-usual and some technical solutions. With today's emissions levels, that remaining CO2 budget will be entirely gone in less than eight and a half years".
The Swedish activist said these numbers are "too uncomfortable" yet decision makers "are still not mature enough to tell it like it is".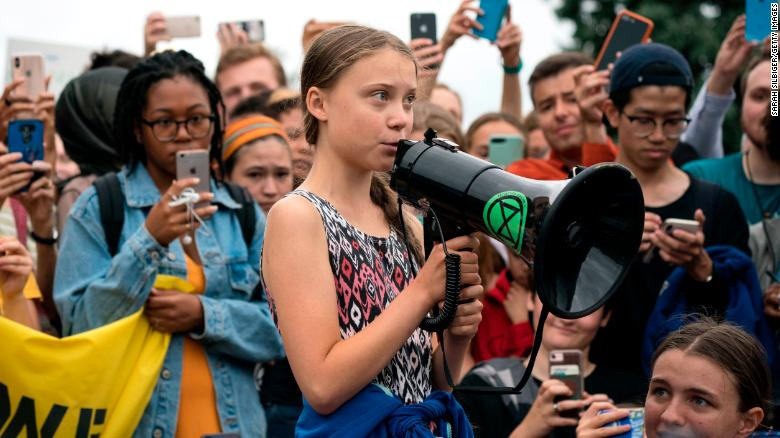 She then warned that the "betrayed" young generation would not forgive those in power for their inaction.
"You are failing us. But the young people are starting to understand your betrayal. The eyes of all future generations are upon you. And if you choose to fail us I say we will never forgive you".
"We will not let you get away with this. Right here, right now is where we draw the line. The world is waking up. And change is coming, whether you like it or not".

What else happened?
Commitments were made by 66 countries, 93 companies and more than 100 cities to reach net-zero carbon emissions by 2050.
Germany and Slovakia were among those to join an alliance to halt the construction of coal plants; in total 32 countries are members.
Also, companies and industry groups announced measures to reduce emissions from shipping, buildings and more.
Indian Prime Minister, Narendra Modi, set a new 450-gigawatt target for renewable energy capacity by 2030, more than five times the current level. Guterres highlighted its successes.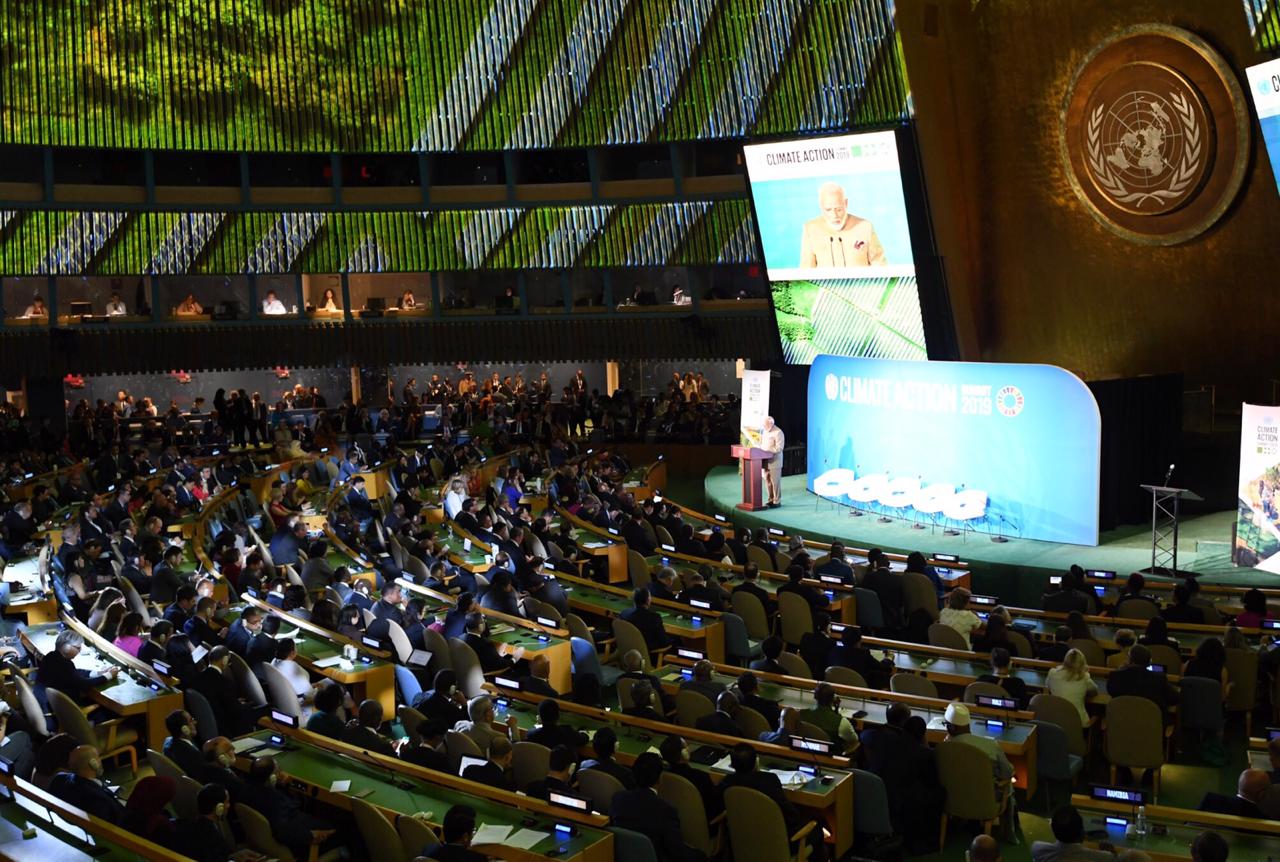 Like many had anticipated, U.S. President, Donald Trump made no surprising contribution given his stance on climate change.
Trump briefly attended the Climate Action Summit in New York but left after 14 minutes. Trump has consistently expressed skepticism about the notion of man-made climate change, and his administration has declined to make the issue any sort of priority.
At the summit, UN Secretary General, António Guterres appealed for more ambitious commitments to cut carbon emissions in line with the recommendations from the Intergovernmental Panel on Climate Change to limit global warming to 2 degrees Celsius.
"Around the world, nature is striking back with fury…. This isn't a climate negotiating summit. You don't negotiate with nature… This is a climate action summit,"  Gueterres said.
"Governments are here to show they are serious. There is a cost to everything, but the biggest cost is doing nothing. The biggest cost is subsidising a dying fossil fuel industry, " he added.
Three of the four countries with the biggest coal expansion plans – India, China and Turkey – were invited to speak. Each of them failed to address that consequential part of their economy.
None of the large polluters met the UN secretary general's call to raise their climate pledges. China's statement was potentially the most consequential.
China said it remains up to developed countries to lead.
U.K Prime Minister, Boris Johnson, said: "We have to increase our nationally determined contributions to the Paris Agreement."
He said that for the UK, falling emissions have been combined with a growing economy. The UK has a net zero target for 2050.
"That's what we are going to do", he says, by using "technology".
Bhutan President Lotay Tshering, who lead the Least Developed Countries (LDCs) group, said all 47 LDCs would commit to net zero emissions by 2050.
They will also strengthen their Paris climate pledges, national adaptation plans and long-term emissions-reduction strategies by 2020.
Most of their plans are likely to be contingent on receiving climate finance from the wealthiest countries.
American philanthropist, Bill Gates committed $790m to help small scale food producers who are incredibly vulnerable to the changing climate and on whom the food security of many countries depends.
The money will go to the food technology research body CGIAR.
The Bill and Melinda Gates Foundation pledged $310 million, with the rest to come from the Netherlands, European Commission, Sweden, Switzerland, United Kingdom, Germany and the World Bank.
Korea said it will double its contribution to the Green Climate Fund to $200m.
France's president, Emmanuel Macron said he was struck by the emotion of some of the young people who spoke earlier.
"I also want to play my role in listening to them… We need young people to tell us to work faster.