Barely a day after Uganda got thrilled by news of long distance runner, Joshua Kiprui Cheptegei winning a gold medal at the Commonwealth Games, another Ugandan athlete, Stella Chesang has also won gold at the same games which are ongoing in Gold Coast, Australia.
On Monday, Stella Chesang won a gold medal in the women's 10,000 metres final while Mercyline Chelangat, also Ugandan finished in third place to secure a bronze.
After a spirited race, Chesang finished in the lead within 31:45.30 minutes beating her strongest competitor, Kenya's Stacy Ndiwa who won silver with a difference of 1 minute and 6 seconds.
On her part, Chelangat finished 1 minute and 5 seconds behind Ndiwa.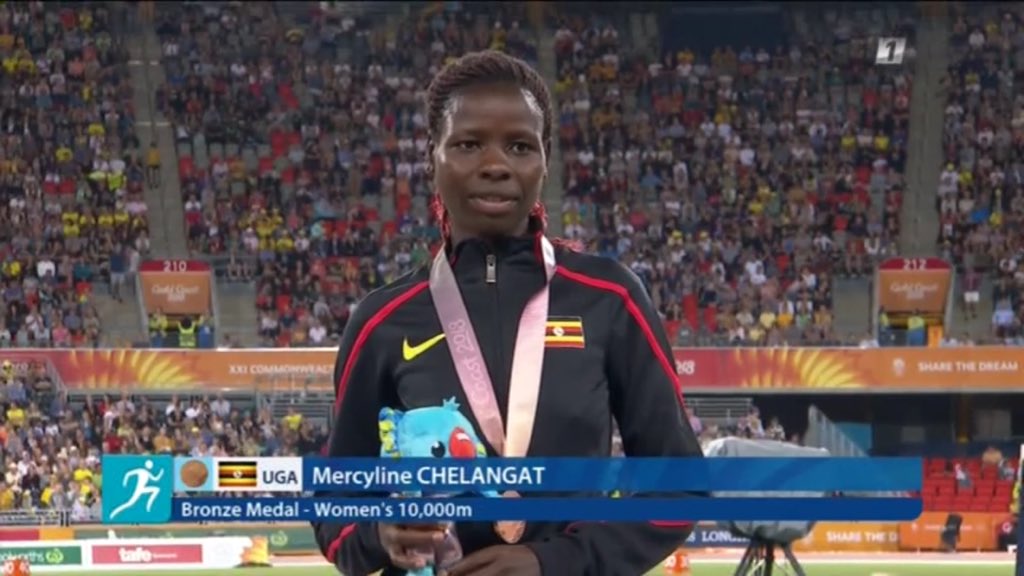 Chesang's gold becomes Uganda's second gold at this year's Commonwealth games, the other being Cheptegei's. In addition to Chelangat's silver, Uganda now boasts of four medals at the ongoing games.
Both President Museveni and the First Lady, also Minister for Education and Sports took to Twitter to congratulate Chesang and Chelangat upon their victory.
"I want to congratulate Stella Chesang for winning Gold in the Women's 10,000m finals at the Commonwealth Games in Gold Coast, Australia. You have done your country proud," tweeted President Museveni on Monday.
He added; "I also congratulate Mercyline Chelangat for bagging the Bronze medal in the same competition. Well done".
"Congratulations Stella Chesang upon winning for Uganda a Gold medal in the Women's 10,000m final and our very own Merceline Chelangat who has secured bronze in the same race at the on going Commonwealth Games 2018 We give God all the glory," the First Lady said in a tweet.