Uganda's cumulative cases of Covid-19 now stand at 248 as 21 new cases tested positive on Sunday May 17, the Ministry of Health says.
According to the Ministry,  the 21 cases are from the 1,071 samples tested from different points of entry and that all the new cases are Ugandan nationals with 17 got from Elegu Point of Entry, 3 from Mutukula and 1 from Malaba.
All 256 community samples were negative.
It has been the norm for the ministry to give daily updates of test results. However, this did not happen on Sunday, something the Ministry says caused "malicious persons" to communicate fake results to the public using a fake Ministry of Health social media page. They (malicious people) claimed 105 truck drivers had tested positive on that day.
Dr Henry Mwebesa, the Director General Health Services in the Ministry of Health says results were not released because they were still sorting samples of truck drivers in line with President Yoweri Museveni's directive of allowing only truck drivers who test negative for Covid-19 into the country.
"Samples from truck drivers had to be sorted appropriately and divided between Uganda Viral Research Institute (UVRI) and the National Health Laboratory Services (NHLS) by the Laboratory teams for quick turnaround time. Testing at NHLS started at 7:30pm yesterday evening hence the delay in reporting results," says Mwebesa in a statement.
The has 185 active cases and has registered 63 recoveries.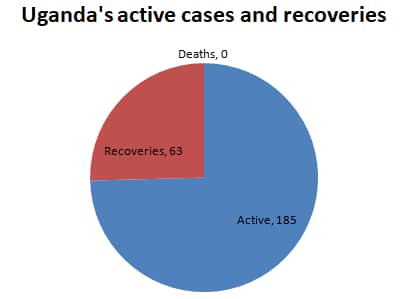 Today marks exactly two months since President Yoweri Museveni announced a ban on all public gatherings including suspending school going, entertainments events, church services and weddings to reduce the risk of transmitting the novel Coronavirus.
The Head of State was expected to address the country tonight at 8pm to give a way forward ahead of the end of the ongoing 14-day extension of the lockdown. The address has been moved to Tuesday.