Business has been paralyzed at the Entebbe International Airport on Tuesday after angry supporters who had thronged the airport to welcome singer Eddy Kenzo, protested the arrest of some of his supporters.
Singer Eddy Kenzo returned to Uganda on Tuesday afternoon having been on a music tour in the U.S.
Last week, the singer won the Award for African Entertainer of the Year in the 2019 African Entertainment Awards USA. He beat artistes Davido, Wizkid, Flavor, Diamond Platnumz, Tiwa Savage and Tekno among others, to the Award having been nominated for his song Congz Mama. He received the accolade at the awards gala held in New Ark New Jersey in the U.S
A lot has happened back home while he was away, including his official separation with long time fiancée, Rema Namakula. The separation has since left their fans sharply divided.
On Tuesday, Kenzo's fans flocked Entebbe to give the singer a warm welcome back home as well as congratulate him upon wining the recent Award which is accompanied with a USD 60,000 cash prize.
At the airport, some of his fans wore t-shirts written on "The King is back. Uganda's biggest export".
Kenzo arrived at around 2pm and would later meet with his awaiting fans before he and his entourage got into a black Range Rover. He was wrapped into a Uganda flag.
However, no sooner had the motorcade left the main gate to the airport, than a stalemate ensued.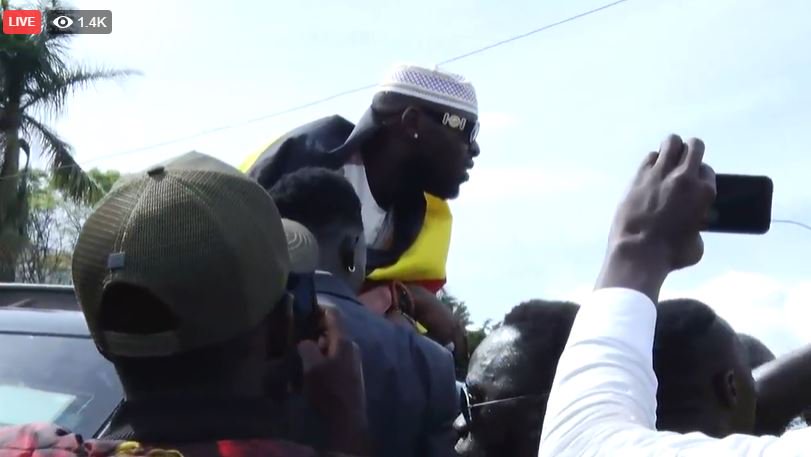 His supporters claim some of their colleagues, majority of them boda boda cyclists have been arrested and their motorcycles confiscated by Police.
Kawempe Division Councillor, Muhammad Segirinya protested the action of Police saying the arrest was uncalled for. He said the musician's motorcade would not move unless those said to have been arrested are freed and their motorcycles given to them.
"These people (cyclists) are here to celebrate Kenzo and to welcome him. They are happy. But their motorcycles have been confiscated. Is it a crime in Uganda to be happy?" Segirinya told reporters in Entebbe.
"We are not going anywhere until they have been released," he said.
Kenzo himself could be seen pleading with the O.C Entebbe Airport Police Station to have his supporters released.
The Police officer asked the Kenzo to clear the road and allow for traffic to move smoothly, to which the singer agreed. The officer said he was engaging his colleagues at Police station to have those arrested (if any) verified.
"Kenzo has just returned from Colombia. We saw him fill concerts there and he represented Uganda very well. He won an award. We are here to welcome him. This is our country but we are being oppressed a lot. Eddy Kenzo is an entertainer he isn't a politician. Why block a musician who has raised the Ugandan flag so high?" a disgruntled supporter said.
By press time, Kenzo was still waiting to have his supporters released.