Fire has gutted a hostel for students of Makerere University Business School (MUBS) situated in Bugolobi, destroying its entire roof. The fire broke out at around 4pm on Monday, according to witnesses.
Videos captured by some of the students who were at the scene when the incident occurred show the flames raving from the tiles on the roof of the five-floored Bahesi hostel. The fire then spread quickly causing the entire roof to be consumed to ashes.
A lot of property in the topmost floor has been destroyed. It is not yet established what caused the fire or whether there were any fatalities.
A student who was present in the initial moments of the tragedy suspected that the fire could have been sparked by electricity. She said the blaze emanated from a single room which they tried to open with no success, only for it to spread out.
Many of the bystanders were heard blaming the Police Fire Brigade for taking long to respond to the incident. Even when the fire fighting truck finally came, they say it wasn't sufficient enough to put out the large fire.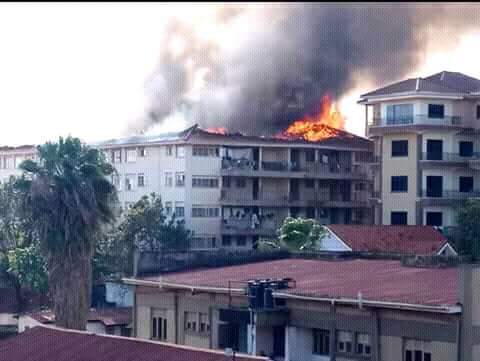 Some of the students expressed dissatisfaction with the response of the Police which they said was overly delayed compared to the incident at Makerere University two days ago where the Fire Brigade responded in record time.
"At Makerere University's Mary Stuart hall, the Police brought four fire fighting trucks to save a mere canteen. Here, they have only brought one truck. Is it because this is a private building?" a student wondered.
Kampala Lord Mayor, Erias Lukwago was among the people that rushed to the scene.
Mayor Lukwago blamed the fires at MUBS and Makerere to the laxity of government in installing water hydrants at such facilities, despite the repeated appeals.
"Police fire brigade arrived late but even when they came, they had no sufficient water. We told government many times to put in place water hydrants across the city where these trucks can source water, in vain," Lukwago told journalists.
He has also asked Police to probe into the causes of the recent fires.
"It is unfortunate. I sympathize with the students and people around this place. We saw a fire at Makerere recently, now it's MUBS. I feel that we havent done enough as a country," Lukwago said.
But Joseph Mugisa who heads the Police Fire Brigade said that the delay in putting out the fire was partly as a result of the narrow road which could not give access to two trucks.
The incident comes days after another fire at Mary Stuart female students' hall at Makerere University which is said to have resulted from electricity.