On March 6, 2007, Uganda took a brave decision of sending 1,500 troops under the African Union Mission in Somalia (AMISOM) to a crisis stricken and war ravaged northeastern country of Somalia despite warnings from leaders of the Al-Qaeda linked militant group, Al-shabaab and some Somali clan leaders.
These advised Uganda not to send troops unless they wanted the troops dead. Uganda became the first in Africa to contribute forces to AMISOM and currently has at least 6,000 troops on ground out of the total 22,000-strong AMISOM force. Other countries with troops in Somalia include Djibouti, Ethiopia, Burundi and Kenya.
But, how much of an impact have the Ugandan troops and other AMISOM Forces had in the 12 years of their stay in Somalia? Also, will the Somali security Forces be able to man their country effectively when AMISOM finally pulls out in 2021 a year after the country's national elections scheduled for next year?
SoftPower New's Kungu Al-Mahadi Adam, with a team of journalists, traveled to Somalia on Tuesday September 17 to assess the current state of affairs, and he now reports from Mogadishu.
Welcomed by a bright sun at the Aden Abudulle Airport on the Indian Ocean Coast at around 8:30am on Tuesday, people going normally by their businesses – with literally no sign of war -no guns' sound and no military weapons seen at the airport or even at a distance.
This, to most of the members on the team immediately painted a different picture of Somalia different from the known battle weary, war scarred frontline. They were thereafter, driven to their hotel of residence, Leaf Camp near the airport which is located in AMISOM's Base Camp in the Capital, Mogadishu.
In their operations, AMISOM troops are divided into six sectors with Uganda responsible for manning Sector One (Mogadishu and lower Shabelle province), while Sectors Two to Five are assigned to Kenya, Ethiopia, Djibouti and Burundi respectively and the Sixth Sector (multi sector) occupied by Kenya, Ethiopia and Burundi.
At the base camp, journalists engaged Lt Gen Nakibus Lakara, the Deputy AMISOM Force Commander (Plans and Operations) and Acting AMISOM Force Commander and Brig Michael Kabango, the Sector One contingent Commander who briefed them on the Force's progress so far, with the latter describing the current security situation in Somalia as "relatively calm''.
''We have not had any extreme upheavals over the last eight months. We have had a number of attacks in the city by Al-shabaab using their preferred weapon of choice which is the Vehicle-Borne Improvised Vehicle Device (VBIED) but as Sector One, we have been on the offensive and it continues in the lower Shabelle area,'' Brig Kabango said.
Vehicle-Borne Improvised Vehicle Device (VBIED) also known as a car bomb is an improvised device placed inside a car or any other vehicle and then detonated.
Brig Kabango added: ''We believe that if we degrade the Al-shabaab and protect the population, then we can allow development and peace to happen".
He explained that their operations are done together with the Somali's national army and efforts have been put in place to ensure that Somali security takes over by building the required forces, and as such, he expressed pleasure in the progress.
"So far, the Somali National Army has since January generated six fighting battalions, this is unprecedented. What we do is capture towns together and they hold, and we have so far taken four towns which include Barire, El Salin, Awdheegle and Sabid Anole,'' he explained.
On his part, Lt Gen Lakara said the persistence and commitment of the AMISOM troops is responsible for the visibly returning peace in the Horn of Africa.
"Progress has been made and as we speak, Mogadishu is the fastest growing port city in Africa which indicates that peace is returning to Somalia. All has not been rosy for AMISOM, it has been tough but the persistence, commitment and the enthusiasm that the African Union has applied to create peace in Somalia is what has helped this mission on course,'' Lakara told journalists on Tuesday.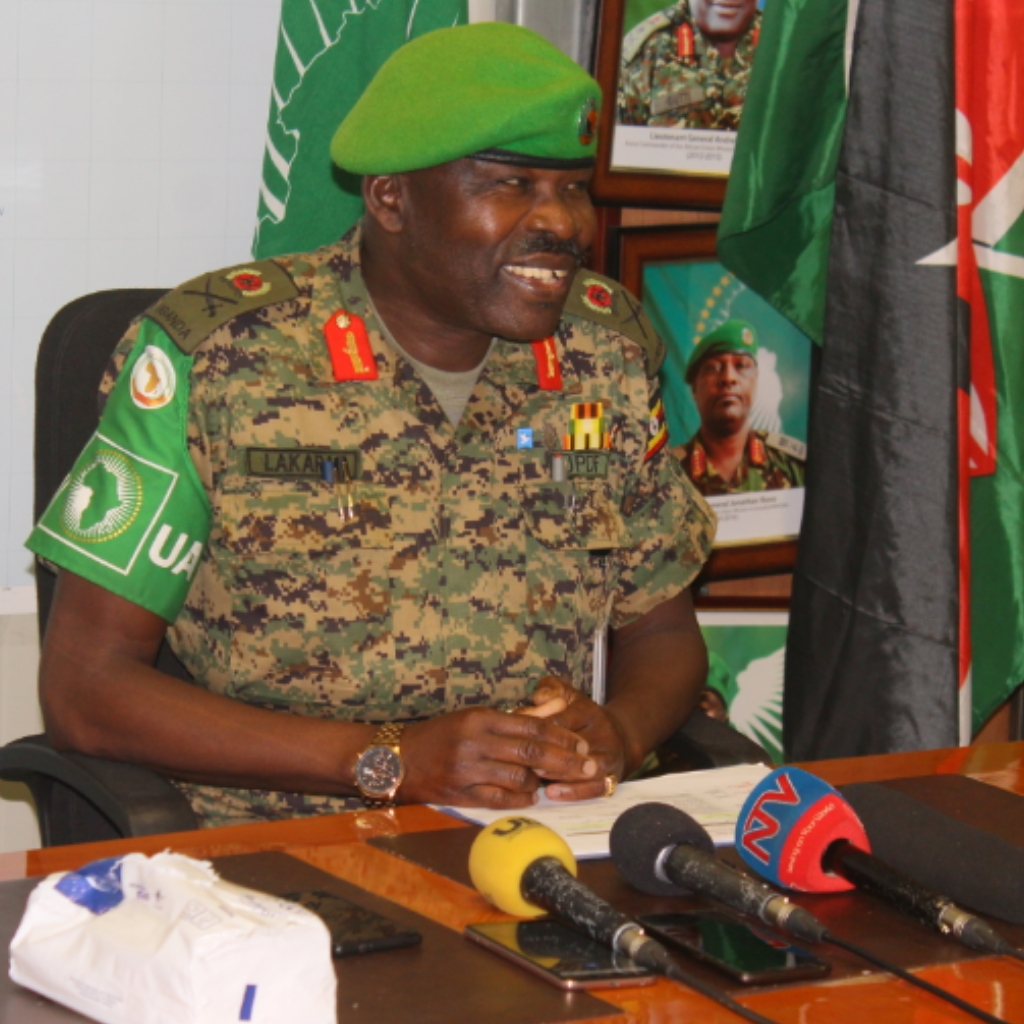 By virtue of his position (Deputy AMISOM Force Commander in charge of Plans and Operations), Lakara is responsible of ensuring successful and effective operations and having a high insight for Force protection during Operations. But he says the operations are largely threatened by the Improvised Explosive Devices (IED).
"It may not be necessarily a weapon of choice but it is a preferred weapon by Al-shabaab militants because of its cheapness which makes it available and can inflict maximum damage on the target including personnel and materials,'' he explains.
He says that despite the counter IED measures employed by AMISOM like equipment provision for detection, the threat remains outstanding due to the level of expertise used by the Al-shabaab including foreign fighters.
"We have been able to mitigate the effects of this threat,'' he notes. He says AMISOM has succeeded in detection and reduction in the fatalities but this does not mean that the threat has reduced.''
"It implies that our efforts are paying off and so, we emphasize that even at the pre-deployment training, these counter IED measures are included and emphasized such that troops are deployed when aware of what expect on the ground".
This website has since established that all troops from the Troop Contributing Countries (TCCs) further undergo in-mission training on deployment in Somalia to remind them on the environment in which they are to operate.
AMISOM's current priority tasks are among other things to degrade Al-shabaab which is being done through targeted operations and daily patrols. Troops also open and secure the main supply routes like Mogadishu-Baidoa, Mogadishu-Joa and Mogadishu-Marka.
This is however threatened by the IED on the routes, and so a convoy takes long to reach its destination because one has to go through a methodical process of trying to detect and identify their presence.
Their other priority is to secure population centers which Lakara says it had been generally achieved as well as mentoring the Somali security forces as plans for AMISOM to exit the country are underway.
AMISOM Forces drew down their numbers in Somalia in April this year by 1,000 troops and will again reduce them by the same number in February next year.
This is in line with the UN Security Council Resolution 2472 (2019) under chapter 3 of the UN Charter which provided for AMISOM to completely pull out of Somalia a year after next year's national elections in 2021, as part of the ongoing plan to gradually transfer security responsibilities to the Somali security forces starting with reducing uniformed AMISOM security personnel to a maximum level of 19,626 by February 28, 2020.
Will Somali security forces be ready by 2021 to control their country's security?
According to Lakara, Somalia's readiness will depend on her ability to generate forces.
"Our role is to support the Somali Security forces not to generate the Somalia security forces, that is the responsibility of the Federal Government of Somalia and the Federal Member States.
Now, developing a competent capable Force takes time. AMISOM's mandate is to mentor not train, we mentor what is already developed".
"The time, it will take first of all to train and time between now and AMISOM's envisaged exit that happens in 2021. I don't want to give you a Yes or No answer but just imagine how many units can be developed between now and then,'' he said.
He however stated that drawing down has implications of constricting the space they earlier occupied.
"But that may not happen if the Forces generated are capable enough to take over and that is what the Somali Transition Plan is all about".
Daniel Ali Gwambal, the Acting AMISOM Police Commissioner, is also optimistic. He says Somali Police will be in position to police the country effectively should the required numbers be attained on time.
"Basing on my assessment, if we go by what will be executed before 2021, if we are to generate the required forces, which is 3,200, they should be able and by God's grace we shall get them because we still have some time,'' Gwambal told journalists on Wednesday.
Asked about Uganda's decision to continue to deploy in AMISOM for these many years, Lakara said that being the first to deploy in Somalia, Uganda remains a force to reign on and "denotes Uganda's commitment to Pan-africanism'' and their area of coverage.
He however noted that Uganda should not be credited in isolation for the peace in Somalia but the entire TTCs which work as a team.Due to its enormous size, Central Somalia is still hugely controlled by Al-shabaab since AMISOM has no required numbers to cover the area, according Brig Kabango.
He revealed that the militants also tax locals in some parts of the country.
"They (Al-shabaab) run a tax system. Like last year alone in the lower Shabelle alone, they generated USD 21m and USD 30m in Mogadishu. They say you have sold two containers of this commodity, pay this amount of money and if you don't pay, we sort you out – there is extortion going on,'' he added.
Asked for indicators for the said Uganda's success, Brig Kabango said, it is mirrored in the reduction in the number of attacks on their forces.
"We have seen a total drop in attacks in Mogadishu. Last month we had three attacks, the previous month they were six, and it is unbelievable that in Ramadhan there were no attacks. This shows that the strategy we have taken of capturing towns and hold them is working,'' he noted.
He says Al-shabaab has run out of options since no incidents of using their preferred weapons the IEDs have been witnessed in the recent past.