President Yoweri Museveni has said that government is partnering with the government of China to start manufacturing equipment for industrial use in a bid to advance Uganda's industrialization.
The President made the revelation on Tuesday after touring the 2.5 square mile Liao Shen Namukenkera Industrial Park in Kapeeka, Nakaseke district.
The President disclosed that government would give support to graduates of food science and technology to acquire equipment for food processing.
"We are working with the Chinese to set up a machine making centre. Once you have equipment, you need capital and land and I can assure you that we will provide all the three," he said.
Museveni underscored the role of investing in industries in growing Uganda's economy, citing Uganda's exports to Kenya which have more than tripled in value since 1986, largely driven by a deliberate effort to prioritize investment in infrastructure.
"In 1986, Kenya was selling to Uganda merchandise worth USD 200 million while Uganda was selling to Kenya goods worth USD 12 million; but now Uganda is selling to Kenya goods worth USD 700 million to Kenya while Kenya is selling to us merchandise worth USD 500 million," he said.
He called for more entrepreneurs to invest in different industries in the country.
"We need investments in industrial grade starch for pharmaceutical and beverages industries so that our industries stop importing expensive starch from India," he said.
He committed that government would tarmac the road from Kapeeka to Nakwaya; extend electricity from Kawanda to the industrial park to ensure stable power supply to the factories and build a water plant to provide water for industrial use.
At the same event, the President warned government technocrats against delaying developmental projects.
President Museveni observed that due to lack of exposure, some government officials make slow decisions about development projects while others delay projects out of corruption and which affects the economic growth of the country.
President Museveni thanked the Chinese Ambassador to Uganda, Mr. Zheng Zhugiang and the Egyptian envoy in the country, Mr. Mai Taha Mohammed Khalil, for their respective governments' support to Uganda's anti-colonial struggle and also to development projects after attaining independence from Britain in 1962.
Museveni thanked Gen Salim Saleh (Rtd) who is the Chief Coordinator of Operation Wealth Creation (OWC), for his commitment, initiative and imagination that has made Namukenkera become an industrial city.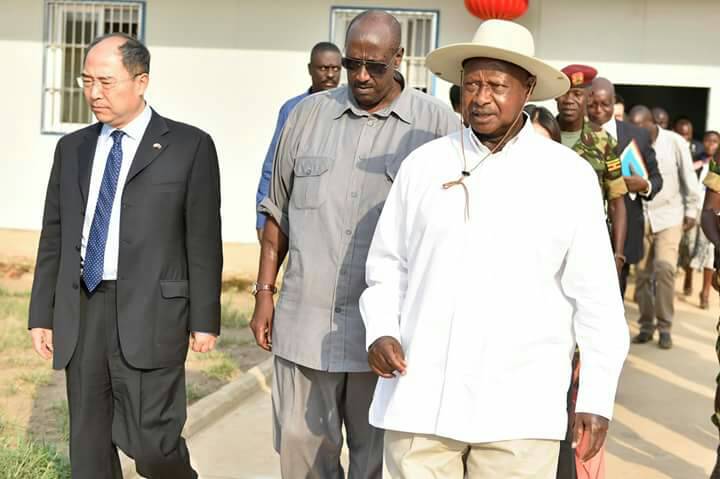 On his part, Gen Saleh said he envisions to have 10 functional industries in the park by the end of the 2018 and that he was ready to work with other districts to construct more industrial parks to enable people get jobs and improve their household incomes.
Mr. Zhang Hao, Chairman of Liao Shen Industrial Park, thanked President Museveni and the NRM Government for the support to develop the industrial parks. He said the park would create 15,000 jobs for Ugandans when completed.