How do you like a marriage proposal in the wild? The idea of him going down on his knee on a track right in the middle of a national park with no other company but wild animals? That should be memorable.
A photo of Makoma Nation proposing to his girlfriend Asiimwe Ronah in Lake Mburo national park went viral on Twitter and has gotten everyone talking. You'll not find anything more romantically beautiful on the internet.
In the photo, Nation kneels on the dirty road (track) holding Ronah's left hand as he fixes a ring on her finger. Ronah is standing, visibly beaming with a smile. Next to them is an armed wildlife ranger looking on admiringly. 
But it's the two giraffes staring at the two at a distance that complete the whole moment. There's nothing not to like about the photo.
SoftPower News spoke to the couple on Wednesday and they couldn't hide excitement. 
"I was very excited," Ronah who runs the Rolex Booth in Mbarara said. The proposal came as a surprise, she said.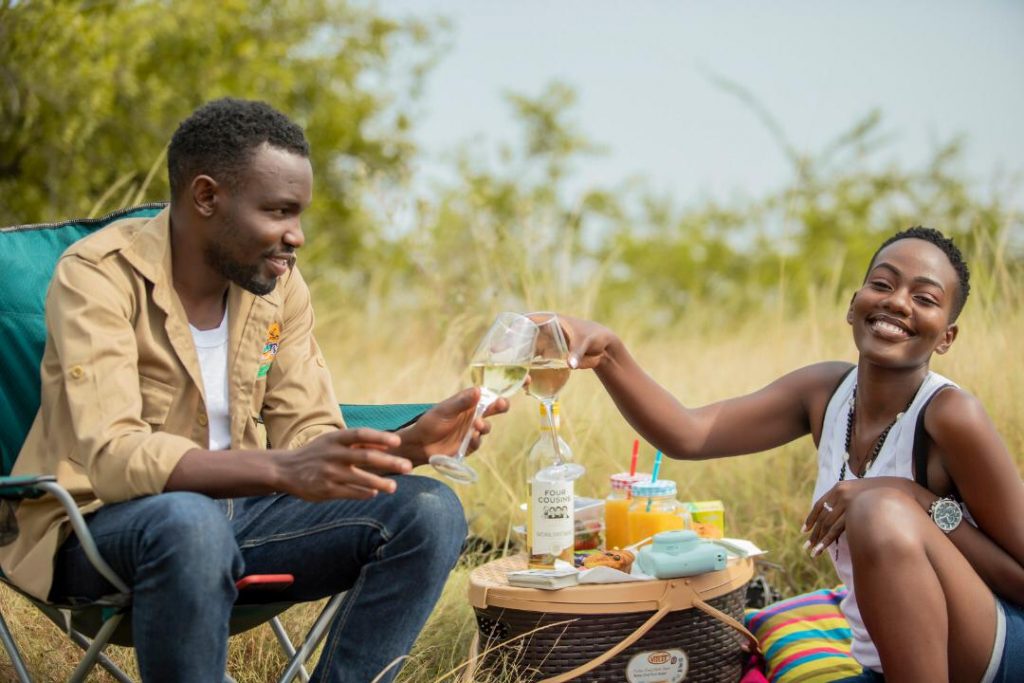 "We had planned on taking photos. The ring part wasn't part of it. It was just a photo shoot. We had traveled just the two of us".
She said she and Makoma have always taken what she called 'monthly vacations' to different tourist destinations in Uganda.
"We look for national parks and camp there. He loves taking photos of the wild," she said. 
The two have been to Queen Elizabeth, Kibaale forest and Lake Mburo national parks.
Every woman has her dream kind of proposal. She says hers was the perfect one.
On what her answer was when Makoma asked her to marry him, she said "Who would say No?"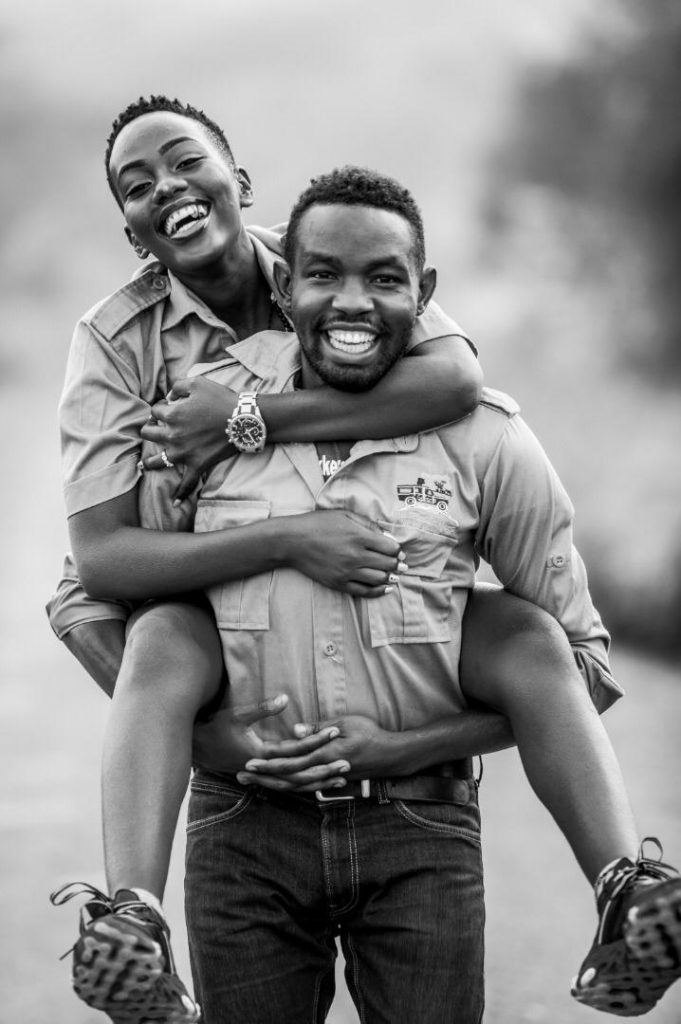 It took Makoma two weeks to make this surprise happen. The two have been dating for 4 years having met back in 2016.
"We love nature and wildlife. It's a dream to be in the wild. It connects us," Makoma told SoftPower News.
He works in the tourism sector and is also a photographer. So, perhaps pulling this off was a no brainer. 
"The photographer and the ranger knew about what would happen (the proposal). We planned everything," he adds.
"We were so lucky that we found the giraffes on the tracks. First, we met a leopard and I was like 'Do I propose here with a leopard?' I said let's proceed".
Will their beautiful moment in the wild change the trend of proposals and attract more couples to do the same? Makoma says theirs was unique. And isn't that what every man is always looking to do with their proposal? Pull it off in the most unique way? Not that it has to be expensive.
If this is something you are considering, Uganda, which boasts of a variety of natural attractions – from wildlife, to scenic landscapes and water bodies – will leave you spoilt for choice. 
Whether it's an island on Lake Bunyonyi or Victoria, a boat cruise on the Nile with the picturesque Murchison falls as a backdrop, a quiet yet beautiful residence that overlooks Bwindi forest or in company of elephants in Queen Elizabeth park, there's too much beauty to behold. 
"I think people will start to look at national parks as a place you can do a proposal. But luck has to play its part. The reason I settled for Lake Mburo park is I was certain I would get zebras or giraffes in big herds," Makoma shared.
Do these travel enthusiasts plan on having a wedding in the wild? Yes. He told us they are considering Kidepo national park for their wedding.
"Kidepo, because of its landscape and a variety of wildlife. You won't find a zebra in Murchison falls or a giraffe in Queen Elizabeth. But you'll find a variety of animals in Kidepo".
The couple says they are overwhelmed by the messages from their friends and loved ones regarding their lovely proposal.