The Permanent Secretary in the Ministry of Health, Dr Diana Atwine has called on medics involved in delivery of pathology services to prioritize proper handling of samples in order to ensure accurate diagnosis and treatment of patients.
Dr Atwine said timely and accurate diagnosis is very critical in improving the health care offered to patients and their outcomes.
She was speaking at the launch of a comprehensive pathology training in cancer diagnosis, held Wednesday at the Uganda Cancer Institute (UCI).
"Studies conducted in Uganda have showed lower levels in accuracy for our local pathology (the study of the causes and effects of disease or injury) in comparison with the world," Dr Atwine told the trainers and other officials during the launch.
In diagnosis of diseases, pathologists (clinicians practicing pathology) dwell mostly on analysis of tissue, cell, and body fluid samples.
"We should work hard to make sure we get the results on time and that we give patients proper treatment. Clinicians would have challenges treating blindly without the results," she said.
Achievements notwithstanding, she said that support supervision by the National Pathology Program in the last 2 years, has pointed to glaring gaps in areas of sample collection.
"A number of facilities collect samples badly and by the time they (samples) reach the hub, they can't be processed properly, so they end up being discarded. That means that not only have you failed to run the tests, but you have delayed treatment for that the patient".
"Sample collection must be a priority that we teach our people because the accuracy in diagnosis depends on how you treat the sample".
Dr Atwine also said focus must be placed on sample handling which when is wrongly executed, compromises the results.
She also cited loopholes in sample fixation, sample transportation as well as insufficient equipment for histopathology (the study of changes in tissues caused by disease) at the different health facilities.
"We hope that if we get money, we shall prioritize this. We want to see laboratories that work, that deliver quality results regardless of which part of the country they are situated in. The challenge has been reagents because of funding," said the Permanent Secretary..
The training program which began with Kampala is set to be rolled out in the rest of the country.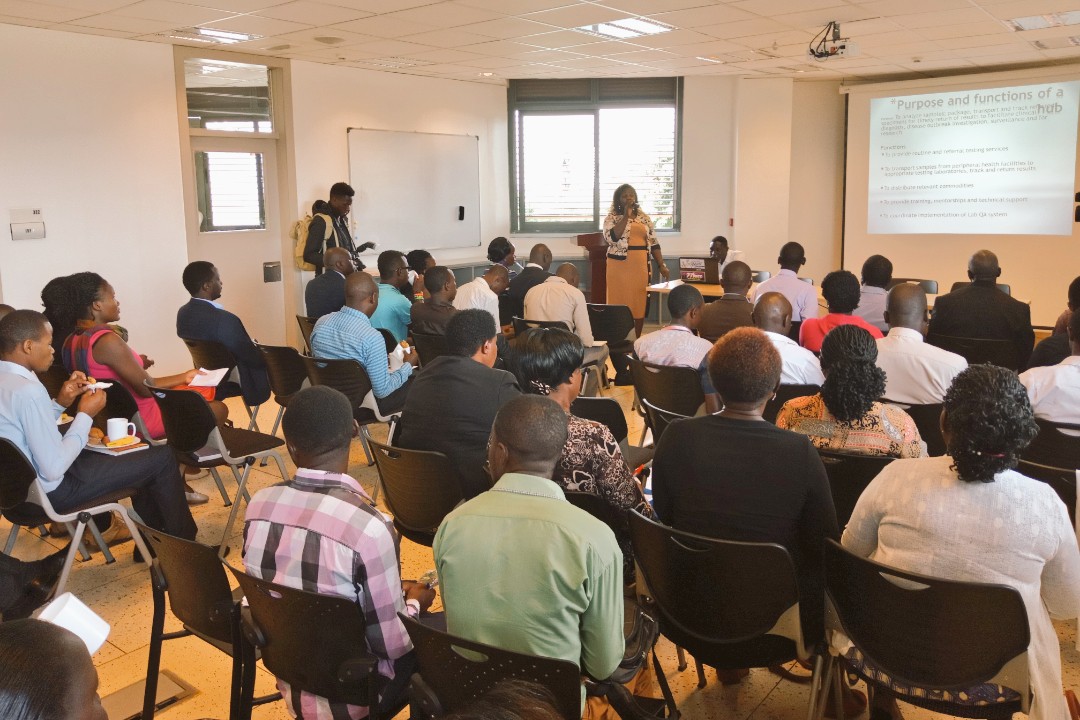 On his part, Dr Frank Mugabe, the Principal Medical Officer for the NCD Program in the Ministry of Health, said the training is welcome and should be extended to all general hospitals in the country.
"What is happening here is facilitating sample transfer for easy diagnosis. With this training, the quality of sample collection is going to improve, the speed of diagnosis is going to improve, and it's going to be easy for a patient to be diagnosed in a regional referral like Kabale, their results are sent here easily and the patient too is referred here," Dr Mugabe said.
He however emphasized the need to prioritize prevention through healthy lifestyles as well as physical activity.
Cancer and other Non Communicable Diseases (NCDs) like diabetes, cardiovascular diseases, chronic obstructive Air way conditions, mental health among others remain a high health concern in Uganda, accounting for 25 percent of all hospitalized patients.
Meanwhile, Dr Atwine noted that the recently established the pathology lab at UCI will make a great difference in the way samples are handled and the way results are relayed back to the clinicians.
Government is also in the process of building a reference laboratory for cancer at UCI whose completion is expected in two years.
Regarding human resource capacity, the Permanent Secretary mentioned that the Ministry continues to support the Masters program in Pathology at the Mulago Medical School, adding that with adequate resources, government intends to have full time pathologists at Regional Referral Hospitals.
Through a World Bank project under the East African Public Health Laboratory Network, government is training histotechnicians (medics who prepare human body tissue for examination by other laboratory professionals) to work in different regional referral hospitals.