In yet another medical milestone, the Uganda Heart Institute has for the first time carried out procedures for diagnosing life threatening irregular heartbeats known as Electrophysiology study (EPS) along with its treatment known as Radiofrequency Ablation.
The procedure which was conducted on April 3 saw a team of doctors at Mulago Hospital treat life threatening irregular heartbeats known as Radiofrequency
Ablation.
Radiofrequency Ablation uses high frequency waves to direct heat to the part of the heart that is causing the irregular heartbeat to stop the abnormal heartbeat and correct it.
It is possible to treat such abnormal heart beats without opening the chest. During the Electrophysiology studies (EPS), various specialized wires are inserted into the blood vessels in the groin and advanced up to the heart with the visual aid of special X-Ray cameras. These wires pick signals and patterns of electricity flow from different parts of the heart.
Health Minister, Dr Ruth Aceng told the press on Wednesday that a total of 13 patients have so far undergone this procedure at the Heart Institute. Out of these, 11 were successfully worked upon between the April 3 and 5 while two were further identified with other complications and the treatment was deferred to a future date.
"All the patients worked on have done well and were discharged," Dr Aceng said.
The team that executed the treatment was led by Dr Joselyn Rwebembera who remains the only specialist in the procedure in Uganda.
Minister Aceng revealed that this landmark medical procedure will go a long way in reducing the medical referrals abroad as well as increase competitiveness of the health sector in the region.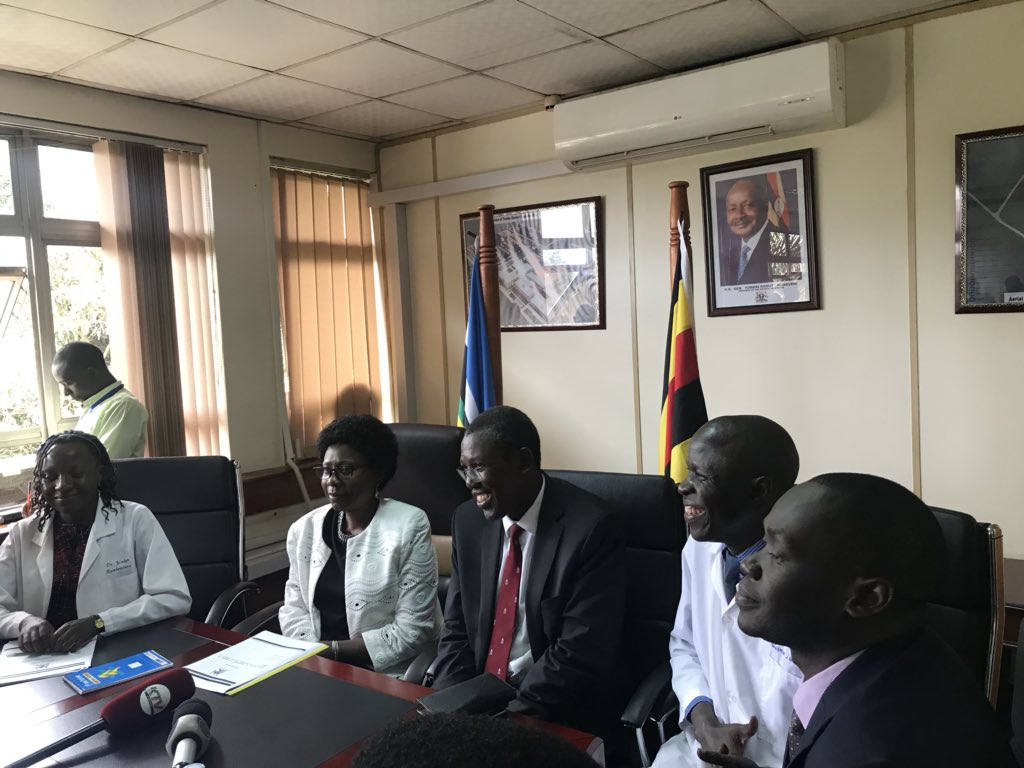 According to the Uganda Heart Institute Director, Dr John Omangino, the cost of the procedure in Uganda is USD 5,000 (Shs 18 million) which is far cheaper compared to USD 20,000 (Shs 720 million) charged abroad. Experts say the procedure provides a cure rate of not less than 90% and eliminates the need to take drugs on a daily basis to suppress the abnormal rhythm.
Patients with irregular heartbeats present with pounding heartbeats (palpitations), dizziness, fainting attacks and can even die if some of these irregular heartbeats are not stopped quickly.
Abnormal heartbeats constitute 19% of the heart disease burden worldwide while at the Uganda Heart Institute they constitute 25% of the patients seen on a daily basis.
Electrophysiology (EPS) and Radiofrequency Ablation (RFA) had been the final missing major procedure carried out in the Cardiac Catheterization laboratory. Now, the Heart Institute is able to carry out all major and minor procedures in the heart.
Minister Aceng said the Ugandan specialists were supported by Dr. Mesut Demir from Istanbul, Turkey as well the Medtronic Foundation and Company to acquire the skills.