For the first time, speaking in-depth about her love affair with MC Kats, songstress Fille Mutoni (Fille) has opened up about the grueling abuse and physical violence she had to endure, saying it is over between her and the popular TV host.
She says she has given Kats several chances hoping he would change only to be repeatedly disappointed. In a sentimental interview, the 28-year-old poured out the ordeal she has suffered, braving acts of disrespect, infidelity and physical abuse by her lover. 
Together, Fille and Kats have a 6-year-old daughter. 
But their affair has been unstable for many years. 
Fille who has for the most part chosen to keep their affairs to herself has in a latest teary interview shared candidly about separating from Kats when their daughter was 8 months. She says this was due to Kats' lies, infidelity, disrespect and "a lot of chaos".
"We were at a point where it was bad," she said on NBS TV's ChatRoom.
"There was so many lies. I'm not the type that goes out there to say things. I keep my things to myself. But the disrespect, whatever he did was all rubbed in my face. And I chose to walk away".
"My dad died when I was 2-weeks-old, so, I always wanted my daughter to have a father, to see the father. But it got to a point where it wasn't safe. Because it got violent".  
A teary Fille said Kats' true colors began to reveal themselves at the time she had gone to her mom's home, when their daughter was very little.
The 'Love Again' singer mentioned repeatedly that Kats' obsession with social media and his tendencies of making scenes in public dealt a big blow to their relationship. In public, he would pull surprising stunts on Fille, kneeling and apologizing to her, yet back home, he couldn't say Sorry.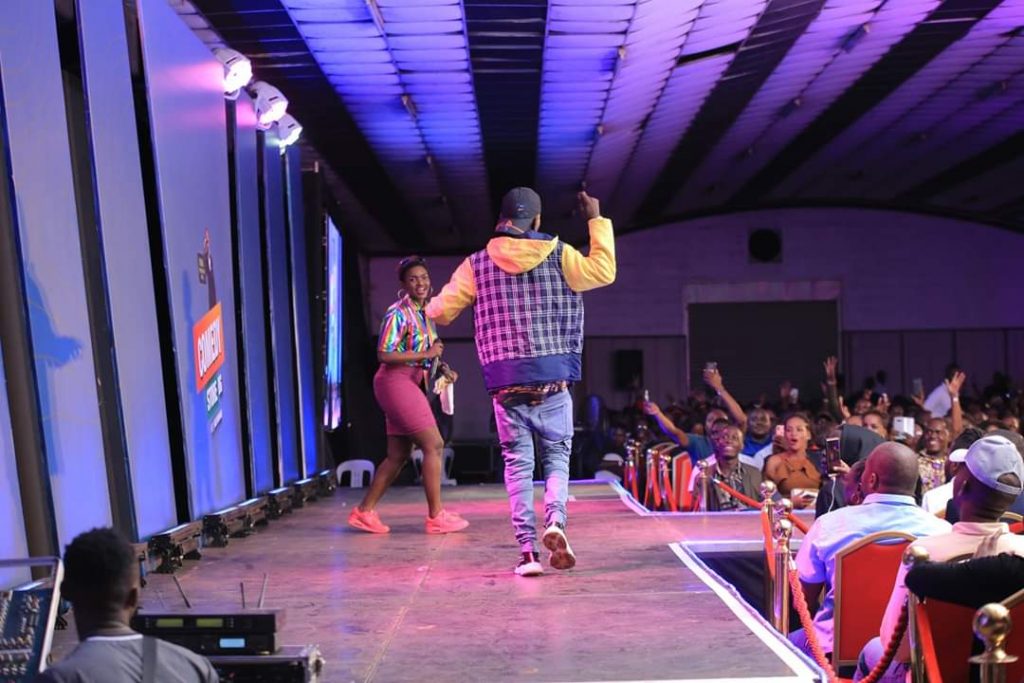 She says despite the huddles she has withstood in the relationship, she never felt like she needed to pour it out on social media. She says some of Kats' actions (in public) have led her to believe they (acts) are merely calculated for showbiz – when the cameras are rolling.
She revealed that till this day, the two have not gotten back together even though Kats has purported so.
"Things changed from then, on. You cannot disrespect me. You cannot do things I won't even say here on camera and then expect things to stay the same. You don't disrespect a woman and accuse her falsely of beating you," she said, referring to an incident in 2016 when tabloids reported that she beat up Kats.
"I've never hit him and I keep saying that. And he knows. One day, he will come out and tell you the truth. I don't know why he chose to say I'm the one who hit him".
After separation, she says, she allowed him to continue managing her music, but confessed this wasn't easy. However, Kats failed "to deal with his emotions as a man" and sometimes made reckless posts on social media, she says.
"Then we got into more fights. He would tell you something and then you'll say 'No. I'm not speaking as Fille the mother to your child, but Fille the artiste'. And he wouldn't get it because for him, he has this thing of 'I brought you from the village'. He used it to belittle me most times. He would be like 'I made you, you can't go nowhere, you can't be anybody'. And I started believing it," Fille said.
Asked whether she still loves him, she said "No".
"I gave him chances, it's been 7 years. And it's not like men don't want me. They do. So much. But I was hoping this person would change. For me, loyalty is everything. That's why I was even willing to still have him as my Manager".
At the end of last year, Kats who was going through what seemed like severe trauma and mental breakdown revealed that he was living with HIV. The revelation shocked many of his fans and inevitably sucked in Fille and their daughter.
Fille says yet again, she felt betrayed by the man she trusted. Betrayed that he did not respect her enough to inform her before going public with his health status. 
"He didn't let me know. I didn't know. It hit me by surprise just like it hit everyone else. I was like 'Even after all these years of me being selfless, you are still being selfish? You could have come and talked to me and get me ready for this'. It has affected me much because you can't be that selfish".
Although she acknowledges it was a bold and courageous decision, but Kats was insensitive to his family.
"It was courageous and bold of him to come out. But don't let us who stand with you to the last minute be the last to know. It crushed me. I'm always there for him when the lights are out. Im the ghost that nobody ever sees". 
The singer who has had a steady rise in her career says her mom has been frustrated for a long time "and she believes I deserve better".