Heads of State under the Inter-Governmental Authority on Development (IGAD) were forced to meet via video conference on Monday due to the restrictions in travel and gatherings in the wake of coronavirus.
The Heads of State who participated included Uganda's President Yoweri Museveni, Uhuru Kenyatta (Kenya), Abiy Ahmed Ali (Ethiopia), Ismail Omar Guelleh (Djibouti), Mohamed Abdullahi Mohamed (Somalia).
South Sudan's Salva Kiir Mayadirt was represented by Riek Machar while Sudan was represented by Abdalla Hamdok.
The meeting sought to discuss the regional response strategy to curb COVID-19, among others, according to President Museveni.
"I briefed Their Excellencies on the measures Uganda has taken to avert the spread of coronavirus. I expressed solidarity with my colleagues in the fight against COVID-19 and assured them that we can defeat this disease," Museveni wrote on Facebook.
The President also advised that the movement of cargo across the region be allowed to proceed, albeit under Standard Operating Procedures (SOPs).
"I urged that all countries continue to facilitate the sectors of Industry and Agriculture such that we do not run out of food and other essential products while we fight coronavirus".
During the meeting, the Heads of State "decided to adopt a regional response strategy and establish an emergency fund while calling on the international community for a globally coordinated approach", Dr Workneh Gebeyehu, the Executive Secretary of IGAD said.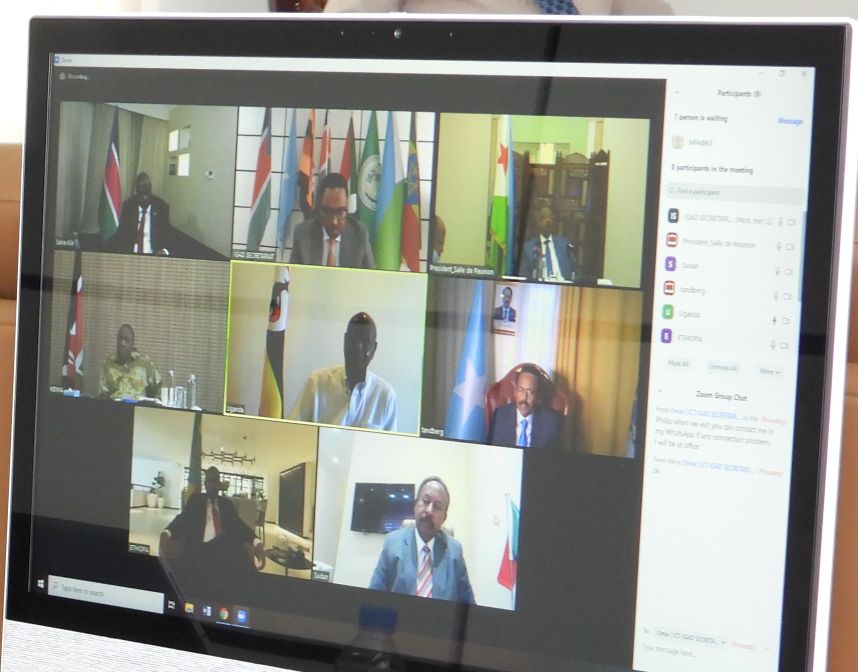 IGAD is an eight-country trade bloc in Africa which includes governments from the Horn of Africa, Nile Valley and the African Great Lakes. Members include Uganda, Djibouti, Ethiopia, Somalia, Eritrea, Sudan, South Sudan and Kenya.
As of March 28, there were a total of 88 confirmed cases of COVID-19 with two deaths, across the countries in the IGAD region.
The different countries have undertaken a range of measures to slow the spread.
Uganda has blocked all passenger flights into Uganda as well as entry of people into the country by road and water.
It also banned all public gatherings including suspending school going, entertainments events, church services and weddings with more than 10 people, for a period of one month.
Other measures include suspension of use of all public means of transport. Government also suspended the sale of non-food commodities in markets. 
On its part, Ethiopia passed a 15-day emergency rule banning  all travel within the state. There is also a ban on social activities such as weddings and other festivities which could lead of large gatherings. Markets are also to be closed.
In Kenya, President Uhuru Kenyatta shut borders and suspended most air travel, except cargo flights.
Kenya also asked government institutions, businesses and companies to allow staff to work from home, "with the exception of employees working in critical or essential services".
Somalia has banned all international flights as well as domestic ones as part of the measures to contain the spread of the deadly virus in the country.