With only months after a joint operation by Uganda's security busting a Rwandan intelligence cell that was operating in Kibuye near Kampala under the cover of a church organisation, SoftPower News can reliably report that Rwanda has since revised her espionage methods and subversive activities in Uganda to include getting Uganda national identity cards (IDs) for members of their intelligence cells to masquerade as Ugandans as they go about their illegal activities under cover.
The July operation saw security crackdown on at least 40 members of the 'church organization'. The arrested individuals were later reported to be members of the National Intelligence and Security Services (NISS), a Rwandan intelligence agency.
Rwanda is known to rely significantly on clandestine intelligence networks planted in other countries sometimes using female sex workers but this time, our investigations reveal that Kigali also uses students as a link to some officials of the National Identification Registration Authority (NIRA), to get their intelligence and criminal elements Ugandan IDs.
This week, security agencies arrested four Rwandan students from Kampala International University (KIU) who run intelligence cells that forge details including biodata, to process Ugandan IDs for Rwandan nationals.
The arrested students include Kagaara Living, Rwamwojo Joram, Namanya Emmanuel and Mugisha Andrew, all addressed as International students in a letter to the top University administration by Jovia Karwana, the Dean of students, noting how they (Rwandans) had missed some examination papers after their arrest.
In fact, Rwandan media including state owned New Times newspaper describe the students as Rwandans innocently arrested in Uganda. SoftPower News has however established that the detained students known to be Rwandans by the University and already owned up by their home country, possess Ugandan national Identity cards and indeed, masquerade as Ugandans.
To be more precise, we cite out Kagaara Living. This news website can authoritatively report that he possesses a Ugandan national Identity card with the number CM950621078UXC in both his names.
How do they get the IDs?
We have since established that Kagaara Living (already with Ugandan ID) has for long been part of the Rwandan racket helping other Rwandan elements to fill NIRA forms by instructing them to use Kiyanja parish, Rushenyi county and Ntungamo district as their place of birth.
In our investigation, one of the Rwandans who talked to us on condition of anonymity, said Kagaara also charges money from other Rwandans who would like to access Ugandan IDs.
"I paid Shs 200,000 to have my form filled. Kagaara Living told me that he would also help me get details of two national IDs to be used on the form as my father and mother. I was told to stick to stating that my district is Ntungamo, county Rushenyi and parish is Kiyanja. In total I paid Shs 600,000," he narrated.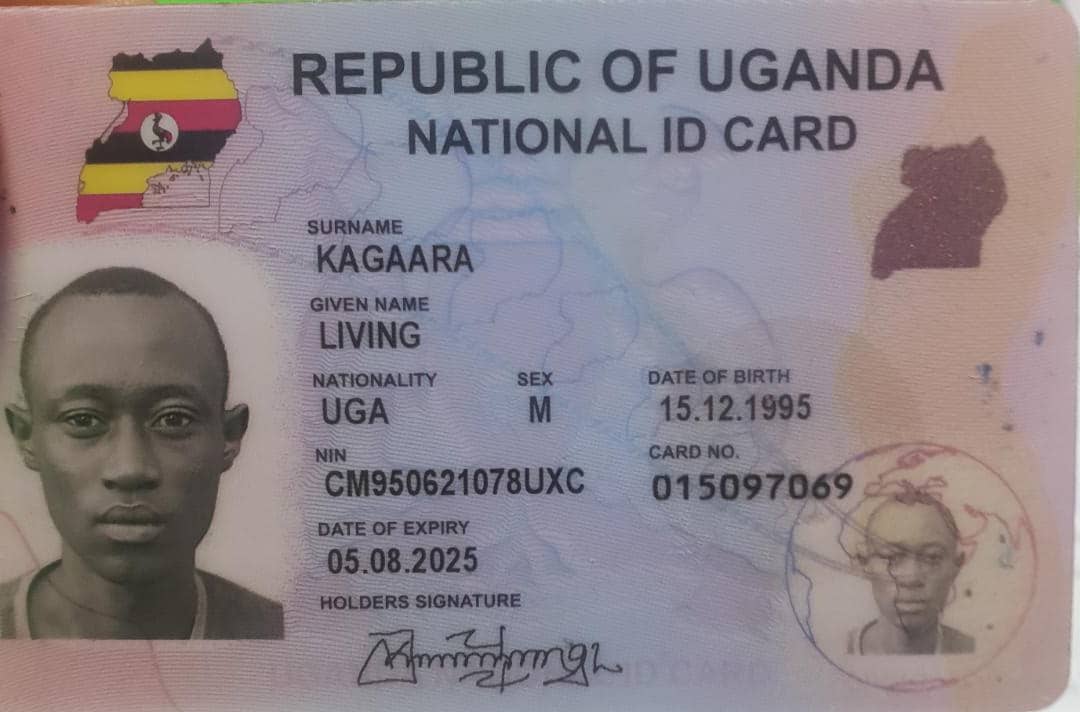 The other beneficiary of Living's racket who is neither a student nor does he has any form of employment in Uganda, says he was told by Living to stick to saying that he is a student and indeed, that is what is on the NIRA form for the ID.
He says he is disappointed that Kagaara was arrested by Ugandan security before giving him a Ugandan national Identity card.
"I thought that Kagaara works with NIRA. He told me that the delay to get my ID was because they were updating the system. When I asked him when the system upgrade would be completed and whether he can share the number and I call it myself, he wrote it in his own handwriting on the form," he explains.
The telephone contact shared by Kagaara that he says belongs to NIRA is 0312119600. The Rwandan however says Kagaara strongly cautioned him from calling on the number because it would jeopardise his application.
SoftPower News understands that there are several Rwandan intelligence cells for purposes of IDs in places near a number of Universities in Kabalagala and Kansanga along Ggaba road where these trained intelligence agents on covert missions covering up as students. They are also said to have recruited more students as Ugandan authorities could easily ignore students.
Our investigations further show that the intelligence of this Rwandan racket beats Uganda's surveillance of airtel and MTN receipts by using Mpesa to receive money from Rwanda sources to aid their subversive activities.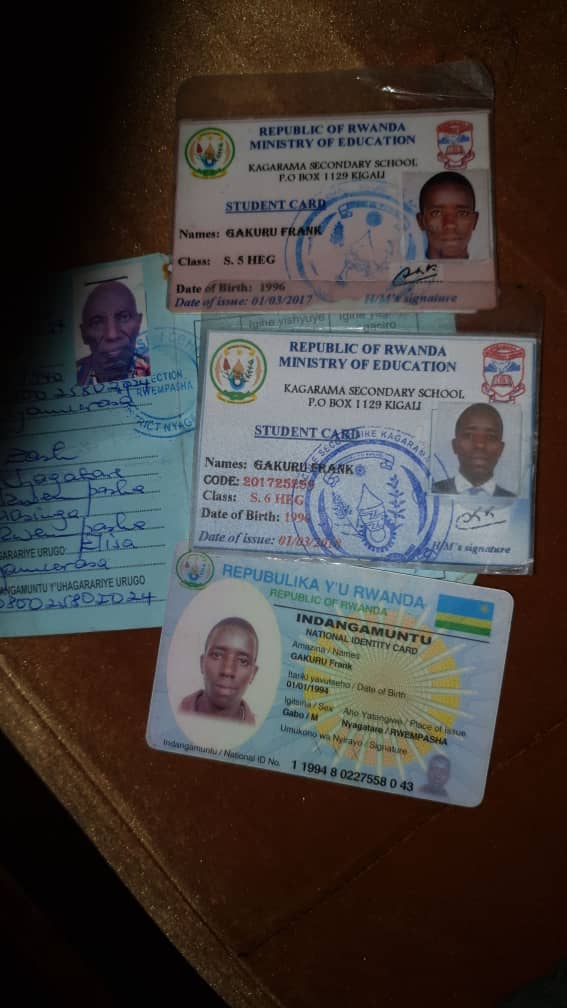 "One of the M-Pesa outlets is run by Gakuru Frank who holds a Rwandan ID, Indangamutu, as well as a Ugandan ID," a police source told SoftPowerNews.
A security source told this news website that the cells are commanded by the First Secretary in Rwanda's Embassy in Uganda, a one Mucyo.
"There are several cells commanded by the First Secretary Mucyo and others to subvert our security. After we clamped down on the notorious intelligence cells, they resorted to using some students. We are going to dismantle all of the cells," a Police source close to the investigations told this news website.
This comes at a time when Uganda's relationship with Rwanda is at its bottom since February when Rwandan authorities blocked several Ugandan cargo trucks from crossing to Rwanda as well as stopping Rwandan citizens from entering into Uganda citing construction works. Other crossing points Cyanika and Kagitumba where Ugandan trucks were directed, were also found blocked.
President Kagame would later reveal that the move had nothing to do with construction works but was political. Kigali has since accused Uganda of among other things illegally incarcerating and deporting her citizens, a claim Uganda dismissed. Ugandan authorities say they follow judicial process to deport some of Rwandan citizens whob are engaged in criminal acts.
On July 12, Presidents Yoweri Museveni and Paul Kagame, signed a peace deal in Luanda, Angola, both committing to resolve the stalemate. In September, the first Ad-hoc Commission meeting to follow up on the Luanda resolutions was held in Kigali and attended by delegations from Uganda and Rwanda.
During the Kigali engagement, Rwanda pledged to provide a list of Rwandans detained in Uganda before the second meeting in Kampala. On her part, Uganda committed to verifying the information for the purpose of processing those named through due judicial process and releasing those against whom evidence of criminal conduct was not found as claimed by Rwanda.
But, without giving clear reasons, Rwanda would later surprisingly request that the second meeting of the Ad-hoc Commission on the Luanda Memorandum of Understanding (MoU) which had been scheduled for November 18 in Kampala be postponed to a later date.
An impeccable source to the talks now, told SoftPower News that the postponement was after Rwanda's realisation that the arrested Rwandan elements possessed Ugandan Identity cards and so, bringing out their identities would be 'suicidal'.
"During the Uganda and Rwanda talks in Kigali that followed the MOU signed in Luanda, Rwanda undertook to share with Uganda a list of Rwandan nationals allegedly illegally arrested in Uganda.
"When Rwanda remembered that all their intelligence elements arrested in Uganda illegally carried Ugandan national IDs, the country backtracked on sharing the list," said the source.
The source adds that: "They (Rwanda) realised that sharing the list would be to shoot themselves in the foot. They would have exposed themselves."