Israeli Prime Minister Benjamin Netanyahu has called for direct flights between Israel and Uganda as well as for the Ugandan government to consider opening an embassy in Jerusalem, as part of efforts to deepen bilateral ties.
The Israeli Prime Minister arrived in Uganda on Monday for State visit, in company of his wife Sara Netanyahu.
Netanyahu met with Ugandan President, Yoweri Museveni at State House Entebbe. The two, according to the statement issued by the Israeli PM's office, discussed strengthening bilateral cooperation in a broad range of areas: Civilian, economic, health, water, energy, communications and agriculture.
After the meeting, Netanyahu told reporters that every visit to Uganda is "highly moving". 
"It stirs the chords of my soul. We landed today at the, right next to the terminal at Entebbe where my brother fell and where you put up a memorial honoring his memory and the memory of the others slain in the great rescue. I'll never forget your friendship. Israel will never forget your friendship," he said.
This is his fifth visit to Africa in a little more than three years.
"Israel is coming back to Africa and Africa is coming back to Israel in a big way," he said.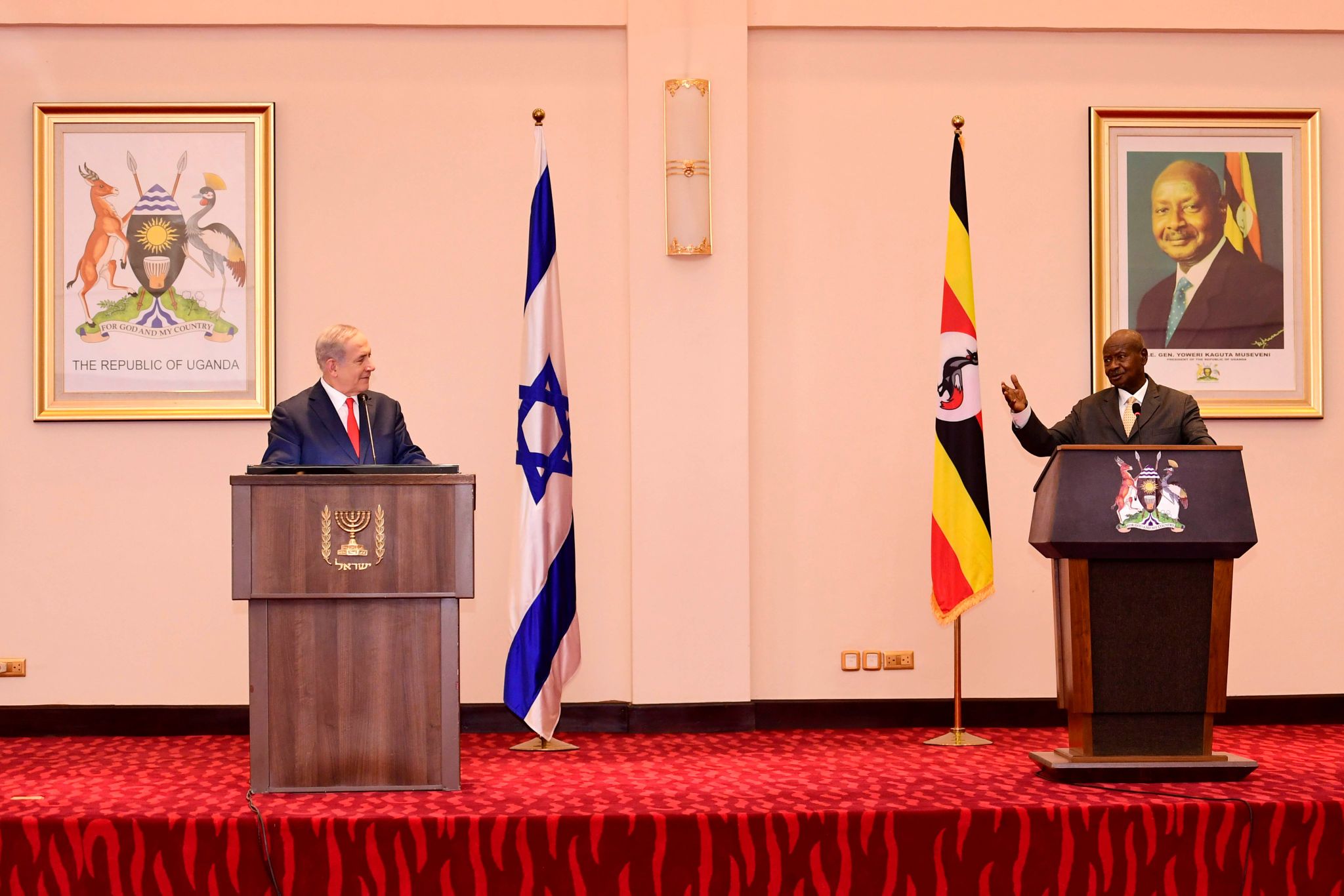 He lauded President Museveni for helping Israel in its efforts to increase its cooperation with African countries. "That is something of great, great value to Israel, and we deeply appreciate it".
Uganda and Israel are cooperating in fields of agriculture and education, in innovation, and Netanyahu said "we're open to do more, including in cyber".
He also proposed further channels for the two countries to cement relations – direct flights and opening of diplomatic missions.
"And let me say: there are two things that we want to, very much to achieve, and we discussed in this visit. One is direct flights from Israel to Uganda – direct flights, because that will enable our friendship to flourish," Netanyahu said. 
"And second, I have a simple suggestion that you'll have time to consider, Mr. President, my friend. You open an embassy in Jerusalem; I'll open an embassy in Kampala. And we hope to do this in the near future". 
President Museveni in response regarding the embassy said: "If a friend says, I want your embassy here, rather than there, I don't see why it wouldn't be. We are studying that."
Prime Minister Netanyahu has proposed the issue of having direct flights between Tel Aviv and Entebbe, and this is something we are going to take up, now that Uganda Airlines is operational. pic.twitter.com/yYxqDoB8b5

— Yoweri K Museveni (@KagutaMuseveni) February 3, 2020
Meanwhile, the Israeli national carrier can begin flying to Uganda as soon as they are ready. pic.twitter.com/1SHJScgDDk

— Yoweri K Museveni (@KagutaMuseveni) February 3, 2020
At Entebbe Airport, Netanyahu and his wife, Sara, laid a wreath near the memorial sign for Operation Entebbe, which is posted on the control tower at Entebbe Airport.
"This is the fifth time that I am standing in this place, a few meters from where my brother Yoni fell. This always causes waves of emotion, of longing and of pride," he said.
חוזר לישראל משדה התעופה באנטבה, המקום בו אחי יוני ז״ל נפל. מתגעגע, אוהב, ומלא גאווה. pic.twitter.com/2k7m8gldIJ

— Benjamin Netanyahu (@netanyahu) February 3, 2020
Meanwhile, during his visit, Netanyahu met with with Abdel Fattah al-Burhan, Head of Sudan's sovereign council to discuss future relations between the Sudan and Israel whose relations have previously been sour.
Netanyahu and Burhan had two hours of talks in Entebbe. The two leaders agreed to move toward forging normal relations for the first time.
"It was agreed to start cooperation leading to normalization of the relationship between the two countries," an Israeli statement said.
Israel previously considered Sudan a security threat because it suspected Iran used Sudan as a conduit for overland smuggling of munitions to the Gaza Strip. In 2009, regional sources said, Israeli aircraft bombed an arms convoy in Sudan.
There are several Sudanese who make up around one fifth of illegal workers in Israel. These have previously expressed fears towards returning to Sudan arguing they faced retribution for traveling to Israel, an enemy of Sudan.
Netanyahu last visited Uganda in 2016 where he held bilateral talks with President Yoweri Museveni and also marked the 40th anniversary of the raid on Entebbe, in which his brother Yoni Netanyahu, the operation's commander, was killed.