During the Diwali dinner at State House last week, President Yoweri Museveni promised to include, in the Constitution, Indians as one of Uganda's tribes.
Indians first came to Uganda in the colonial times for labour during the construction of the Uganda railway but soon after its completion, many of them remained and got involved in business activities. By 1970s, more than 80,000 Indians lived in Uganda. Their stay was however affected by former President Idi Amin who ordered them to leave Uganda on grounds of milking Uganda's economic cow without feeding it.
It is estimated that over 50,000 who owned 90% businesses in Uganda and paid 90% local taxes were expelled and these scattered in different parts of the World.
When President Museveni took over power in 1986, many of them returned and it is estimated that they constitute 1% of Uganda's over 40 million population, estimated to pay about 65% of the local taxes.
Now, much as the remarks by the President on being recognised as a tribe were received with excitement from the Indian community in Uganda, some members of Uganda's Parliament this week, vowed to block the move on grounds that the Indians are discriminative against Ugandans based on their skin colour and that they have refused to assimilate with Ugandans despite living in the country for years.
SoftPower News' Kungu Al-mahadi Adam, Thursday sought the opinion of Sanjiv Patel, the spokesperson of the Indian community in Uganda, on the issue.
Sanjiv starts by stating that there is no Indian asking for recognition as a tribe but instead, it's them the Ugandans who don't have a tribe asking for one.
"The biggest misconception everybody has is that Indians are asking for a tribe and you are looking at me as an Indian because of my skin colour, I am a Ugandan and it is the Ugandans who do not have a tribe asking for a tribe, Ugandans of Indian origin are asking for a tribe. The conception should be very clear on this one, it is not the Indians, it is the Ugandans of Indian origin who are asking for a tribe," Sanjiv said.
"Now that we have put the facts straight, I would like to know, being a Ugandan, don't I have a right to a tribe? For example, you (SoftPower News Reporter) are a Ugandan, aren't you recognized in the constitution as a Muganda? You have been recognised, every indigenous and non indigenous Ugandans like Banyarwanda, Barundi and Nubians have been recognised, what is wrong with us? Is it because we are a lighter skinned?" he asked.
He says the demand for recognition as a tribe in Uganda started about three years back and it comes up every time they hold Diwali festivals and that the President has been aware of their demands and "this could be the reason why he (President) talked about it at the Diwali dinner on November 7 at Entebbe".
"Probably, the President realises and he is very much aware about the importance of the Indian community being in Uganda and the importance of being recognised as one of the tribes," he says.
Asked on claims that Indians have refused to assimilate into the Ugandan communities, Sanjiv responded to the contrary. He says whoever talks of assimilation should review the country's history when former President, Idi Amin expelled them out of the country.
"Whoever says that is forgetting the history of this country. Unfortunately, Indians here, didn't have a continuous stay like how Kenyan-Asians did, in 1972. We were thrown out, only a handful of Indians remained and many of them integrated like Karim Hirj, Mukwano, Karim Dembe, Kaka from Mbarara. They did because they stayed here. We didn't have a continuous stay unfortunately".
"A Muganda who has grown up for about 20 years in Uganda, if he goes to Europe, he will still come back home, but his children will probably marry a European or somebody else, you have to give generations time to understand that," he adds.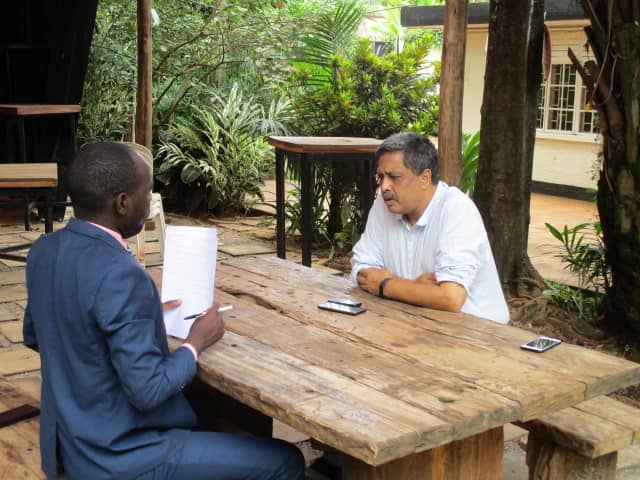 He says in Kenya there is a lot of intermarriages before citing out some of the examples of his relatives who have been denied recognition as Ugandans despite marrying to Ugandans.
"My own cousin is married to a Ugandan wife, an indigenous Ugandan, having three children, the elder being 12 years but as of today, he is still not recognised as a Ugandan, now where do I go? We still go to immigration and government doesn't recognize us. I have two Indian women who are married to Ugandan men and they still not given Ugandan citizenship to work in this country with their husbands, now what do you expect?"
According to him, assimilation is not a short time process, saying it takes generations and as such, he is optimistic that it will happen at some point.
"Uganda has a different history than the rest of the African countries. There is a second generation coming up but when you look at them, they are assimilating. You can't expect someone who has just come straight away to be assimilated within the community, it takes time," he explains.
He says every immigrant anywhere in the World takes two to three generations to get in.
"Even when the West African slaves were taken to America, unfortunately they were discriminated against completely but they took their culture with them and made sure they they married within themselves at that time. It took a longtime and so, even here it will happen. How many West Africans marriages do you see with East Africans?"
Intermarriages between Indians and Ugandans
Sanjiv emphasizes that there are intermarriages between the two communities though on a small scale. He says this can be explained by the fact that marriage is a question of choice and cultural differences.
"Marriage is a convenience of each other, I will give my son to a Ugandan if he agrees to marry but my culture says I will need the dowry from the girl not me giving it to the girl and we don't believe in cows as it is here, I will need kilograms of Gold, will that be possible – not all because our cultures are different," he said.
He explains that no one can be forced to get married to someone not of his or her choice and so, they have little influence in who their children marries or get married to.
"It is one's choice. My son likes a Mercedes Benz and I am okay with a Corolla".
Indians of Ugandan origin own many businesses in Uganda ranging from hotels, banking, retail and manufacturing, but there have always be claims that they employ only fellow Indians in top administrative positions of their businesses. Sanjiv says, it is a point of trust.
"It is not being discriminative, it is a business decision. In a business, you take a decision. In business, I might allow my son to run my business or not depending on his abilities and capacity. It is a question of initial trust," Sanjiv explains.