JINJA – Hundreds of residents of Jinja have on Saturday taken to the premises of the Chief Magistrate's court demanding the release of the Resident District Commissioner (RDC), Eric Sakwa who was remanded to prison on Friday over alleged manslaughter, robbery and malicious damage.
Some of the residents demanded that Speaker Rebecca Kadaga intervenes while others chanted Eric Sakwa's name while calling on other residents to stand with the RDC who they expected to appear today for bail application.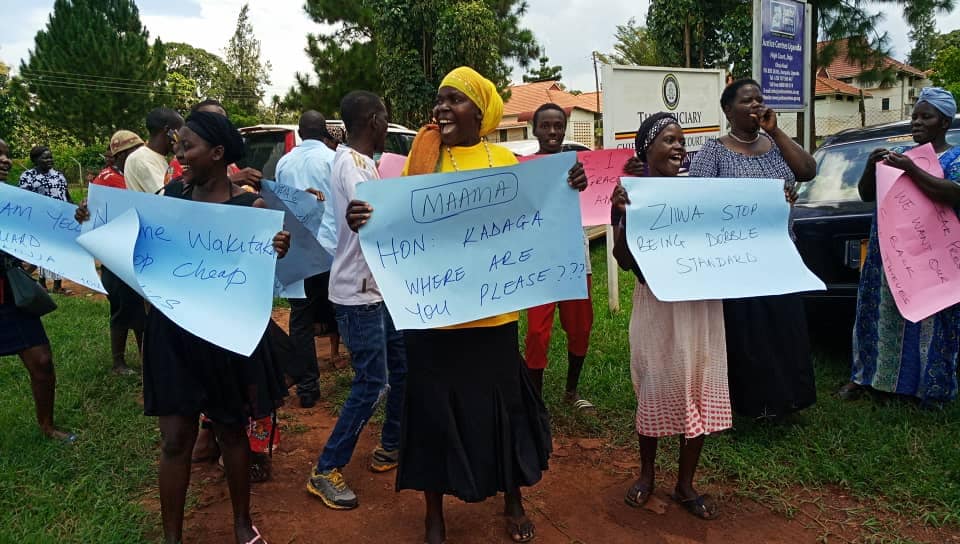 One of the residents who joined the protest told this reporter that jealous local politicians of Jinja had plotted the arrest of Eric Sakwa.
"Sakwa has enforced strict compliance with government guidelines to fight Covid. Some of these politicians are not happy that he might attract the President's eye for doing his work well. They think he is outshining them and they have been fighting him for long," Peter Waiswa said.
Another resident who only identified herself as Grace alleged that some politicians who help land grabbers engineered Sakwa's arrest.
"The land grabbers of Jinja are well known and the RDC has been fighting them. We all know that they have been planning his downfall. The land grabbers and their politician friends are very connected. They worked with big people to arrest Sakwa.  If they don't release him, they will not win an election again," she said while pointing to a placard that carried words condemning one of Jinja's Member of Parliament.
None of the residents who joined the protest bothered to observe social distancing amid the Covid-19 pandemic and ongoing lockdown. Policemen were seen looking on.