Kenyan President, Uhuru Kenyatta in yet another unprecedented political move apologized to his long time political rival, Raila Odinga and asked for his forgiveness.
Uhuru was Thursday speaking at the annual National Prayer Breakfast which had Odinga and other political players in attendance.
"We have campaigned against one another. We have said nasty things about one another. We have hurt one another. On my behalf, I ask for your forgiveness and tender my apology," President Kenyatta said to Odinga.
He said that the putting their political wrangles behind them would go a long way in ensuring that they aim in one goal and help the country multiply its gains.
The President had first called his deputy, William Ruto to join him upstage and later, opposition figures Odinga and Steven Kalonzo Musyoka in order to perform one last act.
"Don't worry, we are not going to sing," Uhuru joked as he invited his political partner, Ruto.
After apologizing to Raila Odinga, Uhuru extended a handshake and hug which Odinga returned.
Afterwards, he passed the microphone to Ruto who equally sought forgiveness from former Vice President Kalonzo.
"As my brother, the President has said, and maybe I am the one who is most accused, I want to say that for all the things that I did say or did on behalf of our teams, I want to ask that you forgive me," Ruto told Kalonzo.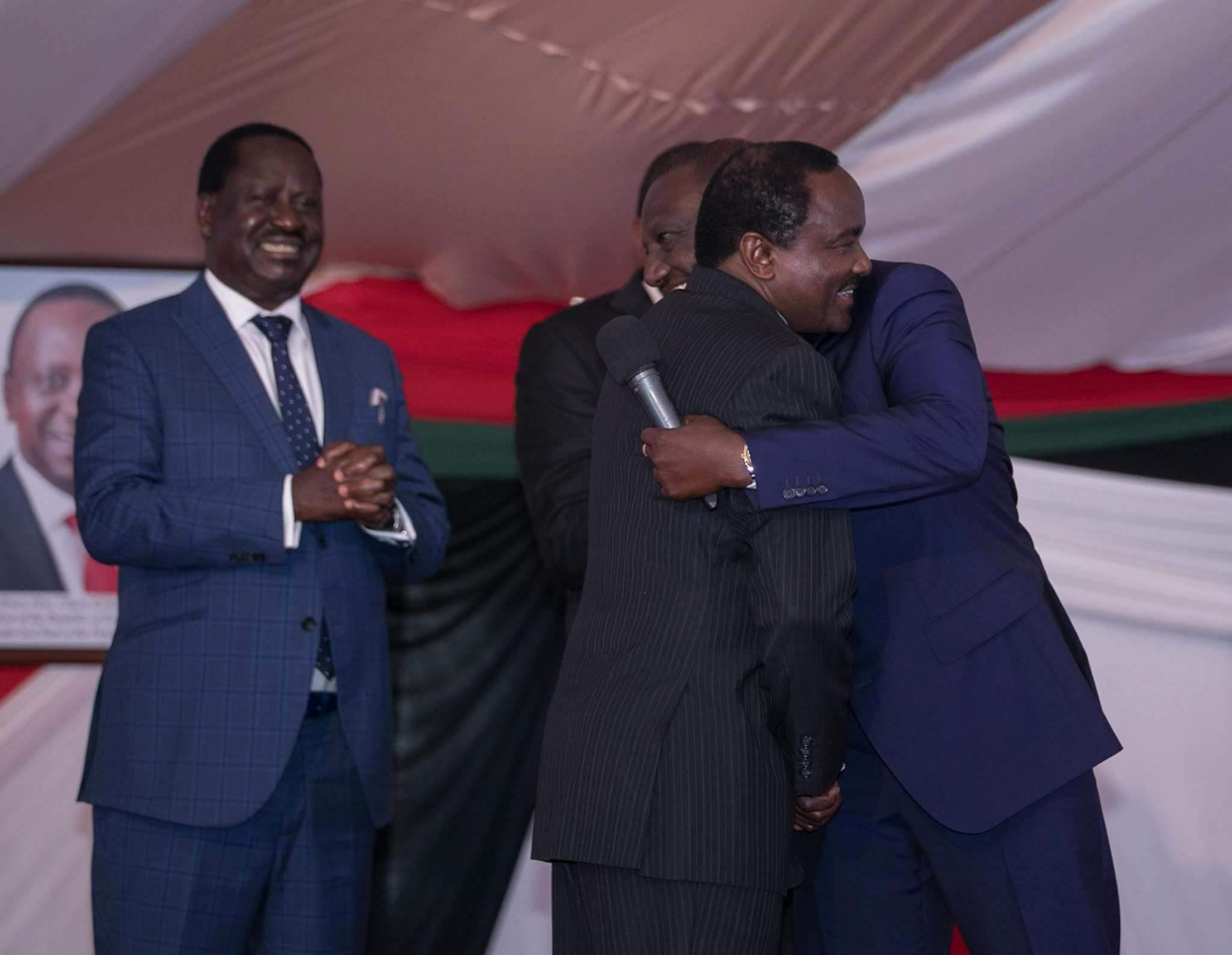 "On my behalf, and all those behind us I tender my apology," he added before the two exchanged a handshake and a hug.
This is the second time President Kenyatta and Raila Odinga have publicly appeared together and exchanged pleasantries since last year's Presidential election that left the country polarized and scores killed in violent clashes.
Opposition leader Raila Odinga who tendered his apology on behalf of NASA coalition said never again shall Kenyans be led to fight against each other because of election.
On his part, Odinga said: "I want to thank my brother Uhuru Kenyatta on what he has just done and I wanted to mention that when we decided to shake hands we had a very long discussion, we went down the memory lane where it started. Where the rains began to beat us as Kenyans".
In March this year, Kenyatta and Odinga jointly a addressed a news conference striking a tone of reconciliation. The two leaders said it was time to put their differences behind them for the good of the nation's interests.
On Thursday, President Kenyatta said since Kenya is a democracy, people will never always agree on everything and will from time to time have differences in terms of political opinion. He further urged that the differences should never lead to bloodshed and destruction of property.
On the issues that Kenyans agree, the President implored leaders to work together to ensure the national goals are achieved.
"The challenges facing this country are huge: we still have to ensure we give our people adequate healthcare, adequate housing – surely we can't disagree on that," the President pointed out.
He mentioned that he together with Ruto are committed to uniting Kenyans and that violence never repeats itself.
"This is a journey that I am hoping will be strengthened by working closely with my brother Raila Odinga and all leaders in the country," President Kenyatta said.
The prayer breakfast was attended by Somali President Mohamed Abdullahu Mohammed and Chief Justice David Maraga among others.