From the onset, politics was inevitably going to be part and parcel of singer Bobi Wine's long awaited music concert dubbed 'Kyarenga'. To think otherwise would be sheer willful insincerity.
As part of the stipulated guidelines set by Police for the Kyarenga concert was a condition that the event was not meant to be political gathering but rather for entertainment.
But recent events, at least since the happenings in Arua where Bobi Wine was allegedly tortured by the military, have showed that Robert Kyagulanyi, the opposition political actor and Bobi Wine the singer are inseparable.
This played out on Saturday, at One Love Beach in Busabala where the singer staged his first music performance since he was released from detention in August this year.
Thousands of people, majority of them wearing red, a color that has become symbolic of Bobi Wine's 'People Power' movement, thronged the shores of Lake Victoria to attend the Afro Pop musician's showcase.
Different artistes who entertained the crowd before Bobi chanted slogans of People Power, advocating for change in government.
However, the political aspect became more vivid at the tail end of Wine's performance close to midnight after he changed to his third attire, red fatigue akin to a military ceremonial uniform along with his signature red beret hat.
He then performed songs like Situka, Jeniffer, Time Bomb and Freedom, all of them carrying themes on Uganda's political environment and its oppressive nature. The singer kept reminding the crowd, many of them youth, to remain cautious of their individual responsibility in changing the status quo by reclaiming the country.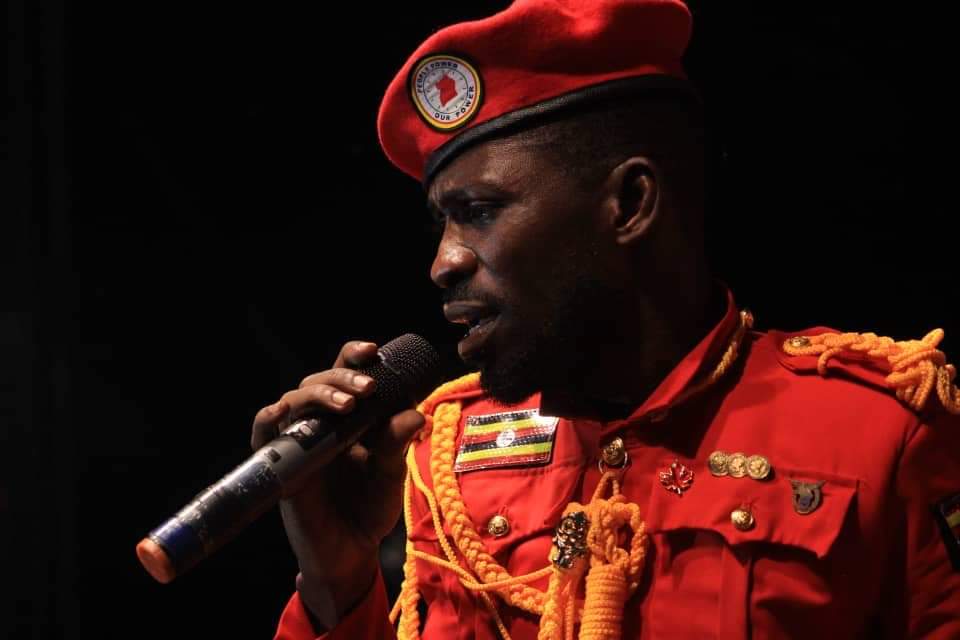 "As much as i love to sing and entertain you, and you get excited, do not let that excitement end here. We need to liberate ourselves," Bobi Wine told the revelers.
He then hinted on the criticism he has received in recent months from those who question his ability to lead the country.
"The elites keep asking me 'What are your policy alternatives?' I say what matters is for the people to reclaim their power and once we are in charge, we can determine which direction we want our country to take".
Like he has consistently done ever since he launched his political bid as a Member of Parliament for Kyadondo East, Bobi Wine did not directly reveal his intention to run for President.
"Others ask me what their role is in this struggle. You have one role – to get a national identity card," Bobi Wine went on to say to the cheering crowd.
He said that the only way young people can stop being spectators in the electoral process as has been the pattern in recent general elections, is for each one of them to acquire a national identity card.
"Get a national I.D. We are only left with two years and we shall show them what we are capable of come 2021. Whatever we do minus getting an I.D doesn't count".
A national identity card is a prerequisite for one to be an eligible voter in Uganda.
The 36-year-old self proclaimed 'Ghetto President' cited ills like sectarianism, corruption, inequalities in income, oppression, lack of affordable education and health services that continue to push Ugandans to the edge.
A number of Members of Parliament who are affiliated to the opposition, including Paul Mwiru, Francis Zaake, Asuman Basalirwa, Barnabas Tinkasiimire, Joseph Ssewungu and Mukasa Mbide were present at the concert.
Beyond the entertainment, Bobi Wine used the event to sell a message of hope to the Ugandans who are hungry for systems that work for them. Prior to performing his hit song 'Kyarenga', he sang a popular gospel hymn which projected a message of a new dawn once the 'war' is done.
Bobi Wine said it is possible to have a Uganda "where we all love one another" and "where nobody harasses you because of the color you are wearing".
Singers like Eddy Kenzo, King Saha, Nina Rose, Mathias Walukaga, Spice Diana, Nubian Lee, Dr Hilderman, Khalifa Aganaga also performed at the concert.