The family of the late Prof Apolo Nsibambi, Uganda's longest serving Prime Minister, have eulogized the distinguished academic who died last week, as a great father and loving husband who exhibited great generosity.
This was during a requiem service held Tuesday at St Paul's Cathedral Namirembe where Nsibambi's family and loved ones converged on Tuesday to pay their last respects.
The service was attended by the Vice President, Edward Kiwanuka Ssekandi, Prime Minister Ruhakana Rugunda, Ministers, politicians from across the divide, representatives from Buganda Kingdom among others.
The Archbishop of Church of Uganda, Rt Rev Stanley Ntagali, Bishop Wilberforce Kityo Luwalira of Namirembe Diocese other members of the clergy were also present.
During the service, Esther Nsibambi, the wife to the former Premier gave a glowing tribute to Nsibambi, saying he embodied everything she had ever needed in a man.
"I prayed and consulted before I got married. I wanted a Godly man and that's what I got in Nsibambi. His life reflected what the Bible says about marriage," he said.
"I have lost my friend and I know I will find him. He loved me so much, whenever he began to speak good of me, everybody was curious to see who it was he was talking about".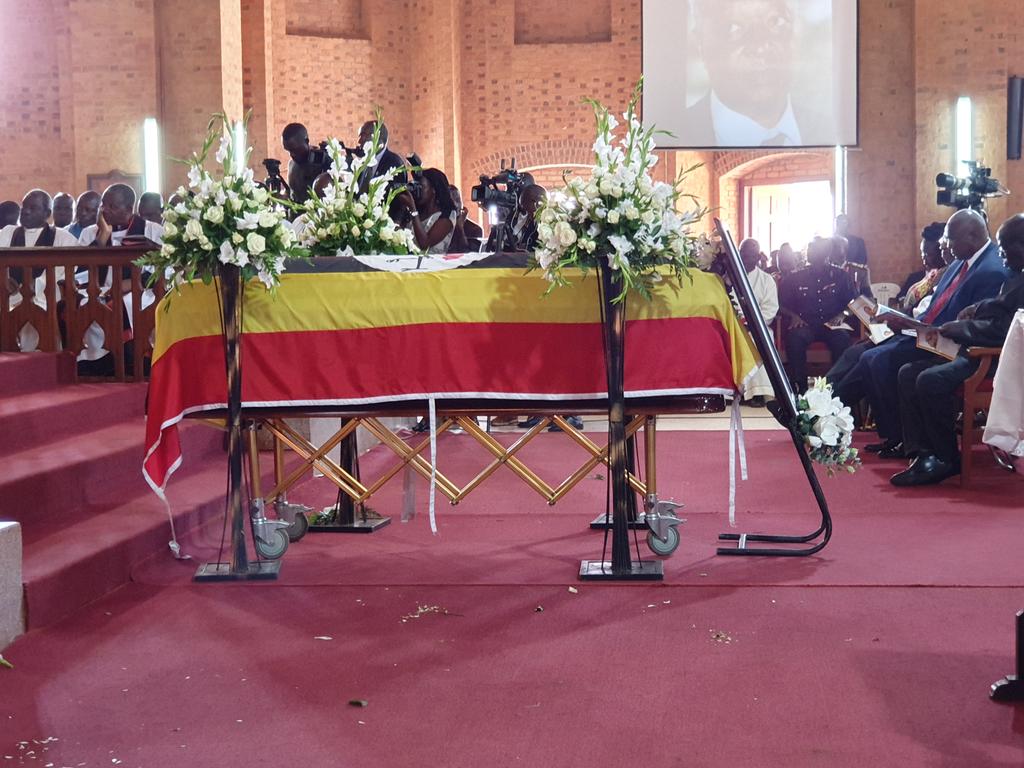 She recounted that her husband always put her first whether through the letters he wrote to colleagues or while they walked together in church aisle during prayers. And this made her feel special, she said.
Esther challenged men to love their wives wholeheartedly, saying this will in turn manifest itself in how they (wives) treat them. She told mourners that she and the late husband were transparent with each other to the extent that they opened joint bank accounts when they got married.
"I urge men to be open to your wives. Don't conceal anything," she said.
The children and inlaws of the late Professor equally spoke fondly of him. One of his daughters described his late father as having been humble, forgiving and very generous.
"He had humility. It is hard to find a parent in Africa who can apologize to their children when he does wrong. He was strict yet soft at heart. He was very generous, he always felt for people," she said.
Another of Nsibambi's daughters remembered her father as a protector. She said, whenever she reported to her dad on boys who had bullied her at school, Nsibambi personally confronted the boys and warned them and this would not reoccur.
Prof Nsibambi died of acute respiratory failure as a result of a blood clot in his lungs, according to Dr Henry Ddungu, an oncologist at Uganda Cancer Institute. Dr Ddungu was part of the medics that attended to Nsibambi since 2008 when he first presented low levels of blood.
In 2009, he was diagnosed with multiple myeloma (a cancer that forms in a type of white blood cell called a plasma cell) but this was later cured. In February this year, he relapsed and became anaemic again.
At St Paul's church Namirembe, President Yoweri Museveni was represented by the Vice President. In his message, Museveni described Nsibambi as a man who was incorruptible all through his life.
He said Nsibambi helped build good relations between the central government, Mengo and the academia. He added that the late Professor believed strongly in inclusiveness and diplomacy.
"He was 78 and still useful to Uganda, but as God wishes, we shall all die. May his soul rest in eternal life".
In his message, Archbishop Ntagali said Nsibambi had run his race. He stressed the need for Christians to be reminded of life after death. He appealed to Ugandans to emulate the virtues of integrity, truthfulness, patriotism and commitment which Nsibambi represented.
"Money cannot provide peace or security. But when you  have Jesus, you have peace. You can be a politician, Engineer or academic but still follow Jesus"
Nsibambi was laid to rest today, Tuesday at Kasero Church of Uganda grounds, Buloba in Wakiso district.
Other dignitaries who attended the prayers on Tuesday included the Chief Justice, Bart Katureebe, former Prime Minister Amama Mbabazi, Dr Kizza Besigye, Mugisha Muntu, Miria Matembe, Mondo Kagonyera among others.