At least 24 students of Makerere University including the Guild President, Papa Were Salim have been arrested following a strike that broke out on Monday morning.
Despite the interruption of the Monday morning relentless drizzle, angry students declared a strike in protesting what they call "draconian policies" that were recently announced by the university Management.
Wearing red gowns as has been tradition during strikes at Makerere, the students led by Guild President Salim made rounds in the different halls of residence with chants of displeasure, mobilizing their colleagues to join the strike.
The escalating tense atmosphere is what prompted police to deploy heavily at the campus to quell the strike. There was a high presence of police officers and numerous police pickups along with anti-riot trucks.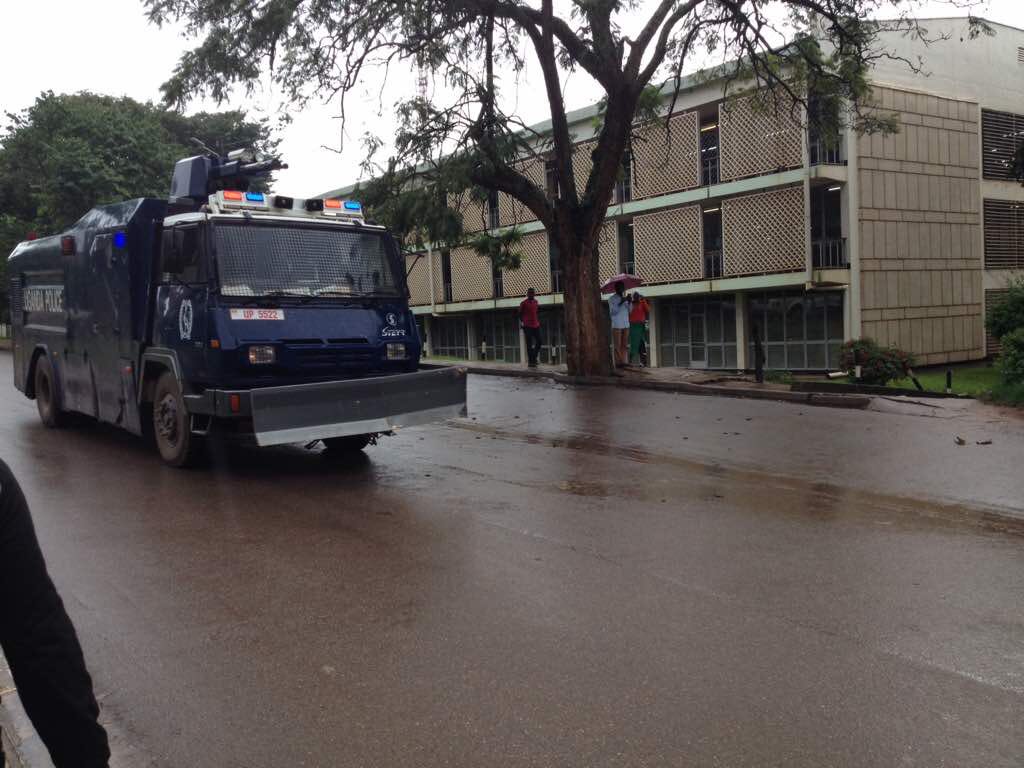 Soon, the students engaged in running battles with the police leading to some arrests. In the scuffle, rounds of teargas were fired to disperse the students.
The Guild President Salim Were who was at the centre of the mobilization was picked up at the School of Psychology and forced into a police vehicle which drove him off amid protest from students.
The Deputy Commander for Kampala Metropolitan Police, ACP Denis Namuwoza confirmed that 24 students were arrested. Some are being held both at Makerere Police Station while the others were taken to Wandegeya Police station.
It is however unclear where the Guild President is exactly being detained.
By press time, there was still a stalemate during a crisis meeting as the university Management and students leaders failed to agree on the release of the arrested students.
Monday's strike came at a backdrop of heightened social media mobilization by students over the weekend rallying their colleagues to take part in the 'Bloody Monday' themed strike.
They said they were opposed to the scrapping off of meals in halls of residence, suspension of evening classes and hikes in tuition fees among others grievances.
Last week, the Guild President wrote to the Vice Chancellor, Prof Barnabas Nawangwe informing him of a consultative meeting the next day to discuss some of the issues of contention, but the Vice Chancellor did not attend.
The Management in a statement later attributed Prof Nawangwe's absence to other scheduled engagements. In the statement, the University PRO, Ritah Namisango appealed the students to stay calm as some of the issues required the approval of Parliament.