Players in the marketing industry as well as Small and Medium-size Enterprises (SMEs) and large corporations have been encouraged to take advantage of the untapped business opportunities that the growing tourism sector in Uganda presents.
This was at the recently concluded Marketers Fireplace, the annual gathering of marketing professionals that happened on Friday 20th September at the Sheraton Kampala Hotel.
Organized under the theme "Marketing Uganda: The Untapped Opportunities for Brands", the third edition of the Marketers Fireplace was headlined by Pearl Hoareau Kakooza, the reigning President of the Uganda Tourism Association and Vice Chairperson of The Association of Uganda Tour Operators, who delivered the event's keynote address.
Speaking to a packed house of Marketers, entrepreneurs and key tourism sector stakeholders, Kakooza, who is also the Seychelles Tourism Ambassador to Uganda, touted the vast potential and growing importance of Tourism to Uganda's economy, quoting recent figures showing that the sector contributed almost 8% to Uganda's GDP and attracted more than 1.5 million tourists in 2018, all despite receiving only 0.3% of the total national budget.
"On average, a tourist to Uganda spends $1,036 per day. The question for you then is, What, Where and How can Ugandan businesses sell to these 1.5 million tourists everyday that they stay in our beautiful country?", asked Kakooza, who encouraged businesses to think of products, services and experiences to sell to a potential market that is poised to grow to as high as 4 million tourists a year by 2021, according to government estimates.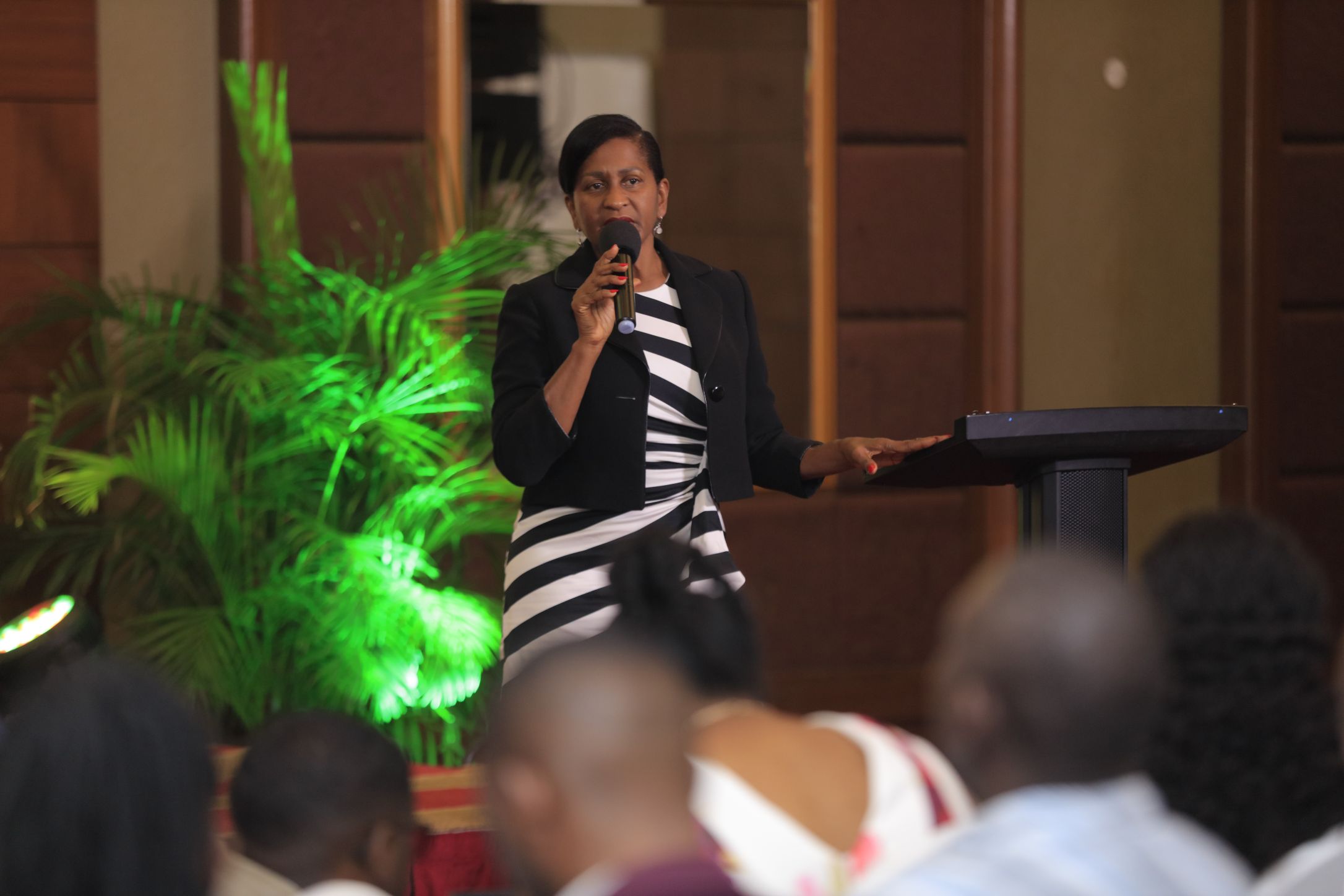 Regarding the opportunities that exist in the tourism sector, Kakooza cited agriculture, transport, (marine), hospitality, forex, culture, retail and religion. She stressed the need to diversify the country's tourism products beyond just wildlife.
For his part, John Paul Okwi, the current President of the Uganda Marketers Society encouraged marketing professionals to take a closer look at the tourism value chain to seek out promotional opportunities for their brands.
"Whether it's the banks and telecoms pushing digital payment methods, or insurance companies promoting travel insurance plans, the beverage and fuel brands boosting domestic tourism campaigns, the opportunities are endless and the channels to promote our products, ever expanding", Okwi noted.  
The World Bank estimates Uganda's full tourism potential in the excess of $12billion (UGX 45 trillion) but the nation currently earns a little over 10% of that.
According to Daniel Irunga, Senior Marketing Officer at Uganda Tourism Board and one of the panelists at the Marketers Fireplace, the government has taken note of this gap and is committed to closing it by actively investing in active promotion of Uganda as a tourist destination working with international Destination Marketing Representatives in key markets.   
Sarah Kagingo, the President of Public Relations Association of Uganda (PRAU) and CEO SoftPower Communications LLC made a passionate appeal for Ugandans to use social media to project a positive image of the country, which is critical in attracting visitors.
"Tourism is a very fragile sector. It is sensitive to the impact of security and communication, yet we have become more attracted to the negatives. Why would one be more interested in posting photos and videos of countrymen injured in an accident before even offering help? The sum of these posts negates everything good about Uganda, a country voted in 2017 by expats as the friendliest in the world.
Uganda has beautiful sunsets, an amazing countryside and great weather all year round. Would be great to post that as well" she said.
Kagingo cited creation of content on Destination Uganda as an untapped opportunity along the tourism value chain that brands can tap, in partnership with the tourism public sector agencies like the Uganda Tourism Board, Uganda Wildlife Authority and Uganda Wildlife Education Centre.  
On the challenges faced by SMEs surrounding that costs associated with promoting their businesses to tourists, John Ssenkeezi, the Digital Marketing Manager at Airtel Uganda encouraged SMEs to leverage various digital tools to reach their target customers before they ever get onto a flight to Uganda.
"SMEs should consider listing their businesses, for free, on Google Maps, optimizing their websites to make them easy to find when tourists search for Uganda and effectively utilizing social media platforms such as Facebook, Twitter and Instagram to sell the Uganda story as well as their business offerings", Ssenkeezi said.