A strike by medical interns is yet again looming over concerns relating to inadequate salary, lack of accommodation and a rotation policy that they say makes it difficult for them to acquire sufficient practical skills.
The medical interns under their body, Federation of Medical Interns, addressed a news conference in Kampala where they protested the continued disregard of their concerns by the Ministry of Health.
Dr Kigula Samuel, the President of the Federation said medical interns are the readily available core frontline personnel in all government national and regional referral hospitals as well as privately credited hospitals, yet they continue to work under unpleasant conditions.
"We work 36 hours out of the 48 hours. We always work to save the lives of Ugandans. We are not given accommodation, no feeding little over time allowances, little pay. Some people work and leave at night putting their lives at risk," he said.
Dr Kigula said that interns have no clear salary scale and that even the little pay of Shs 980,000 per month is not paid on time. Even this is heavily taxed, he said.
The other concern raised regards the changes made by the Ministry of Health in the rotation policy during their internship which narrowed down the duration of attaining certain skills.
Previously, the interns did 4 disciplines, 3 months each to gain practical skills in surgery, obstetrics and gynecology, internal medicine and pediatrics.
However, this system was changed to 2 major disciplines and 3 minor disciplines which according to the interns will deprive them time to gain adequate skills.
"Imagine a doctor who spent only 2 days in a clinic in Kawempe where you have 15 wards to attend. Will this doctor be competent enough? We tried to talk to the Ministry but they gave us a deaf ear, we proceeded to court and we secured a court order".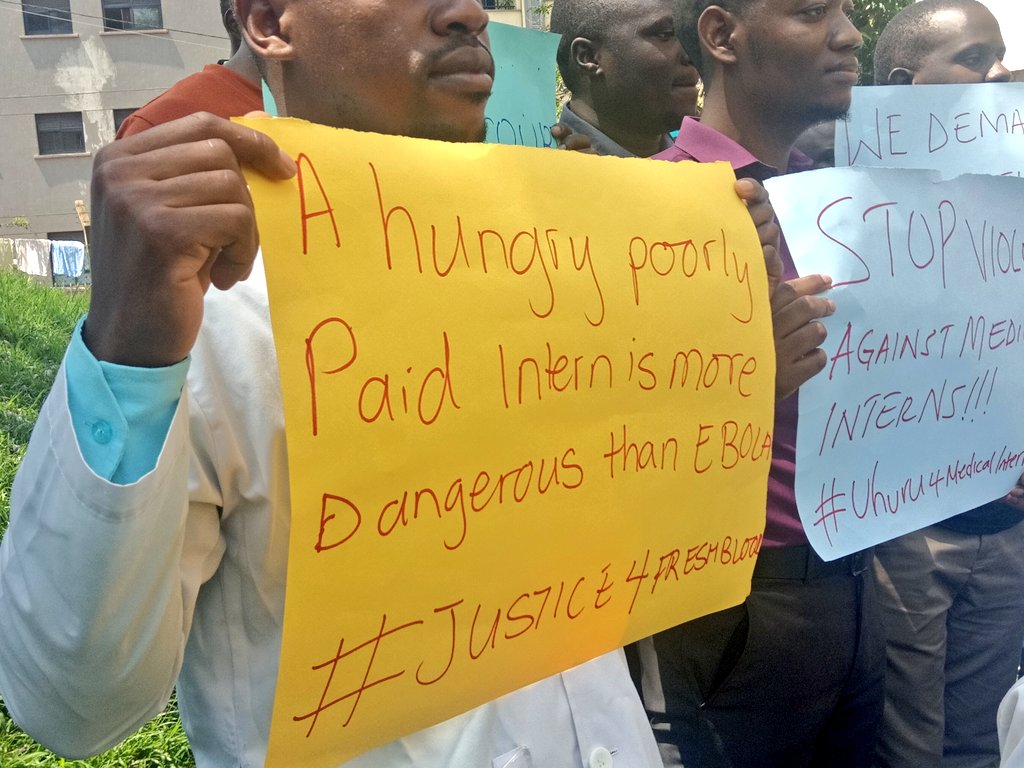 He however said the Ministry has disregarded the January 25 court order over the issue.
The court order delivered by Justice Ssekaana Musa states: "This court issues a temporary injunction against the first Respondent (Ministry of Health) or its agents/servants from implementing the rotation for medication in terms from 3 months rotation in 4 disciplines to 2 Major disciplines as out in the letter dated 5th October 2018".
They demand that their payment is harmonized as per the Public Service Standing Orders Section B, Article B (b) which stipulates that the basic salary point for a government worker with a job specification requiring a Bachelors Degree should get Shs 3m gross pay.
"Surprisingly, an intern doctor gets Shs 780,000 net pay which isn't even a quarter of what is required since it is heavily taxed".
They are also demanding that nursing students and clinical doctors are given an extra year for their 4-year study leave to get paid internship.
A General Assembly of the medical interns convened at Mulago national referral hospital on Monday unanimously agreed that the interns will not proceed to pick their appointment letters or even report to the respective health facilities where they have been deployed until their demands are met.
Dr Joel Mirembe, the Outgoing President of the Federation of Medical Interns shared his experience when he painfully endured difficult conditions during his internship at Mulago hospital which included having to commute from Kalerwe on foot.
"We were given Shs 90,000 for accomodation. Tell me, where can you find accommodation for Shs 90,000 in Kampala?" he wondered.
Mirembe said that by implication, a psychologically stressed doctor is harmful to their patients as they would not be in position to make good judgment.
These concerns were reiterated by Dr Ekwaro Obuku, the President of the Uganda Medical Association, the body that brings together medical doctors in Uganda.
He expressed dissatisfaction that government has perennially failed to address the challenges faced by intern doctors "who are the future of the medical profession in this country".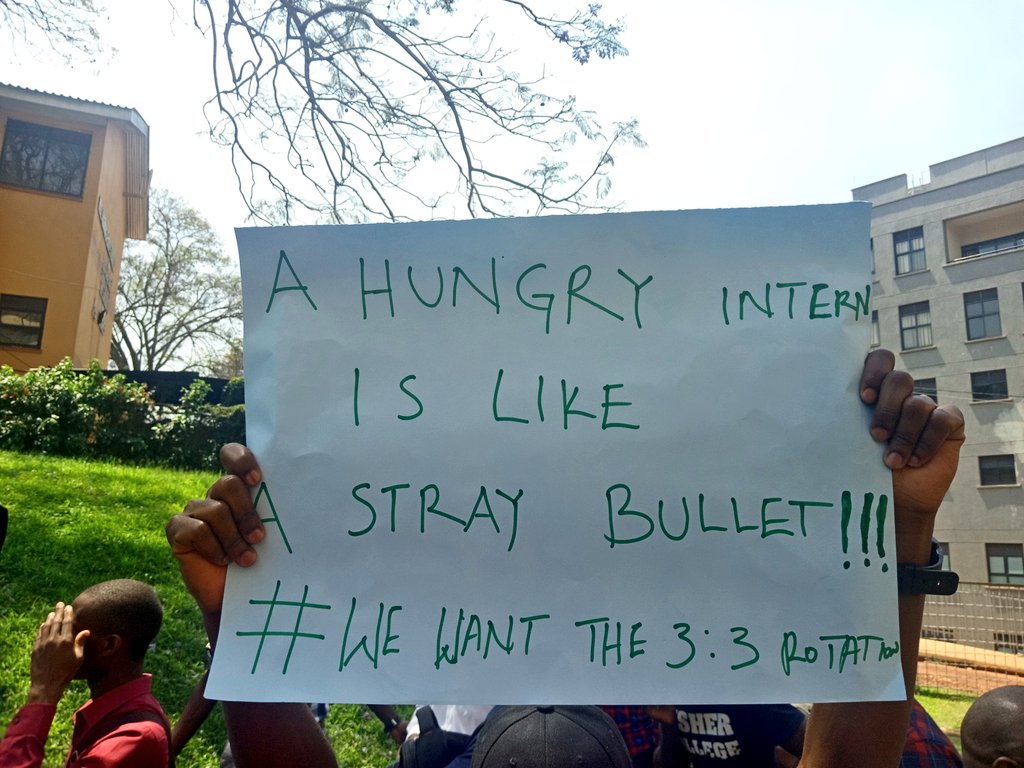 "Youths are the majority in Uganda yet they access resources the least. This problem of internship has been there for long. We have failed to take of our new born into the profession, they are the first people experiencing frontline medical care".
"They are very important and we shouldn't ignore them".
In 2017, medical doctors along with medical interns went on strike for nearly a month over the poor conditions in which they were working. Among the demands was improving the allowances of the interns.
Dr Ekwaro says that doctor are bound by their profession to sacrifice a lot including free time to engage in other things, which requires that they are well facilitated.
While he acknowledged the recent move by government to increase salaries for doctors and some Ministry of Health officials, the critical personal such as the intern doctors were not considered.
"It is very difficult to find government houses where they are supposed to stay. They were sold. In Karamoja, these houses are being occupied by government officials. We need to motivate these young people because it's the youth who will go through that stretch to serve in Karamoja".
He appealed to the Ministry to expedite the drafting a guiding document for internship.