Uganda Tourism Board (UTB) has commended Miss Tourism Ankole 2018, Anita Ayebare for her good representation of Uganda at the recent Miss Tourism World 2019 contest in Porec, Croatia.
At the global contest, Ayebare, 24, emerged the fourth runner-up.
On Monday, she was officially welcomed back to Uganda at a cocktail party organized by Uganda Tourism Board which was held at Kampala Sheraton Hotel.
In her remarks at the event, the UTB chief executive, Lilly Ajarova, congratulated the beauty queen on her performance.
"It is a pleasure that we welcome you home. We are very proud of you. Thanks for making us proud as a country and holding the flag high," Ajarova said.
"We commit to continue to promote more ladies to take this industry to another level," she said.
The event was also attended by the Deputy UTB chief executive of UTB, Bradford Ochieng, the reigning Miss Tourism Margaret Kankwanzi, the CEO Miss Tourism, Kanyike Allan Bwete, Ayebare's parents, the technical director of Uganda Tourism Association, Richard Kawere among others.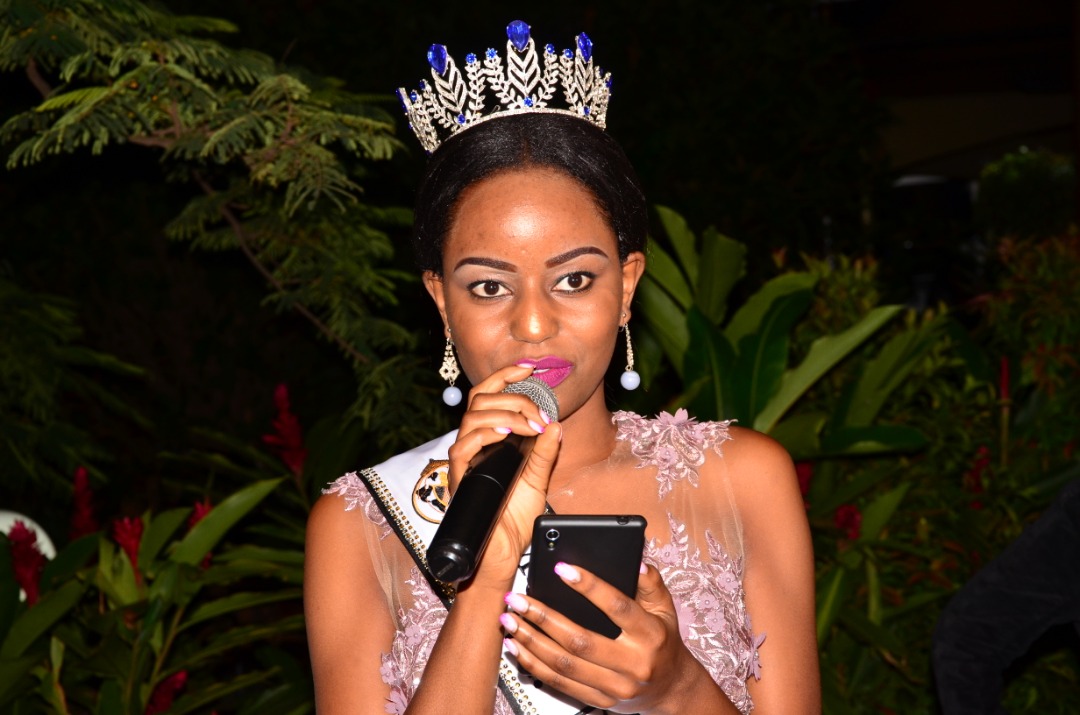 The Deputy UTB chief executive of UTB, Bradford Ochieng applauded the beauty queen for being a good ambassador for Brand Uganda at the Croatia contest.
"At UTB we are committed to promoting tourism in the country and marketing Uganda as a tourist destination. All of you have a role to play as influencers and promoters of destination Uganda," Ochieng said in reference to beauty queens.
"We want to thank Anita for being exemplary and for enduring the challenges. For us to be on the map of Croatia, she has done us proud," he added.
Ochieng added that for Ayebare to be on the same platform with representatives from 54 countries is no mean achievement.
"We appreciate the role you have done in telling the world out there about the Pearl of Africa and the opportunities here".
He as well thanked Ayebare's parents for allowing their daughter to serve in the interest of Uganda. He said this is a sacrifice for the country.
UTB will ensure the Miss Tourism project continues, because beauty queens are Uganda's ambassadors, he said.
"We want to ensure Uganda as a destination is competitive and that can only happen if we have ambassadors".
Speaking to reporters, Anita Ayebare said she was excited to have come out among the top finalists in Croatia.
"I was excited, i was proud of Uganda. By the way, what made us win was the destination Uganda. Because whenever i spoke about the attractions in Uganda, everyone was woowed," Ayebare said.
She says the participants and jury were moved by the natural attractions that Uganda is gifted with.
"I feel like Uganda lacks adequate content. People don't have content about us. But if they knew what we have, we would even win these pageants and much more".
The 24-year-old who holds a Bachelors Degree in ethics and human rights is passionate about environmental conservation and has since her crowning as Miss Tourism Ankole in 2017 been pushing a campaign to create awareness on climate change.
"We are planting trees and teaching people not to litre, good disposal and what it can do for our environment".
SoftPower News sought her views on what she believes the role of beauty Queens in promoting Uganda is.
"The role of a beauty queen is to capture attention to something. If you need to promote something, you have to present something beautiful"
"When people see something beautiful, they are attracted to it, they pay attention to what is around it. People are then interested in knowing the story behind you".
She says Beauty queens must ride on the following and media attention which their status has gained them to then promote tourism.