President Yoweri Museveni has said that Uganda's investment climate is favorable, citing the existence of a stable State structure which guarantees security. He assured the European countries that government is working to address the remaining bottlenecks that will lower the cost of doing business in Uganda.
Museveni was Tuesday speaking at the close of the Uganda Europe Business Forum at Speke Resort Munyonyo. 
Speaking to delegates who included representatives from the European Union, private sector, the business community and government officials, Museveni said Western countries were able to develop fast based on the capitalistic systems whose hallmark was profits and efficiency.
He admitted that Africa has been lagging behind.
In Uganda's case, the President said "We had to deal with bottlenecks like security – the capacity of the State – you can have a country with no State or a State that is criminal or a State without a country".
He however said that in order to lower the cost of doing business, government has had to deal with the issue of electricity.
The President added that other bottlenecks that have impeded business include infrastructure, under development of human resource, and anti-private sector policies especially under Obote and Idi Amin. Museveni also hinted on exportation of raw materials which has been the trend in Africa for many years.
"When I export one kilo of unprocessed cotton, I get $1. If that kilo is processed into a final garment, that same kilo will give me $15. But more seriously, that cotton has 6 job layers. You grow the cotton, you gin it, then you spin, you weave, you print, tailor and other byproducts. These are all jobs that Africa exports," Museveni said.
In 2018, trade between Uganda and EU stood at 989M Euro (imports to Uganda) and 473M (Uganda's exports to the EU), but Uganda's Finance Minister, Matia Kasaija said these volumes can be tripled if the existing bottlenecks were resolved.
Atilio Pacifici, the Head of the EU Delegation in Uganda outlined the areas which the business reps said require improvement in order to unlock Uganda's business potential.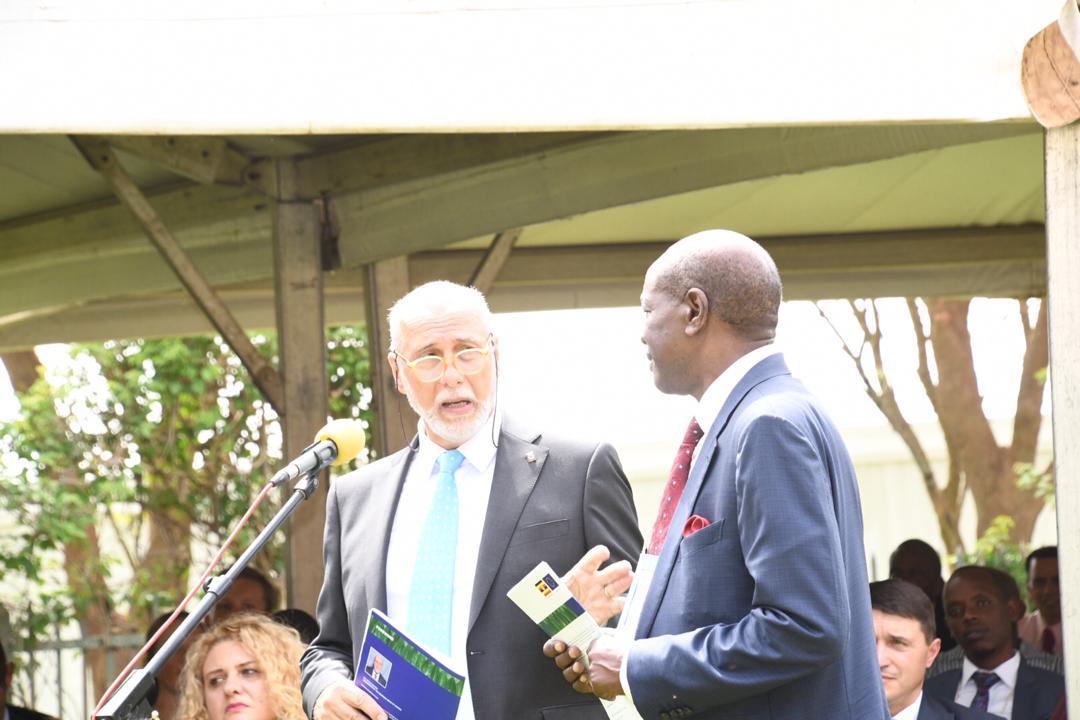 Among them is access to finance, governance, addressing corruption, skills and attitude, innovative technologies for agriculture, green and connected cities and political will towards enforcement of the ban on plastics. He also appealed for scaling up of renewable energy investments as well as green financing to SMEs.
Quoting a survey on EU companies doing business in Uganda, Pacifici said 107 investors have so far invested 472m Euro in Uganda. Out of these, 15 firms are in agro-processing (with 270m Euros invested), 18 firms in manufacturing (130m Euros), 74 firms in  the services sector (306m Euros).
As of 2017, the EU had invested up to 1.5bn Euros in Uganda in total.
He said that the European businesses have created 32,000 jobs for Ugandans and that they plan to make investments worth 646M Euros in the next 5 years.
The Executive Director of Private Sector Foundation Uganda (PSFU), Gideon Badagawa made a case for further digitization of government services. He said it is critical to integrate data centers to eliminate corruption and support efficiency.
"71 percent of government services are digitalized. We have seen this done in URSB which deals with business registration as well as in URA. We need this extended in land management," he said.
He also noted the need to increase provision of advanced Mobile Money services in a bid to deepen financial inclusion.
Regarding policy, he said the absence for the legal framework is affecting public private partnerships which would accelerate large investment projects and balance risks between the private and public sector. 
"There is need for Regulatory framework to facilitate private work. The average legislation on business policies takes 3 years. You can't manage standards without policy. A good example is the Coffee Bill. We know Europe is stringent on standards especially when it comes to imports," Badagawa said.
At the forum, a board comprising of government, EU and Ugandan private sector and the EU Head of Delegation was also launched to steer the processes of trade facilitation.
 Uganda's Ministers of Finance and Trade will also be on the Board as well as private business players Barbra Mulwana, Patrick Bitature and Amos Wekesa.
The forum also saw three additional grant financing agreements worth 89.5m Euros (Shs 343bn) signed to support various projects and programs in Uganda.