President Yoweri Museveni together with his Rwandan counterpart, President Paul Kagame have said that the security and intelligence agencies in both countries need to work closely in order to avoid situations that could cause diplomatic strife.
The two Presidents suggested that the intelligence services must verify the accusations that arise in the media or other sources so as to act on substantive facts.
The Rwandan President on Sunday paid a visit to President Museveni at State House in Entebbe and held bilateral talks on issues touching on security, railway and electricity infrastructure and aviation among others.
President Museveni termed Sunday's talks as "fruitful" while Kagame said the discussion was "satisfactory".
Later, while addressing the press, the two leaders were asked to comment on the recent reports that have come put in the media pointing to the deteriorating relations between Rwanda and Uganda.
The bilateral relations have been strained by counter accusations between Kigali and Kampala administrations, and culminated into countless publications by the two countries' media carrying stinging accusations.
Rwanda had accused Uganda of facilitating rebel elements tied to the diaspora based opposition group, Rwanda National Congress (RNC) and arresting Rwanda nationals.
On its part, Uganda explained that the arrested and deported Rwandans Uganda were involved in espionage perpetrated with the aid of some elements in Uganda Police Force who have since been charged by military court martial. Kampala also accuses Rwanda of committing illegal kidnaps and repatriations of Rwandan refugees living in Uganda.
However, on Sunday, President Museveni told journalists that; "We discussed the need for close cooperation within security intelligences so they can get enough facts".
He blames authorities in both countries for not utilizing communication channels to verify claims made.
"There has not been enough coordination on the intelligence side. It seems these people don't use telephones. A Minister finds it difficult to telephone another Minister in Rwanda to find out," he said.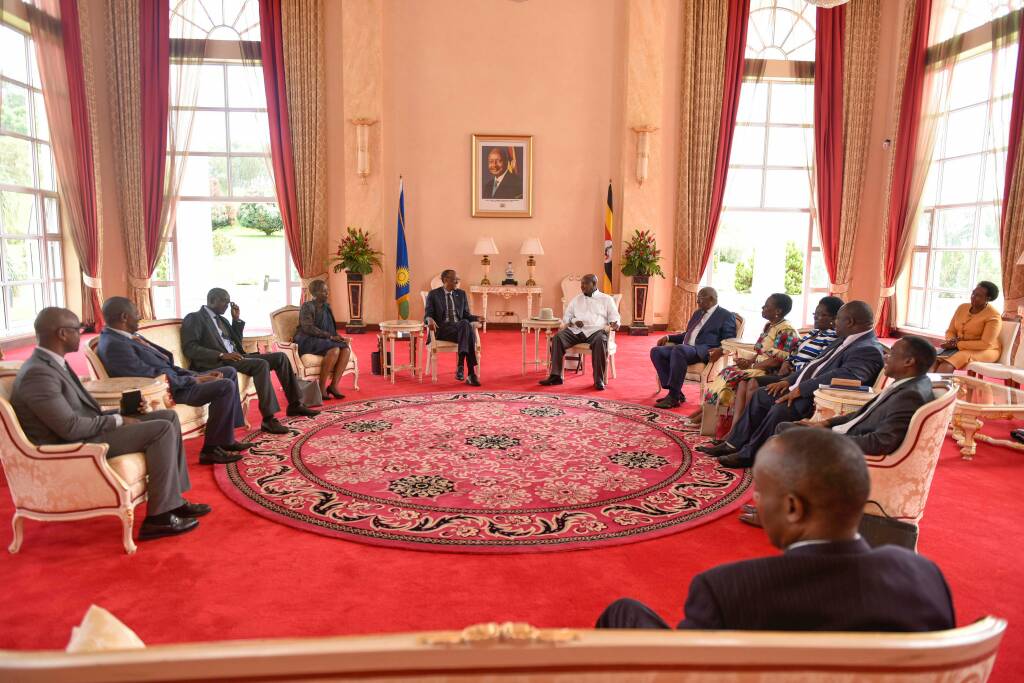 "If the people involved can work closely, there is a lot of confusion that can be avoided".
Museveni said that he personally finds "nothing substantive" in the claims being made against Rwanda and that "there is no fundamental conflict" between Rwanda and Uganda. Unlike neighbouring countries like DRC and Kenya with which Uganda has border conflicts, Museveni said that in the case of Rwanda, there is no issue.
Commenting on the same issue, President Paul Kagame emphasized the point raised by Museveni regarding close cooperation and establishing facts.
"There are many things that are said and reported out of context," President Kagame said.
He added: "We have agreed that the concerned institutions on both sides get to the bottom of any matter that has arisen, so as to get the right information".
For many decades, Rwanda and Uganda have enjoyed strong ties largely founded on their entangled history between the countries' peoples and comradeship they enjoyed during the liberation struggles for both countries.