President Yoweri Museveni has launched a multi million factory in Nakaseke district that will provide technical support, marketing and product development to different Small and Medium Enterprises (SMEs) involved in promoting commercial agriculture.
The CURAD/RAH (Rural Agricultural Hub), a joint public-private partnership venture was commissioned on Wednesday while the President toured the 2.5 squaremile Liao Shen Namukenkera Industrial Park in Kapeeka, Nakaseke district.
The Shs.1.6 billion factory will produce innovative young entrepreneurs and agribusiness leaders to champion productivity and profitability of the agricultural enterprises that can spinoff new enterprises.
According to Seggawa Apollo, who is Managing Director of the facility, SMEs in rural areas will be able to access equipment as well as adding value to their products.
Government hopes that the venture will go along way in boosting commercial agriculture which has for long been a missing link given that majority of the farmers cultivate at a subsistence scale.
Later, the President launched the Logistic Hub and E-voucher Servicing Centre. The center works with the OWC and NAADS programmes to provide genuine inputs such as seeds, machinery and fertilizers.
The President also visited the USD 5 million YAHE International Investment Co. Ltd that covers 10 acres of factory buildings and food processing equipment including maize silos, grain storage and deep agro-processing including wine brewing and fodder processing.
He later visited the USD 30 million Goodwill (Uganda) Ceramics factory that is dedicated to the production of building materials such as tiles and employs 2000 people.
He was conducted on a tour of Ho and Mu Food Technology Co. Ltd, a USD 10 million investment that sits on 10 acres of land. It is a modern factory with dozens of large-scale food processing equipment. It is capable of processing 50 tons of fresh fruit daily.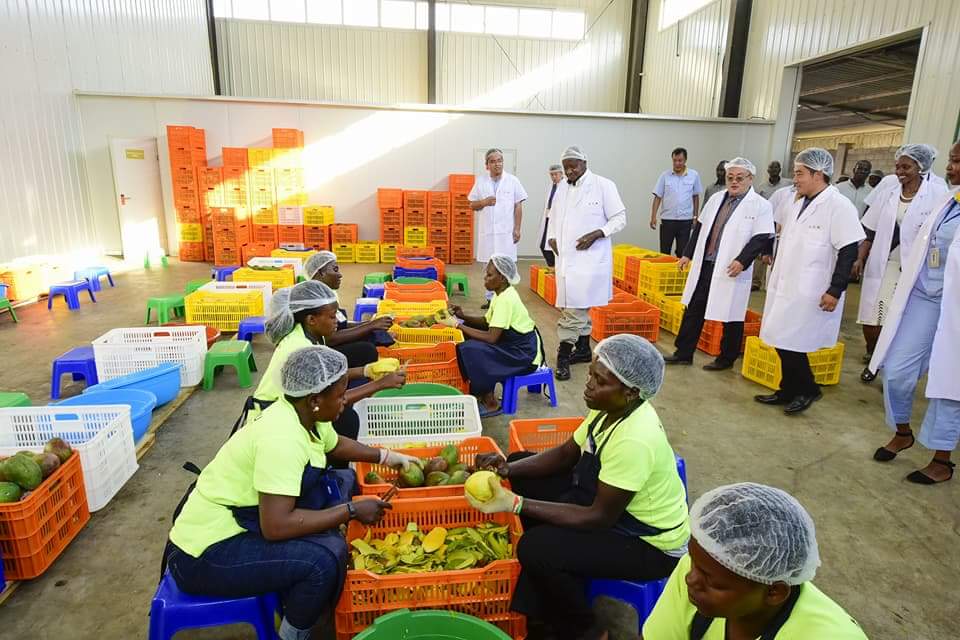 When fully operational, the company is expected to employ over 350 Ugandans at different levels and help over 6,000 Ugandan households improve their income through providing market for their fruits.
Earlier, the President committed that government would tarmac the road from Kapeeka to Nakwaya; extend electricity from Kawanda to the industrial park to ensure stable power supply to the factories and build a water plant to provide water for industrial use.
He was accompanied by Operation Wealth Creation National Coordinator, Gen Salim Saleh (Rtd), Minister of Presidency, Esther Mbayo, State Minister for Energy, Simon D'ujanga and Uganda Investment Authority Managing Director, Jolly Kaguhangire.