The Minister of Agriculture, Vincent Bamulangaki Ssempijja has said that due to geographical landscape, there are areas in Uganda which make it impossible for farmers to use tractors thus necessitating the use of the rudimentary hand hoes.
The Minister was Monday responding to criticism by those who have previously castigated government for its 2016 pledge to procure 18 million hand hoes for farmers across the country.
However, the pledge which is part of the NRM manifesto prompted a backlash especially from the political opposition who argued that government should focus on modernized machinery for farming given that agro-production world over has moved to advanced methods which increase productivity.
While making a presentation in regard to the progress made towards fulfilment of the NRM manifesto, Minister Ssempijja told reporters that so far, the Ministry has procured 420,000 hoes out of the 18 million promised by President Yoweri Museveni. This represents only 2.3 percent of the volume of hoes pledged.
"The Ministry has procured and distributed 420,000 hoes to support 420,000 farming households in 8 district local governments of Arua, Nebbi, Koboko, Maracha, Yumbe, Zombo, Adjumani, Ngora and Moyo," the Minister said.
In responding to criticism from politicians in the opposition, he explained that "there are so many areas where we can not use tractors".
"Of course they (politicians) don't know much of Ugandan geography. Recently, we were distributing tractors and there are about 20 districts which are not part of the list because of the geographical set up"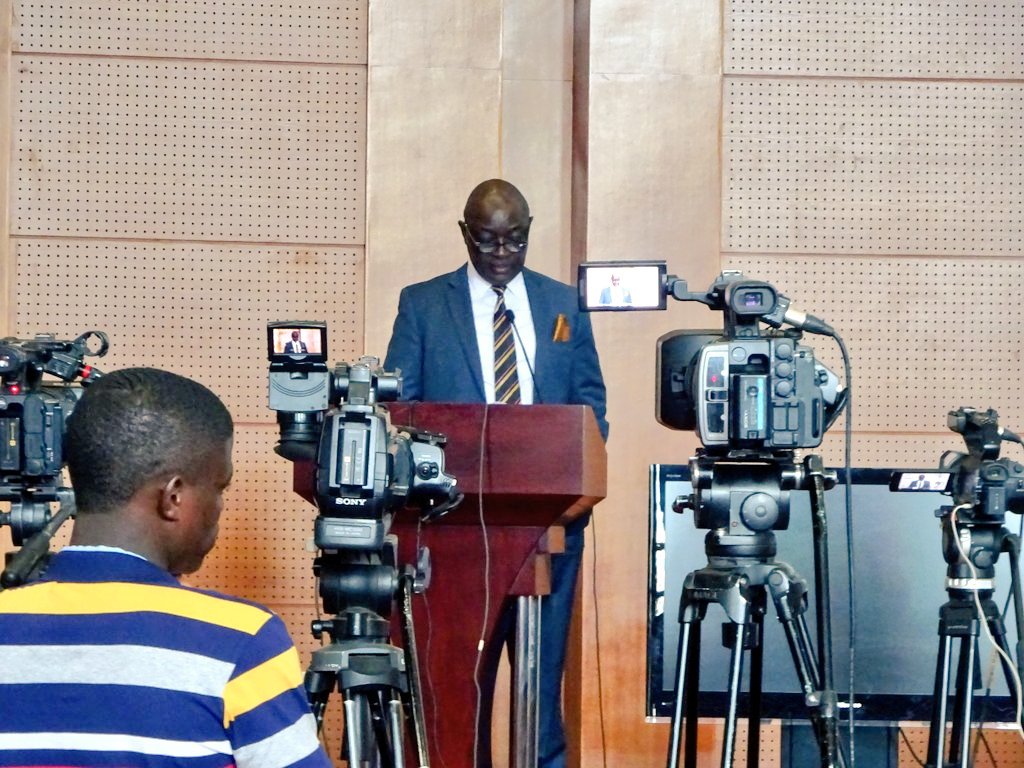 Aside the geographical limitations, the Minister says that farmers still need hoes in their day-to-day routine basing on what crop they are cultivating and which activity they are engaged in.
"We still need the hoes even when you have a tractor. If say you have a banana or coffee plantation, you won't use a tractor," the Minister said.
"It depends on which level and which area you are talking about. And government is working on both hoes and mechanized tools".
In line with modernization of the sector, the Minister cited the Mechanization Policy which is due for tabling before Cabinet.
"This Policy is meant to streamline farmers' access to Mechanization equipment, streamline tractor hire services, streamline access to credit for Mechanization equipment and guide the private sector investment in agriculture mechanization".
He also pointed out the Irrigation Policy which was approved by Cabinet to provide a Regulatory framework for the private and public investment in irrigation schemes.
The Ministry has completed rehabilitation of the old irrigation schemes of Agoro, Mubuku and Doho. There are ongoing works under the Farm Income Enhancement and Forestry Conservation (FIEFOC II) project to construct other schemes in Wadelai, Tochi, Mobuku II, Doho II and Ngenge.
In addition, government has in the last four years constructed 1,200 tanks in various regions of the country to enable on farm water harvesting.
"The Ministry is in the process of establishing/revamping regional mechanization centers starting with 2 centers – Agwata in Dokolo to cover North and Eastern Uganda, and Buwama in Masaka to cover Southwestern region," the Minister said.
He added that the Ministry has procured 12 heavy earth mobile equipment and 284 tractors to be distributed within the district local governments.
As a result, 15,063 acres of farmland have been restored, opened and bush cleared for agriculture use in addition to felling of the trees, removal of stamps, obstacles, ant hills and scaping to ease ploughing and any farm operations to be carried out.
The proportion of the households using tractors has increased from 2 percent in 2010 to 7.3 percent in the 2017/18 financial year, the Minister said.
Using the same equipment, government has improved farm access roads totaling to 804kms in a bid to improve mobility, interconnectivity and market access in the districts of Kalangala, Wakiso, Mpigi, Kiruhura, Masaka, Gomba and Nakasongola.
Furthermore, using wheel tractors, 4,450 acres of farm land were opened, ploughed and planted in the districts of Kabong, Lamwo, Amuru, Nwoya, Gulu, Pader, Kiryandongo, Hoima, Wakiso, Kayunga, Kamuli, Kumi and Bukedea. Others are Soroti, Serere, Bugiri, Mayuge, Mpigi, Nakaseke, Luwero, Iganga and Mukono.