By Dr. Enock Nyorekwa Twinoburyo
Background: The Optimal Social Fund (OSF) also themed Philanthropy through Togetherness was born only on the 22nd of June 2019.  The fund to be capitalized through each willing Member saving Shs 20,000 per month (Shs 700 per day), which is brought in a collective pool for investment in a robustly selected group of deprived. The overarching goal is to create a significant, sustainable and transparent social fund – capitalized by willing Samaritans, Ugandans or non-Ugandans aimed at, leveraging financial (and or otherwise) support to the deprived and vulnerable in Uganda.
As development partners, the major objective of OSF is to; provide support (financial/otherwise) to the deprived and vulnerable people in society in sustainable ways while upholding OSF good governance policies and strategies.
Rationale: Uganda's social inclusion progress is in part outstripped by population growth – consequently many Ugandans are trapped in poverty (at least 8 million people) according to UBOS Household Survey many cannot access medical facilities because of user fees or a malfunctioning health system while one in three Ugandans are at risk of food insecurity. Pertinently worrying is that a child born today is at risk of not receiving a full health or education life, which would make them half as productive at 18 years as one who received full education and health.
The characteristics of the current youth are ominous with over 75% of Uganda's youth are engaged in vulnerable work (own work or supporting family), often characterized by inadequate earnings, low productivity and difficult conditions of work that undermine workers' fundamental rights. 1 in 2 youth of the working age are idle (non-utilized labour potential). 65% of female youth (65%) have ever been married (married/cohabiting, widowed, divorced).
Four out of 10 of young people in Uganda are out of work (Budget Speech 2019/2020). The challenges facing Uganda's social inclusion landscape are of a multi-dimensional nature; including a negative mindset, limited and dwindling. Government resources towards social inclusion are limited and more recently social capital spending among others has been dwindling.
Togetherness through small contributions can provide intergenerational support and bridge the gap in the much needed social inclusion landscape while providing a social safeguard measure.
Optimal Social Fund Profile: The Optimal Social Fund is being registered as a Company limited by guarantee (non-profit) and is a charitable organization as per Sec 4, under the Companies Act 2012. The Vision of fund is creating Sustainable Philanthropy through Togetherness while the mission is foster social inclusion through provision of support to the helpless and deprived in Uganda. The OSF will be piloted in the first three years and lessons learn therein used to develop the fund for the medium to long term.
When the fund is fully developed; it will have official addresses which will be availed to the public and members.  
Communication: A WhatsApp group (Optimal Social Fund) has been set up exclusively for social fund activities has been set up and serves as an interim deliberation and dialogue platform on the way forward.  The admissions of members to the group is solely based on interest to leverage the cause. The group prides itself in 220 members already part of cause and growing.
Operations of the OSF: The maiden executive committee shall meet regularly at least once every two months (during the first year then quarterly thereafter) to deliberate on actions to enable them achieve the goals and objectives of the community. Special meetings maybe organized by the executive committee (including a general meeting) on demand. The committee can decide to meet online where necessary, but decisions must be confirmed by each member through communication online of the required position.
During this meeting, the committee shall make decisions on how to use the funds collected in line with the agreed objectives of the group.
OSF Database and survey.  A good document sheet and survey – a short form was created meant to collect information about you as an interested member of Optimal Social Fund OSF and further get your thoughts on how we could grow as a group". The information provided will be kept confidential. Survey further captures focal sectors/areas for intervention as well as things that should form part of the selection criteria for choosing beneficiaries
Progress:  Fund registration to be completed Monday 22nd July 2019.  Subscriber signatories are being solicited as are maiden directors of the fund. The constitution of the fund also being developed. 
The Committee agreed to start with a monthly amount Shs 20,000 during the first two months (June and July) sent directly to – Ms. Mercy Kyomugasho Kainobwisho on 0772555878 and Dr. Enock Nyorekwa on 0702889253. The Committee agreed that Mercy is the overall in charge and will ensure that the collections are transferred to the account once it is created in the bank. Below is a financial progress Snapshot.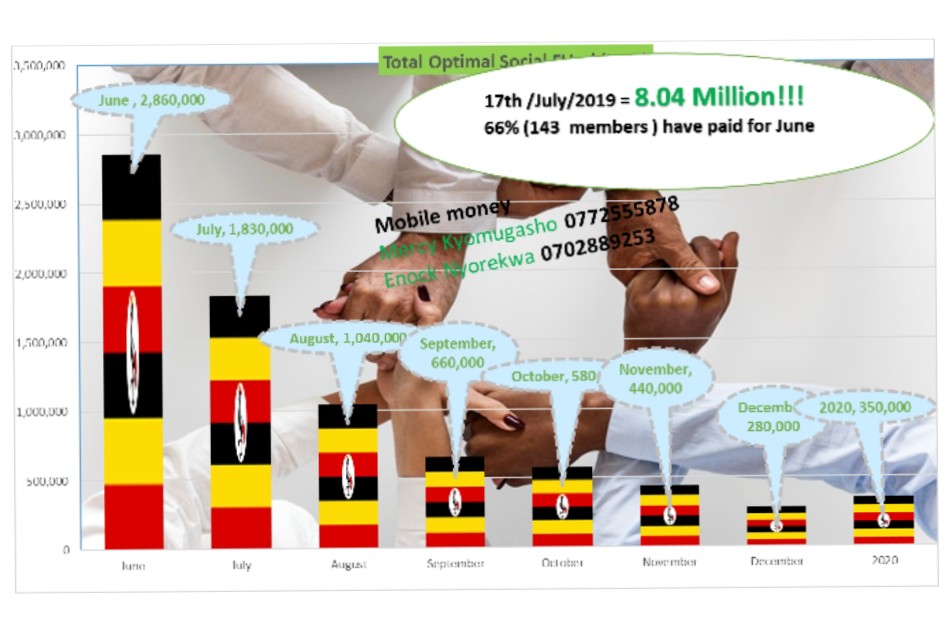 The writer is a senior economist at Sustainable Development Goal Center for Africa (SDGC/A).