Ankole Diocese Bishop, Rt. Rev. Dr. Fred Sheldon Mwesigwa and his wife, Dr. Alice Mwesigwa on Saturday celebrated 25 years in marriage at an event attended by several dignitaries.
Bishop Sheldon and wife Alice have been married for the last 25 years and they are blessed with two sons and two daughters; Shaun Mwesiga, Shane Nkesiga, Sheba Musiimenta and Shevon Nsiimenta.
The church service was presided over by the House of bishops led by the 7th Archbishop of the Church of Uganda, Rt. Rev. Dr. Henry Luke Orombi.
While delivering the sermon, Orombi emphasized the point of love in families.
"My dear brother and sister congratulations, if God had not put love in our hearts, we would not be here. And without love, there would be no silver jubilee celebrations for Christian covenants that many of us have attended," said Orombi.
Drawing from the special readings selected for the anniversary Mass – 1st Corinthians chapter 13;37 and the Gospel of John – Archbishop Orombi reminded Christians the message of love and perseverance.
He pointed out that contemporary society presents many different definitions of love but wondered why many people who wed break up in marriages.
"I want to ask you a question, why do many make vows and persist to it and why do many make vows and fail to keep it? Paul will give us some suggestions love is the only glue that brings two together".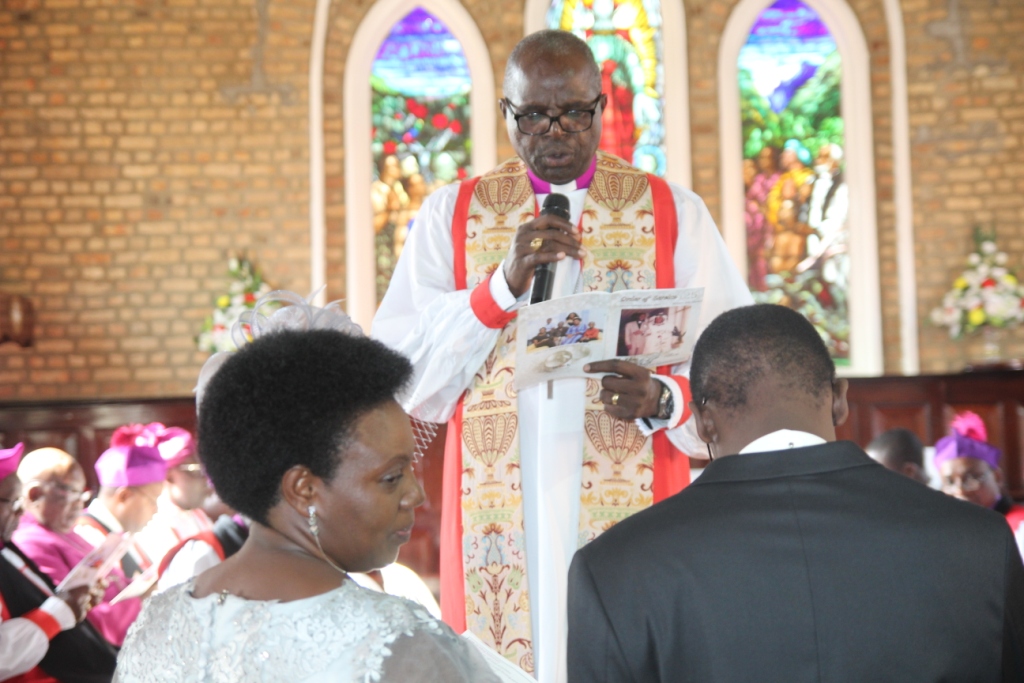 "Many make vows because it is part of the service but a number of people do divorce because they don't think about this yet the vows we make in our wedding services are a manifesto of how we are going to walk with each other onwards."
He asked married men to always give what it takes to their wives to keep their relationships intact.
"If you don't deposit on your bank account, can your ATM card work? If you don't deposit in your wife do not use the card to call love because it will not work. She will only fear you, she will not honor you and she will not respect you".
Orombi also hinted on the importance of forgiveness in marriage.
"Love does not keep records of wrong. The two of us are sinners and we make mistakes. The only way to keep each other is to say 'I am sorry I also forgive you'. No keeping wrongs because when I keep wrongs, I will become bitter," he said
He also appealed men to spare time for their wives to keep the relationship warm.
"Your wife doesn't need your money primarily, not even a car, not even a house. Your wife needs you and your time. She wants to see you, look at your face, drink tea and make jokes. Why is it that many of us are so busy that we don't even spend time at home? Let's give time to women not to collapse on smart phones"
"Like my wife at home it's a written law no phone on during meal time and no phone on when you are in bed. And I try to be obedient out of love' said Orombi.
Bishop Sheldon who could not hide his joy and happiness described the celebrations as his most moment throughout his career in the church and family.
"The fact that I have taken long without becoming a groom again, I have even really forgotten everything. Don't you see I had failed to realize where to put the knot and which side to stand," the Bishop joked.
He thanked God who has enabled him to do well in serving people and running his family at the same time.
He also thanked his wife and described her as a loving mother.
"From today onwards, I have got for you a new name. I had failed to know how to call you but from today onwards, you have graduated I will keep calling you 'Akiki'," Mwesigwa said.
His wife who is the vice president of mothers union in the province of the Church of Uganda, said it is only by the grace of God that has enabled them to be married for close to three decades.
"To see this day of course to us it's an impossibility, but glory to the Lord. For the marriage and the ministry of nine years in Ankole diocese is nothing but by the grace of God" she said.
The function was also attended by the Toro King Oyo Nyimba Kabamba Iguru Rukidi IV, Speaker of Parliament, Rebecca Kadaga, 19 serving Bishops, 11 retired Bishops, 4 members of Parliament, Ministers and other invited guests.
The Archbishop of Church of Uganda, Stanley Ntagali who attended the ceremony encouraged the couple to celebrate the same when their marriage clocks 50 years.
"This day is most important in your life. We want to wish you many years and joy. Bishop Sheldon, when you make fifty years invite us again" said Ntagali.
At the event, President Yoweri Museveni was  represented by Minister in Charge of General Duties, Mary Karoro Okurut. The Minister described Bishop Mwesigwa as a spiritual leader who has built a stable family in addition to serving a big community in the church.
"Young people in this country should emulate an example of building marriage on a strong relationship like what Dr. Mwesigwa has done today," Karoro said.
On her part, the Speaker of Parliament, Rebecca Kadaga thanked Dr Mwesigwa for educating her wife and asked other parishioners to emulate the same message of empowering their wives to develop families.
The President donated to the couple 10 cows while Speaker Kadaga gave them an additional cow to enable them keep enjoying milk.
According to closed sources, Dr Sheldon is among the three Bishops tipped to succeed Archbishop Stanley Ntagali whose tenure as Archbishop ends in 2020.