Christian Life Church lead Pastor, Jackson Ssenyonga Thursday extended relief items worth Shs 300 million to thousands of vulnerable people in Kawempe Division in a bid to help them survive the tough conditions resulting from the coronavirus lockdown.
The event which took place at Christian Life Church gardens in Makerere Kavule and presided over by the head of the COVID-19 Fund Committee and Minister in charge of general duties in the office of the Prime Minister, Mary Karoro Okurut, saw huge numbers of people from Kawempe Division receive relief food.
In close coordination and permission from the COVID-19 Fund and other authorities, Pastor Ssenyonga donated rice, maize flour, beans, soap, basins and other items directly picked by the targeted individuals.
Ssenyonga revealed that Christian Life Church has for long been extending a helping hand to many people and as such, it was obviously incumbent upon him and the church to stand with Ugandans who are standing since many of them are currently not working.
He said the relief will be extended further, to other parts of Kampala and Uganda.
"We have started with Kawempe but we intend to extend these items to other parts of Kampala and Uganda, working together with the group of pastors whom I lead under National Pastors Alliance. There are many people who are able and willing help the people and so, we did not want to extend that burden to Minister Okurut's committee," said Pastor Ssenyonga.
"We have worked together with the Mayor of Kawempe Division Emmanuel Sserunjoji, the Resident District Commissioner (RCC) and the community leaders from 119 villages in Kawempe, to identify individuals who urgently need this food regardless of their religious or political beliefs," he added.
The Pastor heaped praise on President Yoweri Museveni for what he termed as wisdom in guiding the country on how to prevent the spread of COVID-19.
"The president has successfully with wisdom, guided us on how to tame the spread of the virus and see, as Uganda, we are defeating this pandemic. We thank God for the Prime minister's office which is heading the Covid-19 National Taskforce and the Minister of Health, Jane Ruth Acheng who has worked tirelessly to see that her ministry sets guidelines which must be followed for all of us to remain safe," said the Pastor.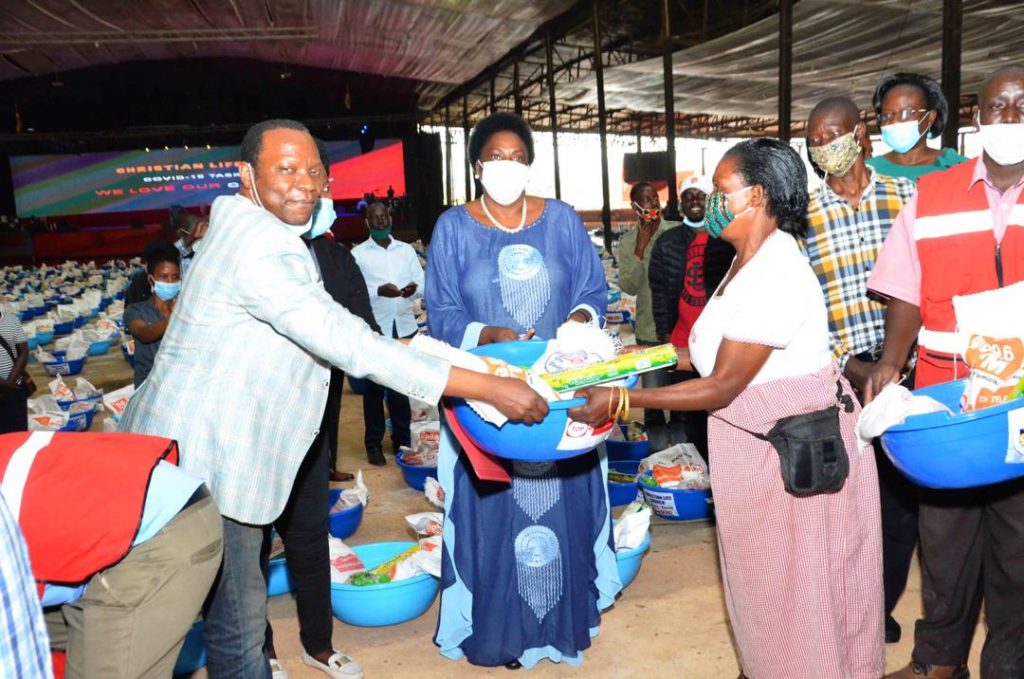 On her part, Minister Karooro applauded Pastor Jackson Ssenyonga for standing with the people not only in spiritual life but in times like this, when they need relief. She said that normally, contributions come to the office of the Prime Minister but when they got a request from Pastor Jackson Senyonga to come and receive the donation at Church, they couldn't hesitate because they are about the hundreds of people he serves.
"I would like to thank Pastor Ssenyonga and his ministry for this relief food and also thank the President for foreseeing how big this problem would have been if stringent measures were not employed," she said.
"The Coronavirus monster came for all of us. It has come to the entire world and the lesson that God is putting across is that he is in control. So, we really want to thank you for this contribution. For your help to the disabled community we are grateful, we appreciate you, for this selfless service. The kindness exhibited by you and Christian life Church, is beyond measure.The president himself will appreciate you," she added.
Since the establishment of the COVID-19 Fund Committee, more than Shs 30 billion has been contributed including Diamond Trust Bank which donated shs 250m, Uganda Manufacturers Association (UMA) who gave Shs 500m, USD 10m from the UN, Shs 100m along with cartons of Biscuits, Water and well equipped ambulance from Riham Cola, while the Lebanese community donated Shs 200m.
Ruparelia Foundation led by Amit Sachdeva the head of Speke hotels as well donated two double cabin pickups while Mandela group gave out one double cabin pick up.
The Kingdom of Bunyoro Kitara as well donated a total sum of Shs 60m and several other individuals and organisations as they respond to the call by the President to fight the spread of the deadly virus.