The National Social Security Fund (NSSF) has commissioned its newly completed commercial complex in Mbarara named Mbarara City House, a modern retail and office complex comprising of four magnificent floors in Mbarara town.
The grand opening was done Thursday and Mbarara top leaders thanked NSSF for anticipating city features that have started to portray the fruitful images of the city.
"The name city house is not misplaced so the fruits have already started coming. This is a great trademark for NSSF. With this building, I assure you people will be willing to contribute now they will know that NSSF is on the ground," said JB Bamuturaki, the district chairman for Mbarara.
Bamuturaki encouraged NSSF Board to plan for more modern facilities in Mbarara.
According to NSSF Managing director, Richard Byarugaba, the ultra-modern complex valued at Shs 3.9billion has a total built-up area of approximately 1,500 square meters and parking capacity of up to 40 vehicles. It is a modern retail and office the complex comprising of four floors.
"Our intention is not only to change the skylines of all the cities but also to provide modern commercial space fitted out with modern amenities at affordable prices" Byarugaba said.
Mbarara City House is located on 0.43 acres plot 6B Galt road, Mbarara town.
The complex was designed by Imparqt Associates and contractors were the China Nanjing who completed the construction within a period of 18 months.
Byarugaba says this is the Fund's second real estate development outside Kampala and Wakiso and that it is part of the fund's strategy to diversify its investment portfolio and minimizing the risks within NSSF asset classes.
"When we set to invest, we did not want to put all our eggs in one basket. We had to put them in different places so that we get a return because economic cycles and risks affect different asset classes differently," he said.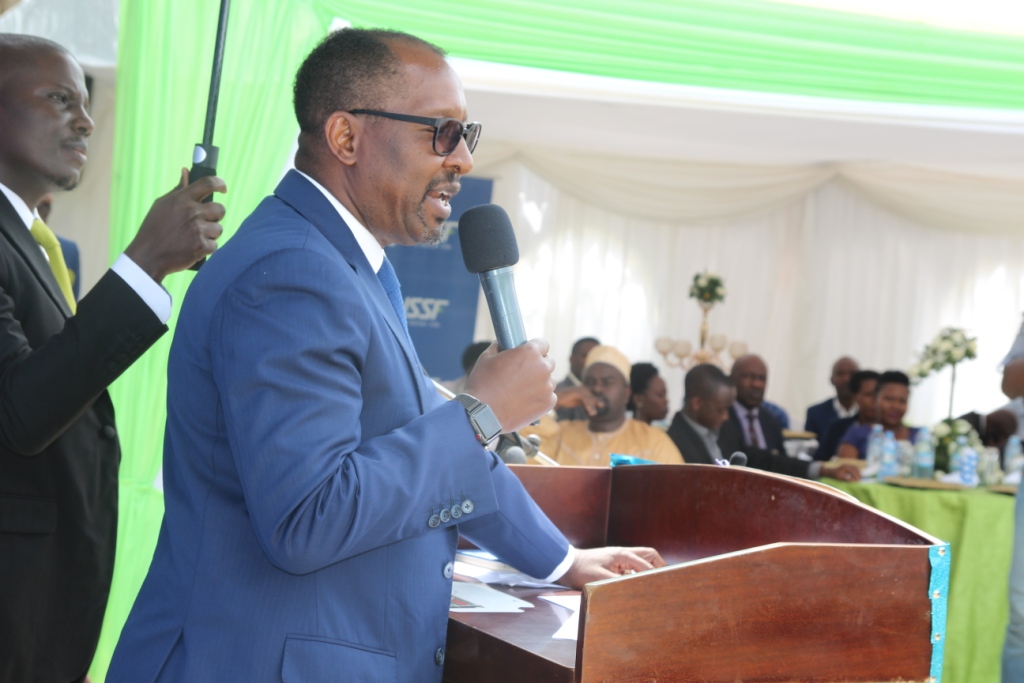 He said the new complex in Mbarara is a milestone for the Fund because it is yet another step towards the realization of NSSF's real estate strategy focused on creating value for its members through constructing commercial buildings and housing estates in major towns of Uganda.
The Managing Director added that the milestone is meant to unlock the value of the NSSF's real estate investments in Uganda.
Currently, NSSF has a total asset base of Shs 11trillion and the largest financial institution in Uganda with a return to two million members.
State Minister for Lands, Housing and Urban Development, Chris Baryomunsi who represented the Prime Minister at the commissioning of the complex commended NSSF for the investment which will give a facelift to Mbarara town and provide a serene neighborhood for organizational offices.
"There is no reason why we should be unhappy when commissioning a magnificent building that has changed the skyline of Mbarara. Projects such as these contribute to infrastructural development within the country and also support the national development agenda, " Minister Baryomunsi said.
He also pledged to follow up an amendment to the National Social Security Fund (NSSF) Act of 1985 to allow persons to access their savings before the age of 50.
"I am going to be an advocate but also, facilitate the expeditious handling of this law from all the offices where it is until it comes to parliament and eventually is processed into a law.
Currently, Cap 222 of the NSSF Act bars any of its members from benefiting from the saved funds if he or she has not attained the age of 50 years and has retired from regular employment.
The State Minister equally warned leaders in new coming cities about illegal and unapproved structures.
"Those of you who have the opportunity to go by air when you fly over Kampala it has expanded and joined with Wakiso, Mukono and Entebbe but outside the city center the physical planning is not adequate, People build the way they want".