Musicians and other artistes in the entertainment industry have been advised to use the death of singer Mowzey Radio to reflect on their lifestyle and to hire professionals that will guide their financial and social decisions.
A multitude of musicians, fans and other members of the entertainment industry were Friday gathered at Rubaga Cathedral for the requiem mass of singer Moses Ssekibogo alias Mowzey Radio who died yesterday.
He died a week after he was rushed to hospital after sustaining serious brain injuries following a brawl at De Bar, a hangout in Entebbe.
During the requiem mass, Fr Deogratias Kateregga Kiibi of Kampala Archdiocese who delivered the sermon candidly rebuked musicians for living reckless lives often characterized by poor choices.
"You must work on the mark you will leave when you are dead. The choices you make cost you. Had he [Radio] been at home on that fateful night, this incident wouldn't have happened," Fr Kateregga told mourners.
"Celebrities need to learn how to manage fame. Some of you walk into a place and you want everything to stop. Get professional managers who will guide you, but also listen to these managers," he added.
The cleric said that these managers should then give financial advice to their clients (artistes) most of whom he faulted for being extravagant. He challenged them to associate with productive peers and to invest wisely as most of them are in the stage of their life that requires responsibility.
"Most of you are celebrities but your families and homes are in a terrible state. You forget that these are the people that stick with you when you are bed ridden," he said.
He also implored them to embrace God and investing in humanitarian causes.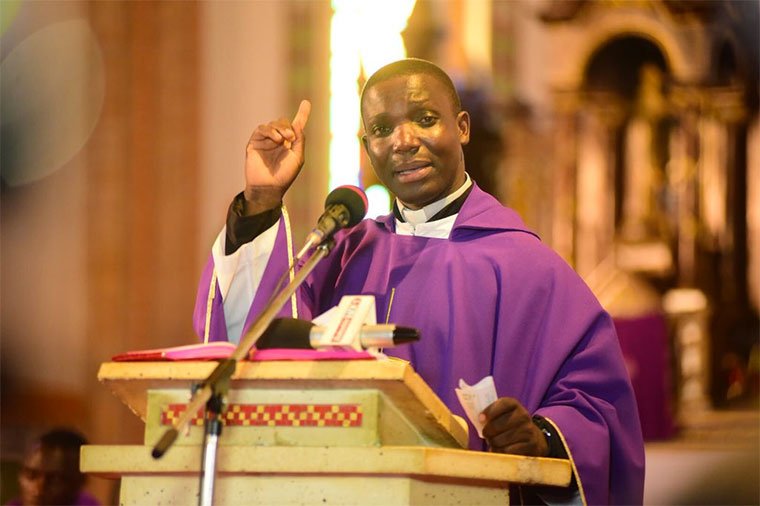 In a similar message, the Katikkiro of Buganda, Charles Peter Mayiga asked entertainers to be cautious while having fun since Uganda has lost artistes in mysterious circumstances. He suggested that artistes employ professional management.
"Our musicians need to get managers who are professionals who should be warning them what to and what not to do. Managers need to also sit down and discuss how better to do this job," the Katikkiro said in his speech.
He eulogized Radio as one who was passionate, committed and utilized his talent to the fullest regardless of his young age.
Several musicians inclusion Douglas Mayanja alias Weasel, Jose Chameleone, Sheebah Karungi, Fille, Mesearch Semakula, Lydia Jazmine, Pastor Wilson Bugembe, Eddy Kenzo and David Lutalo attended the mass. Other artistes like Kato Lubwama, John Segawa, Salvador, Sam Bagenda (Dr Bossa) also attended.
Born on January 25, 1983, Mowzey Radio died at an age 33. He attended Kibuye Public School in Ndeeba and later joined Lake View Secondary School in Jinja. He graduated from Makerere University in 2004 where he studied Community Psychology.
The award winning singer has left five children whom he had with three lovers; Jeniffer Robinson, Karen Ambro Gammeltoft and singer Lillian Mbabazi.
What they said;
Mother to the deceased, Jane Kasubo thanked President Yoweri Museveni and other well wishers for their contributions towards the son's medical treatment.
Weasel who sang together with Radio in their duo group 'Goodlyfe' for the last ten years could not hold the tears as he spoke about his "brother".
"We started with nothing, and we promised each other heaven and earth. We went to BET, we won Awards and travelled the whole world. But my brother has left me. I have no words," Weasel said in his eulogy as he sobbed.
Singer Mesearch Semakula said; "Radio was unique in his lyrics and his style. Most of you are judging us harshly for our mistakes but it still doesn't warrant death. We want whoever that killed him to be brought to justice".
Jose Chameleone who mentored Mowzey Radio while he was still a backup singer in Leone Island praised the deceased for being a great musician.
"I have been praying for Radio ever since I visited him in hospital. I used to call him King Moses and he called me King Joseph. Moses has not died, he has gone home. May God forgive you Moses," Chameleone said.
In his written eulogy, singer Bobi Wine said Radio's death was "a dark day" for him and the entire industry.
"He has died when his generation needed him most. He defied odds and proved he could rise from the ghetto to international fame," Bobi Wine said.
He however decried the fact that artistes (like AK 47 and Danz Kumapesa) continue to be killed yet culprits are not apprehended.
"Let us as artistes revist our lifestyles and not give an opportunity to the wrong people to do us harm".
Secretary General of the ruling NRM party, Justine Kasule Lumumba paid tribute to Radio whose voice she said was incomparable.
"He was gifted with a voice that brought smilesz soothed hearts and brought positive impact to the people," Lumumba said.
The State Minister for Culture, Peace Mutuuzo who attended the mass said "Radio was young but very talented who created employment through arts. It was amazing listening to his music which was educative."
"It is unfortunate that he has passed on. We condemn acts of intolerance among Ugandans. We must learn to solve our problems amicably," the Minister said.