Renowned Ugandan painter and illustrator, Alex Kwizera is on cloud nine after an art piece he painted wowed American rapper, Jidenna. And for that reason, the rapper said he would collaborate with Kwizera on some of his album artwork.
Jidenna was in Uganda last week for a couple of gigs including performances at the 2019 Abryanz Style and Fashion Awards (ASFAs) and Blankets and Wine.
But while the singer's visit meant many things to different people – for Uganda, promoting tourism, for the music lovers, watching him perform live, and to the few lucky ones, sharing a photo opp with a pop culture personality, for Kwizera, this was an opportunity that could leave a permanent mark in Jidenna's life but also expand his (Kwizera) horizons.
Before Jidenna left the country, Kwizera gifted him a painted portrait. The painting which captures different stories of the rapper is a beautiful piece that captures Uganda's natural features. Prominent among them is the greenery that Uganda is, the banana plants and the birds.
The singer's beard and eyebrows are painted green, in what Kwizera says is a deliberate attempt to underscore the green vegetation that covers Uganda.
"This is one of the best pieces I have ever seen for the last four years I have been in the industry. Hands down. Thanks so much," Jidenna, full names Jidenna Theodore Mobisson, said in a video posted by Kwizera on his Twitter.
"I wish we could have met. Here is the thing though, even though we haven't met, I want you to work with me on some album artwork. So, we will be in touch," the singer/songwriter added.
The 'Classic Man' singer endorsed Kwizera's style saying he has a magic touch.
This is no ordinary endorsement for Kwizera, 32, a painter and illustrator to whom art has been the only identity since childhood.
He told SoftPower News in a interview on Wednesday that he has done album cover artwork for Ugandan artistes like DJs Slick Stuart and Roja, General Mega Dee and DJ Cizza among others, but that Jidenna will be the first international artiste he is working with.
"It's an opportunity like any other, like I have always been making one art piece after another," Kwizera told SoftPower News, asked what he makes of Jidenna's endorsement.
"2020 looks like it's going to be a good start for opportunities and collaborations with other artists," he added.
Asked what inspired the Jidenna painting, he said it has to do with the rappers' new album titled '85 to Africa'. Jidenna who has Nigerian heritage told MTV months ago that "I wanted this album to be a highway that you could take to Africa".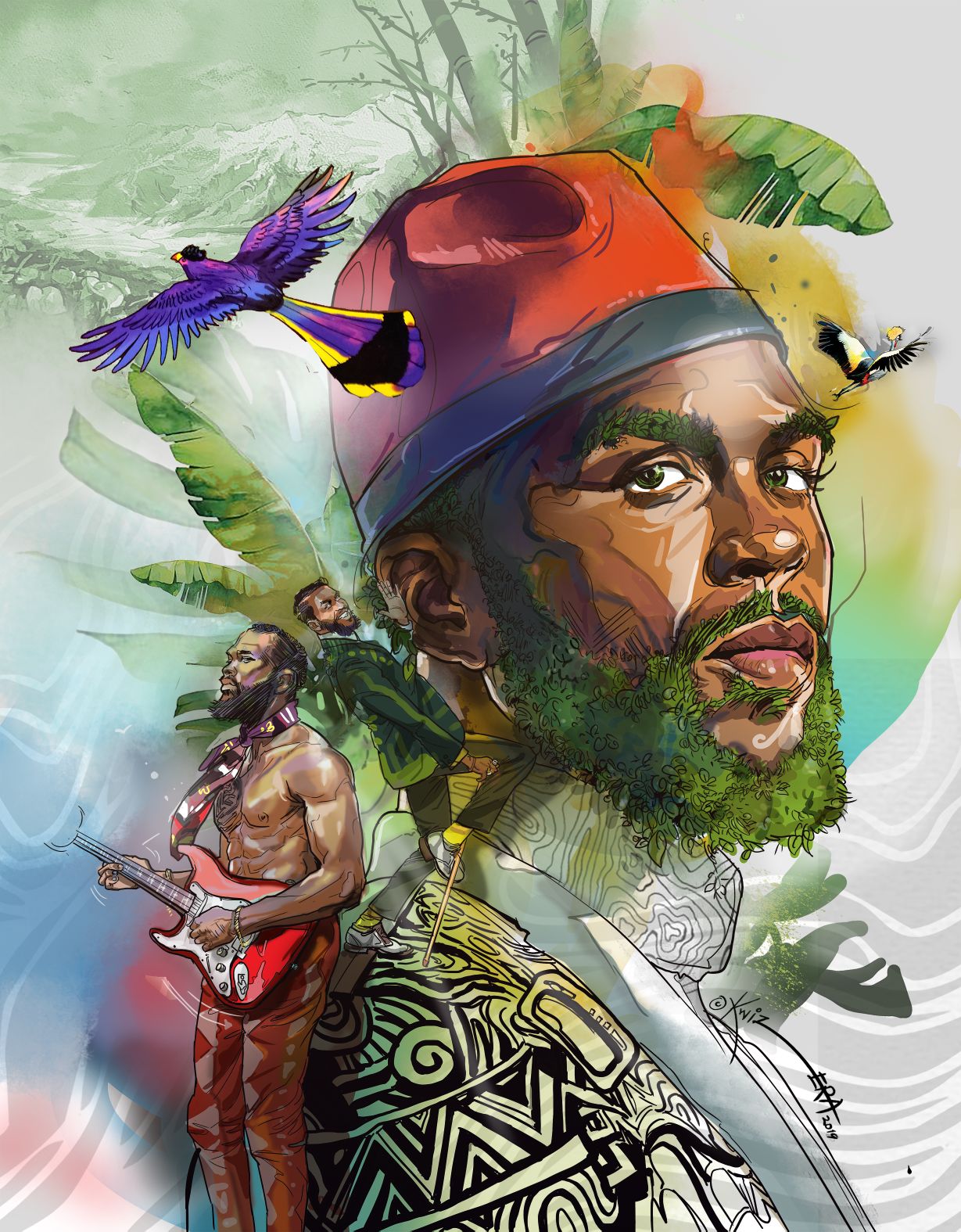 "We are living in a time when there's a lot less borders between people. There's some people to build borders and make walls but the rest of us know that we are in a time where global culture is it. This album is a mixture of all that".
To bring this close to home (Uganda), Kwizera says he used the painting to illustrate what Africa and particularly Uganda is about.
"He (Jidenna) has an album titled '85 to Africa', with him as a person getting in touch with his history since he comes from Nigeria. And having Uganda on his tour of Africa, I found it worthy to make him level with Uganda," Kwizera told this news website.
"That's why in the painting, you will see a green Afro, matoke and all that. When you are flying to Uganda and approach Entebbe airport, the first thing you will see is the green".
Kwizera who owns Kwiz-era studios has been doing art for as long as he can remember. He says he considers art as a culture that transcends boundaries.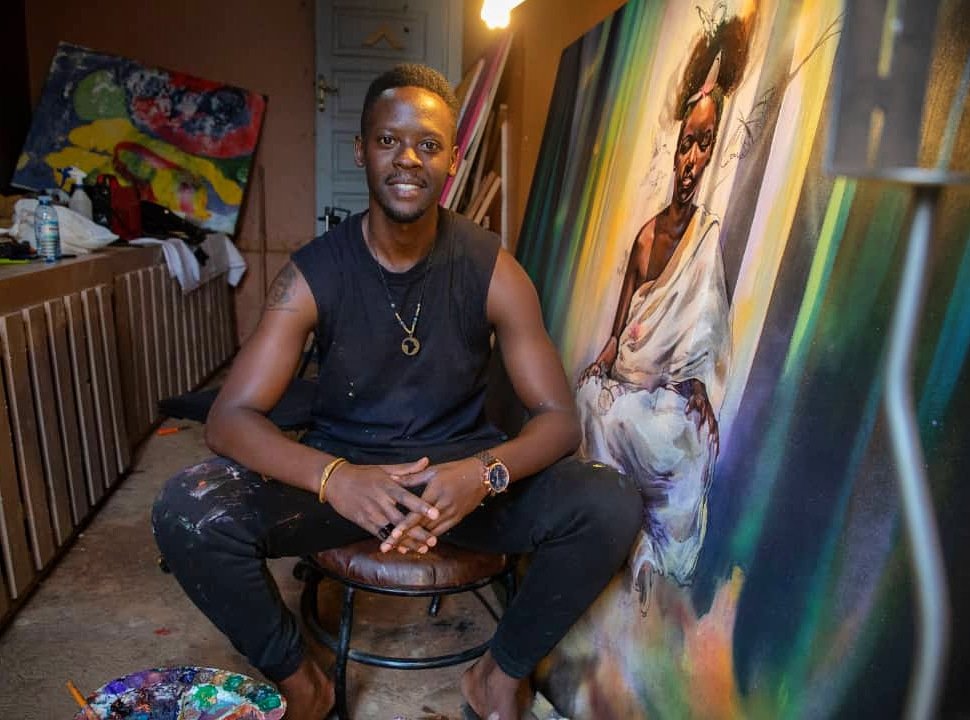 He previously worked with Daily Monitor where he was a cartoonist and also did political, social commentary. Part of his work involved recreating crime scenes with illustrations, as well as other political and social happenings locally and world over.
But he has since diversified his work. Why? "Art is broad and is in every aspect of life. It is a way of expressing egos, celebration, merry making and a tool of promotion and marketing. I express art as broad as it comes," he says.
"You will find me using water paint, charcoal, the computer, or working on a sculpture project. I'm not cornered into a style. Expression is free. All you need is an opportunity," Kwizera said.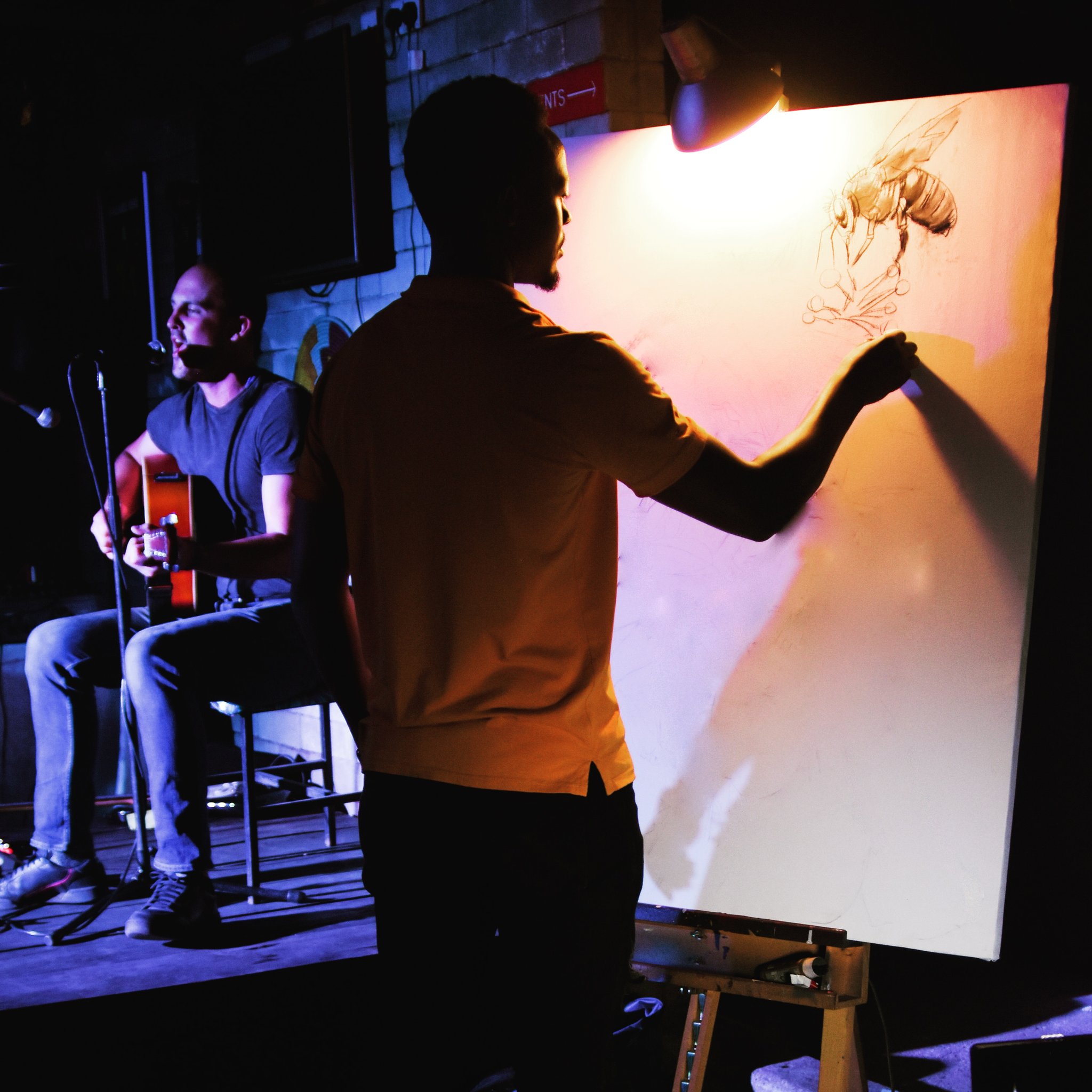 Art for him is not just a talent. He studied it at the Margret Trowell School of Industrial & Fine Arts at Makerere University, now under the College of Engineering Design and Technology (CEDAT) which has churned out lots of extraordinary artists.
His works over the years speak of the limitless potential of what an artist can do. However, even with the huge volume of outstanding work he has done, he still considers himself as one who has just started the journey. It is easy to tell his aspirations are far larger than his accomplishments.
What would he tell a young person seeking to get where he is?
"I see myself as just starting. I meet people that are younger than myself who tell me how inspirational I am to them. What stands out is – each piece I do, I do it past any way I know how".
"I give it my all".
He defines progress as letting whatever you do consume you.
"You can't say you are a banker by day and an artist by night. Those are split energies. You have to outshine yourself on each piece every time," Kwizera adds.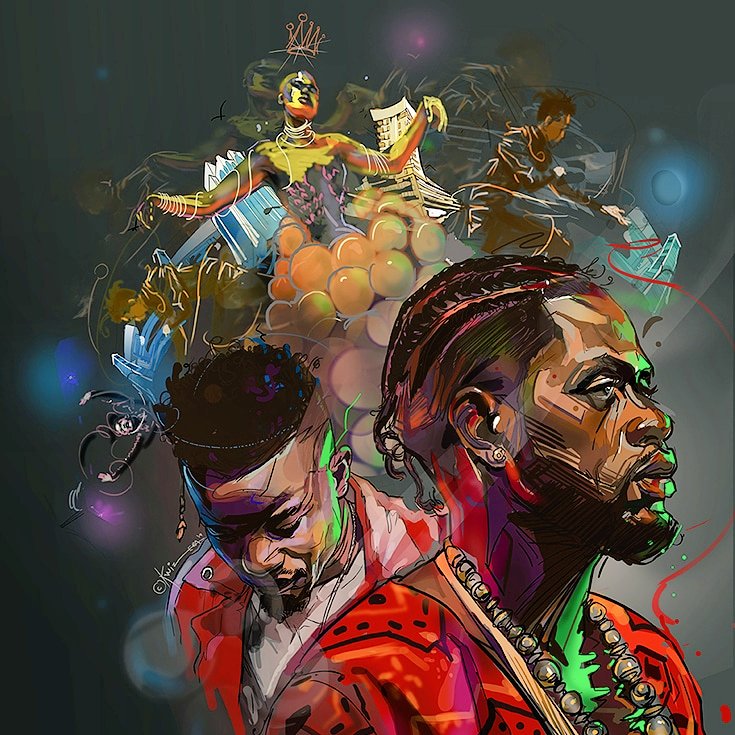 Art in Uganda
The painter says the onus is on the artists themselves to determine whether or not art as an aspect of the creative industry is fully appreciated by Ugandans.
"If (Ugandans) don't appreciate it, whose fault is it? We as artists have to find a way to bridge the gap between us and the consumers".
Not that he disputes the fact that art – style and marketing – has made significant strides over the years. He admits a lot has changed.
"Art has moved from the walls from the times of the renascence where people hid in dungeons and spent weeks drawing and painting, and were paid with women and alcohol. This is a different time. We're bringing it to the people".
The industry has also witnessed a shift from thriving on traditional showcasing events (including exhibitions) where the consumers came from the same pool (largely whites).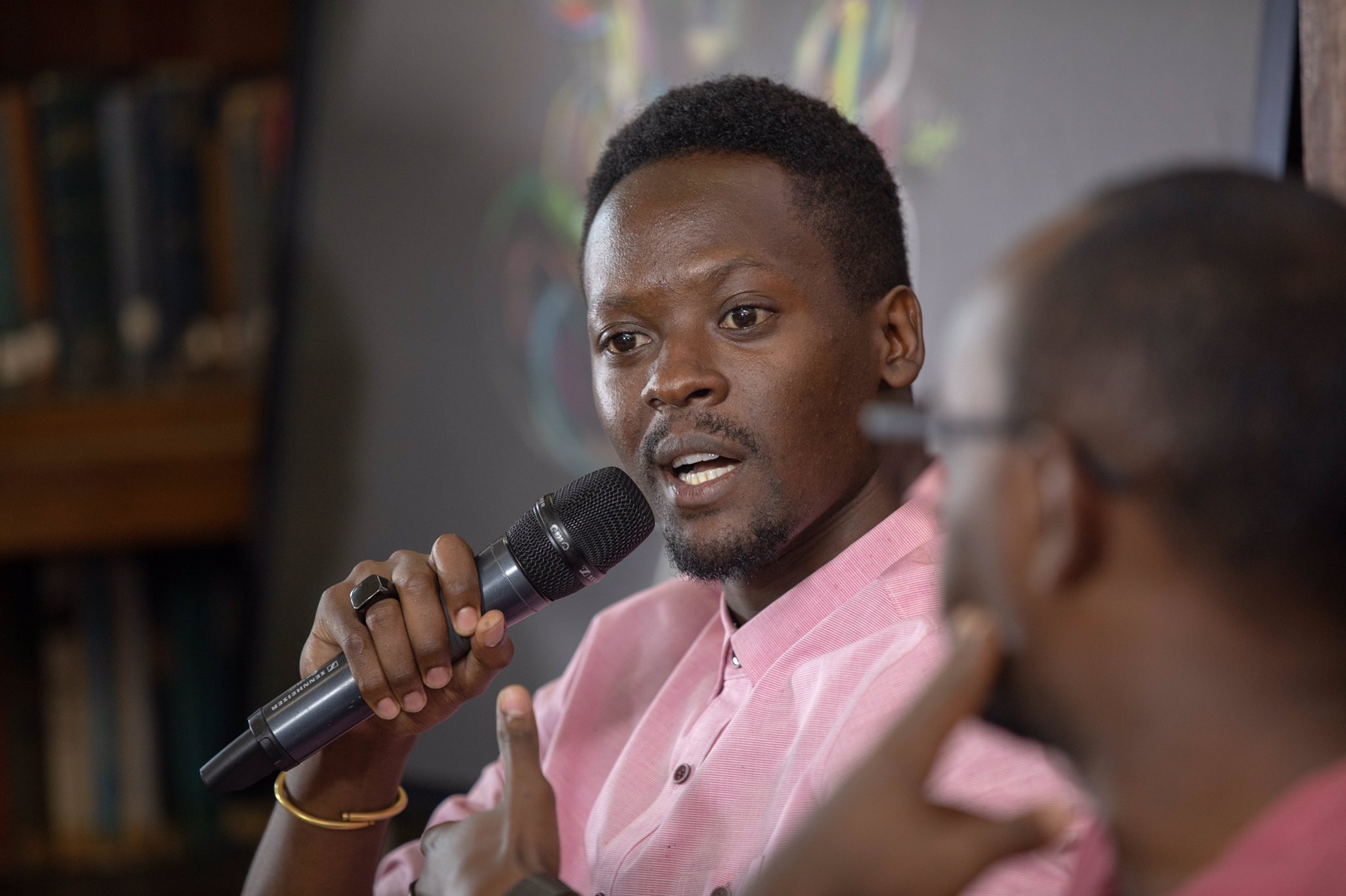 "Today, people will buy an art piece for a wedding gift. Or someone will tell you they need a mural for their restaurant. Sometimes, you will find me doing live event painting at a function. This is not how art used to be made".
Challenges however exist, he says. The government for example, is where he points the finger. According to him, the State has done less to embrace and support art. And he partly attributes this to authorities in government who are still stuck in the conventional way of doing things.
Kwizera wonders why government has sidelined art as a tool of promoting the country's tourism.
"Why haven't they called us yet, for example to brand out airport which is the biggest stage to market this country? We have young people who can best visualize what we have here. Our problem is the old folks who continue to do the wrong things yet".