A retired teacher in Mbarara has come out to express dissatisfaction over the demolition of his building in Nkokonjeru, Mbarara municipality, allegedly on the orders of the area Member of Parliament, Michael Tusiime.
The alleged demolition comes a few weeks when the municipality enforcement team together with a district local leadership headed a campaign of demolishing all structures located in river Rwizi catchment area to restore the extinction river in Mbarara.
However, the said structure located in Kamukuzi does not lie in the River Rwizi catchment area but was demolished by authorities who cited lack of a physical plan.
When SoftPower News spoke to the owner of the demolished house, Coleb Turyasingura, 42, who is a retired teacher, he said the MP had earlier asked him to sell him his 2-acre land.
"This man (MP Tusiime) had some time back asked me to sell him my land and I told him I was not ready to sell," he said.
Turyasingura who taught for 17 years retired in 2011 because of bad health. At the time, he was teaching at Ruharo Muslim School in Mbarara municipality.
"I got two accidents in 1990 and 1999 which affected my brain and I was referred to India but I had no money. So, I am only here just struggling waiting for death," he narrated.
Turyasingura who is not employed now refused to sell the MP his land but opted to develop the property in order to look after his family.
"This money was got through sacrifice because I sold part of my property since I had retired. I am helpless with my children in schools and this [demolished] house was the only hope of taking care of my family," he said.
Last week on Wednesday, Turyasingura received a warning from the Division town agent that his house was due for demolition the following day.
"I was informed on Wednesday night around 8pm by our town agent that my house which was already roofed will be put down on Thursday. When I tried to ask, he only told me that the authority of the MP is above their powers".
"I was told by the town agent of Ruharo that the MP has ordered that my house is not fit to be in this place he referred to it as a kiosk" Turyasingura explained.
On Thursday, the enforcement team razed down the structure whose construction Turyasingura says cost him Shs 20milion.
Unable to comprehend the shock, Turyasingura collapsed at the site and locals would later mobilize funds to take him to Mulago national hospital for treatment.
He spent a week lying in bed after suffering a stroke. He told this news website he spent almost Shs 1.5m in medical bills.
"After the incident, the MP who is my immediate neighbor passed here the next day complaining that the house is a kiosk and it is not built on plan," he explained.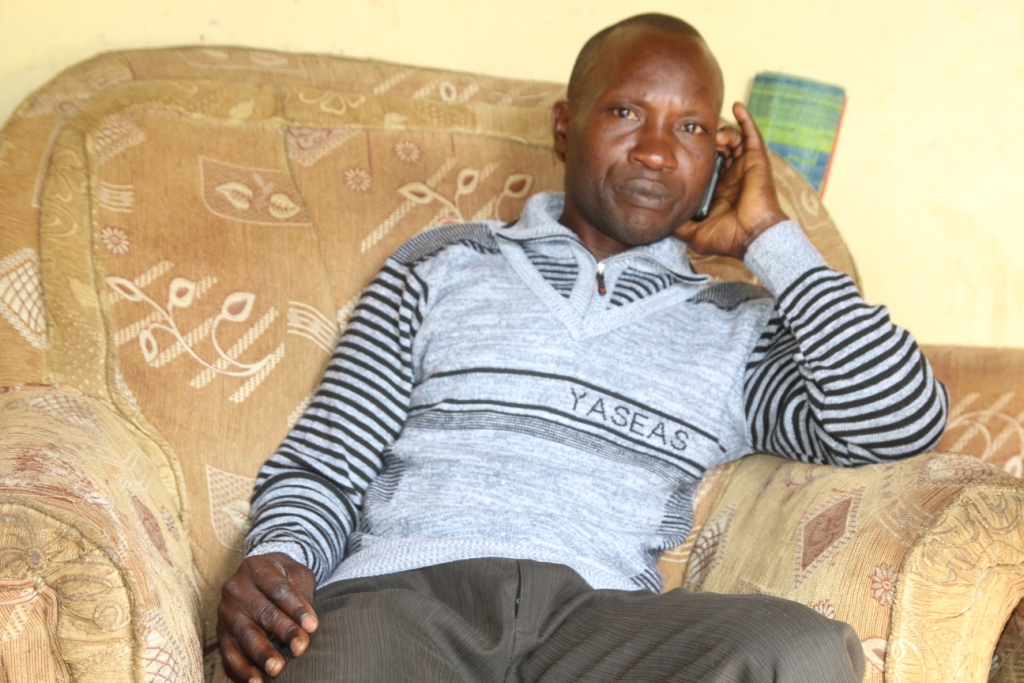 Turyasingura is appealing to government and other authorities to come to his rescue to he can be able to take care of his two children.
"I am appealing to the public and other political leaders to assist me overcome the situation I am in. I am appealing to everyone to help me to put back my structure so that I can get a way of helping my family".
"I have two children – a girl in S.1 and a boy in P.6 a boarding school in Ntungamo and I am worried where to get their school fees".
Turyasingura is also considering reporting the mater to Police and for the law to take its course.
"I am still sick but if I recover well, I will go to police and open a case and court pursues my legal matter to recover the costs that I incurred" he said.
One of the area councilors Benon Kajubi representing Kakiika Division who visited the victim on Tuesday described the demolition as nothing but jealous and greed among the leaders who desire free things.
"It's a painful matter to my friend Coleb. Yes, Mbarara municipality is a town which is developing. As leaders, we encourage people to build on plans in all the towns but when you find a resident has already constructed and the structure is not encroaching the road reserve you don't demolish it".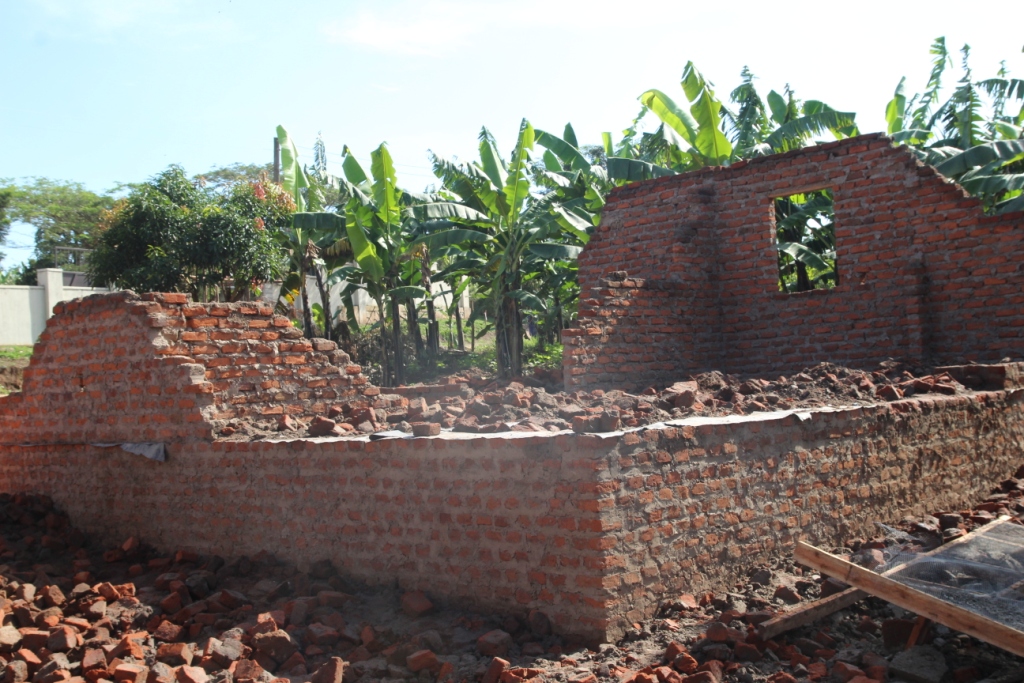 "What he (MP) did it was malice he did it out of his powers because of the authority we gave him as voters," Kajubi explained.
He paid the school fees balance for one of the victim's children and promised to mobilize funds to reconstruct the demolished building.
Kajubi says that after hearing about the demolition, the municipality leadership sat and warned any person with an attempt of demolishing someone's' house.
"After this we held a crisis meeting with our town clerk who directed the enforcement without informing us and we warned him never to demolish any persons' home without notifying us," the councillor said.
Kajubi says that most of the people in Mbarara have illegal structures constructed without plans but that demolishing them is not the solution.
"All of us have built without plans so if we are to demolish it means this town will remain without a single building. This is because to get a plan, you need to have a land title which requires a lot of the costs," said Kajubi.
Mbarara municipality Mayor, Robert Mugabe Kakyebezi also empathized with the victim and condemned the act of demolishing people's property.
"It was very bad and very unfortunate and we shall see how to help him to get out of it" said the Mayor.
Asked about the matter, MP Michael Tusiime admitted that he is the one who reported the illegal construction to the town clerk.
"I personally I called the town clerk telling him about a structure in my neighborhood which was being constructed and that he needed to come and verify if it has approved plan," the MP told SoftPower News.
"I actually didn't do that as a Member of Parliament, I did it as a concerned citizen because I didn't give a directive. It's the town clerk who gave the instructions after knowing that the building was illegal because me I don't sit in council neither do I drive the bulldozer".
However, the MP denied the allegations that the demolition of the structure had anything to do with the fact that Turyasingura refused to sell him the property.
"Yes, we are neighbors but I don't know the fellow. How can you buy land from someone you don't know?" he wondered.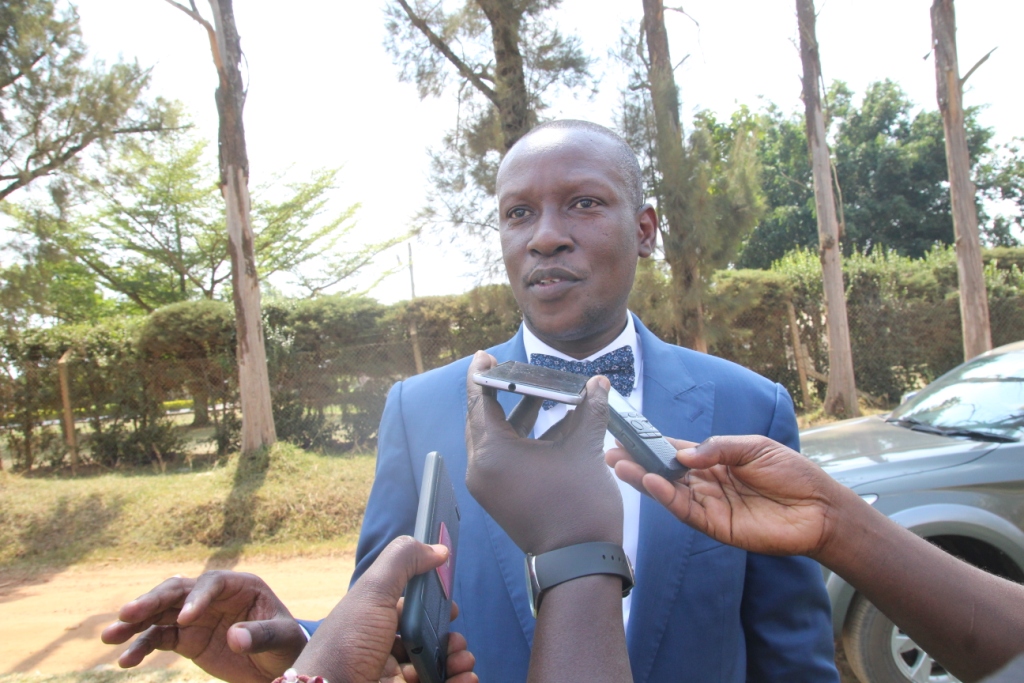 He says the municipality is already suffering with illegal structures on road reserves blocking the expansion of main roads in the municipality.
Tusiime says he does not regret his actions towards the demolition of an illegal structure in his constituency.
"In Mbarara, which is becoming a city, you must build a house which has an approved plan. That is the law," he said.
According to Tusiime, the victim (Turyasingura) himself told the town clerk that he bribed the inspection team with Shs 600,000 to proceed with the construction.
"He earlier agreed that he had no approved plan and only paid a bribe to proceed with the illegal structure. Now, if I am mad, is the town clerk also mad to allow the demolition?"
He advised the complainant to go to court if he was aggrieved so the law can take its course.
"We are entering a city dispensation and an illegal structure is illegal. Being disabled and staying in my neighborhood is not a license to doing wrong. If he knows that his house was demolished for no reason, let him sue council. I will pay for the lawyers," Tusiime said.
Tusiime said he will not tolerate cheap politics at the cost of  Mbarara's transformation into a city.
He advised local leaders to differentiate between cheap politics and doing the right thing.
"If you become a leader, are you going to allow people to construct illegal structures? We can't live in such a society with such accusations that don't help. I can't leave wrong things keep going on just because I am looking for votes," Tusiime said.
"There is a security committee resolution for Mbarara district where they passed a resolution of not allowing any illegal structure in Mbarara. But when a Mayor who sits on the committee also comes out to state that 'Look it's your Tusiime that you voted into power', I don't get it," said the MP.