Former District Chairperson for Rukungiri district who also served as Resident District Commissioner (RDC), Charles Kwebangira Byabakama has been laid to rest.
The politician and civil servant passed on last week on Thursday in Kampala after suffering from bronchopneumonia. He died at the age of 59.
He was buried on Sunday, at his home in Kebisoni sub-county in Rukungiri district. The burial was attended by multitudes of people including government official, politicians, MPs, local leaders, clergy and the community.
Former Minister of Health, and MP for Rujumbura county in Rukungiri, Maj Gen Jim Muhwezi, said that Byabakama made a contribution during the formative years of the Museveni led revolution. He delivered the condolence message from President Yoweri Museveni with a cash contribution of Shs 40m.
Byabakama was credited for helping in neutralizing the insecurity in Yumbe district, brought about by the proliferation of guns.
Jim Muhwezi also represented the Prime Minister, Dr Ruhakana Rugunda who could not attend as he was out of the country on official duties. In his message, Rugunda described the deceased as a committed leader and a pillar of the National Resistance Movement (NRM).
"He served his community and country with dedication and passion. We valued his advice on a number of issues within the greater Kigezi region and the country at large," the Premier's message stated.
While serving as the Chairman of Promoters of Kabale University, Byabakama helped in expediting the acquisition of the University Charter and transforming the institution into a public university.
Muhwezi spoke of Byabakama as one who represented clean politics based on principles.
"He leaves a legacy of development. He was a steady cadre who resented sectarianism. This is why we have a cross section of people gathered here today," Jim Muhwezi said.
"What is important is for each one of us to emulate his deeds".
In honour of Byabakama, the Kebisoni council hall will be named after him.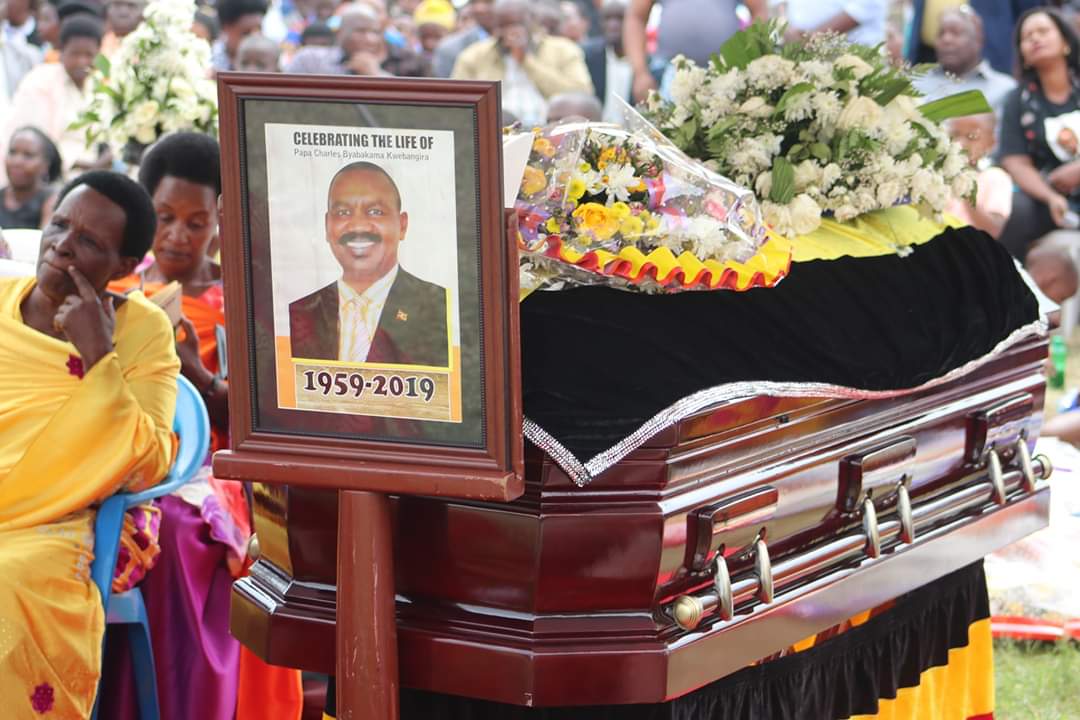 Mathew Rukikaire who is one of the founding members of the Uganda Patriotic Movement (now National Resistance Movement) told mourners that Byabakama's involvement in politics began many years ago when as a young boy he followed campaigns of UPM.
Rukikaire praised the former RDC of his modest character and choosing to lower himself to serve his people of Kebisoni (as Mayor) after losing the district chairperson seat in the 2016 elections.
He too stressed that the deceased was development-driven. One of his last tasks has been mobilizing different stakeholders, including Rukikaire, to formulate a development plan for Kebisoni town council.
Byabakama's children described their late dad as incorruptible, loving, caring, patient and a leader who worked tirelessly for the country.
"He was kind to everyone. Whenever he was in Kampala, he stayed at my place. There are times i would be driving with him in my car and he insisted that we carry strangers. Even when I tried to resist, he told me we needed to help them," Aine, one of Byabakama's daughters said.
The widow, Phoebe Byabakama, thanked everyone who came to send off the husband.
"He has been a smart man. I thank him for he took care of me, he loved me, we always cooperated," Phoebe said.
"He never mistreated me. Even when I had a grudge with him, i had no choice but to reconcile with him because he would have made peace with me already".
She also said the husband was a friend who insisted that she accompanies him wherever he was going.