Authorities in Rwanda have blocked cattle destined to Bujumbura in Burundi from transiting through the Rwandan territory, SoftPower News has learnt.
The incident happened on Sunday when Uganda Revenue Authority's Customs and Excise department in Uganda cleared the the exportation of 133 cattle to Burundi in transit through Rwanda through Gakitumba border point, only for Rwandan authorities to deny them transit.
The cows were being transported on 7 FUSO trucks.
According to our impeccable source (name withheld on request), Rwanda first cleared documents for the cows to transit to Burundi and allowed them through before shifting positions as though the officers were getting fresh orders from other top officials in Rwanda.
"They cleared all the cows but we were surprised to see armed security personnel blocking the vehicles along the way and ordered the trucks to return to Uganda," he said while on his way to Uganda with the animals.
He explained that they weren't given any reason for the change of position on transporting their cows through Rwanda.
Our efforts to reach the customs department in Uganda for a comment on the matter were not yet successful by the time of this publication. Rwanda's Customs authorities did not respond to our calls.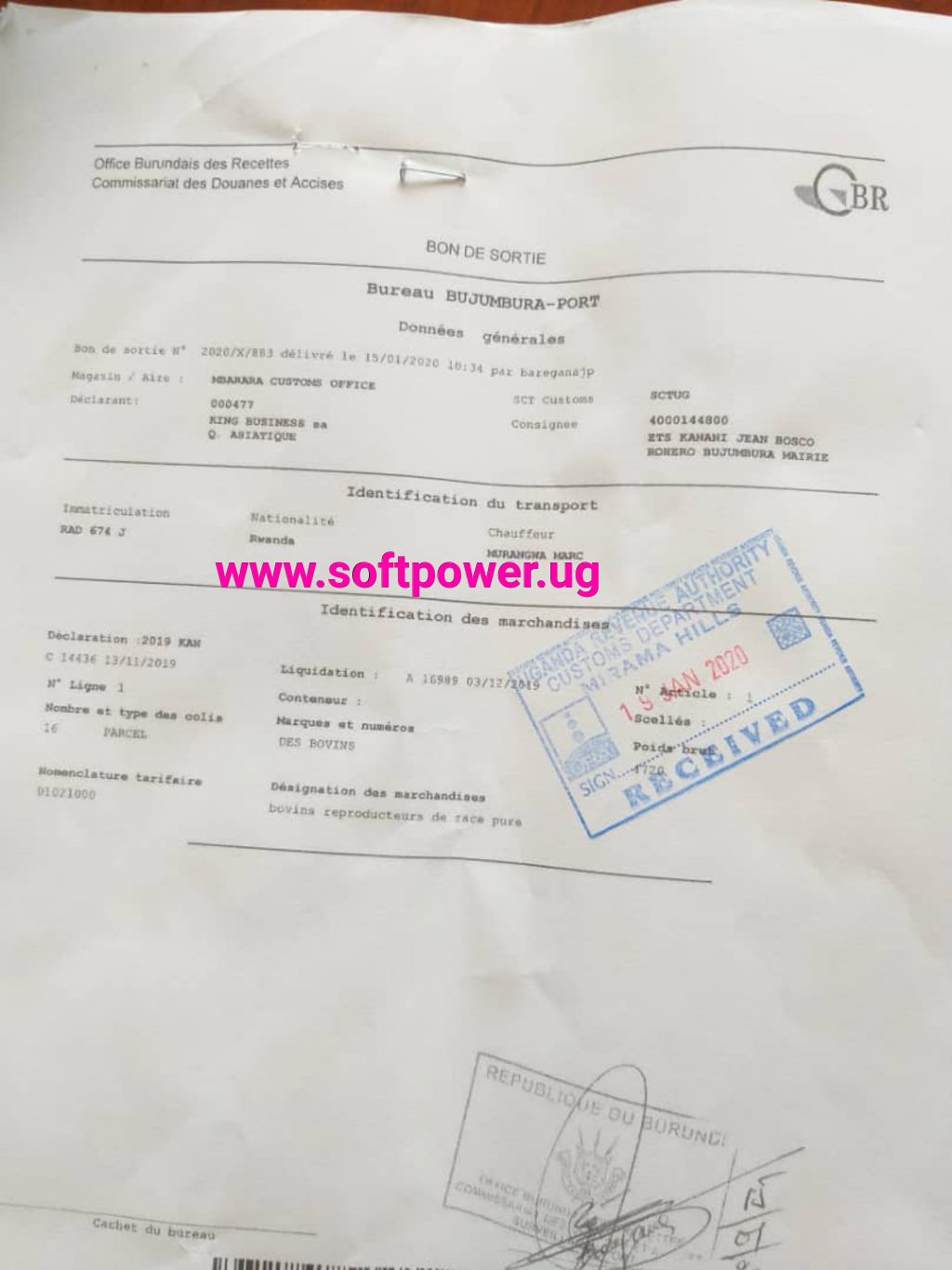 The decision does not only undermine several regional and continental agreements on goods transiting through countries, but also contravenes International trade laws.
Rwanda is party to the Customs Union Protocol whose major objectives include furthering the liberalisation of intra-regional trade in goods, promoting production efficiency in the Community, enhancing domestic, cross-border and foreign investment. It also provides for promoting economic development and industrial diversification.
EAC Partner States including Rwanda signed the Common Market Protocol in November 2009, and it came into force on 1 July 2010. Its main objective is to progressively transform into a single market that allows for free movement of goods, persons, services, labour and capital while guaranteeing rights to residence and establishment as well as ensuring the smooth operation of the EAC Common Market. These and many more are undermined by this development since it violates the principle of free trade and movement of goods across the countries.
This is the latest deliberate development by Kigali to maintain or even escalate the existing tensions between Rwanda and Uganda despite the latter's show of good will to resolve the impasse.
Uganda and Rwanda relations became frosty in February last year when Rwanda blocked several Ugandan cargo trucks from crossing to Rwanda citing construction works. Other crossing points Cyanika and Gagitumba where Ugandan trucks were redirected, were also found blocked.
President Kagame would later reveal that the move had nothing to do with construction works but was political. Kigali has since accused Uganda of among other things illegally incarcerating and deporting her citizens.
Uganda dismissed the claims on grounds that authorities followed judicial process to deport some of the Rwandan citizens who are engaged in criminal acts intended to compromise Uganda's national security.
Kampala has been open to all processes and talks to resolve the impasse including participating and following up on the Luanda MoU and privately reaching out to President Paul Kagame of Rwanda. At the end of last month, President Museveni dispatched a special message to Kagame, through Uganda's Permanent Representative to the United Nations, Ambassador Adonia Ayebare.
Uganda this month withdrew all charges against 9 Rwandan nationals who were undergoing prosecution in the army court on crimes of illegal entry into Uganda, kidnapping Rwandan refugees and asylum seekers and illegally repatriating them back to Rwanda as well as unlawful possession of firearms and ammunition. Uganda said the withdrawal was intended to "foster good neighbourliness."
Instead of reciprocating the act, Rwanda is instead worsening the situation by frustrating Uganda's trade, arresting and detaining innocent Ugandans and shooting to kill Ugandan suspected criminals.
Over the weekend, Rwanda's security personnel shot dead a Ugandan in their territory. The deceased has been identified as Ndagizemana Teo Jean, 25, son to Ngarambe David residents of Kabingo village, Kyahasi parish, Murorore subcounty, Kisoro district. The occured at Mutambi village, Kabaya parish, Burera district about 3 km from Gahenero trading centre at the borderline inside Rwanda.
Kigali has since claimed that the deceased was a smuggler who was smuggling chlothes into Rwanda. This website has since established that Ndagizemana was escorting his Rwandan cousins back to Rwanda at the time the killing was executed.
But in any case, why shoot suspects to kill? Rwanda has always parroted the demand that Uganda follows due process on their arrested nationals in Uganda. Why do they kill Ugandan suspected criminals – why not process them through the country's judicial provisions?
Several residents of Rukiga and Kisoro districts who talked to this website on condition of anonymity reveal that they are living in fear after witnessing cases of shooting in gardens by Rwanda's security personnel.