A Rwandan national was shot and injured by Rwandan security on Monday evening while he was returning to the Rwandan side of the border from Uganda, according to sources.
The man identified as Avugimana Peter, 29, a resident of Tabaye village, Gishara parish, Lubayi sub-county in Gicumbi district was shot at around 3:30pm on Monday.
A reliable source told SoftPower News that Avugimana was shot and injured on the shoulder of his left arm by Rwanda security forces.
The victim was returning to Rwanda from Uganda and was carrying irish potatoes.
He was rushed to Katuna community medical clinic by his relatives on the Ugandan side where he is currently admitted.
The source says Avugimana was in company of a Rwandan colleague known as "Mahirwa" with whom they were carrying 50kgs of Irish potatoes each totaling to 100kgs.
Mahirwa was shot at the chest and later arrested and taken by Rwanda security forces.
However, Avugimana managed to escape back to Uganda side at her mother's residence.
He was later rushed to Katuna community medical clinic for medical attention. The matter was reported at Katuna police station Vide Ref 07/05/11/2019.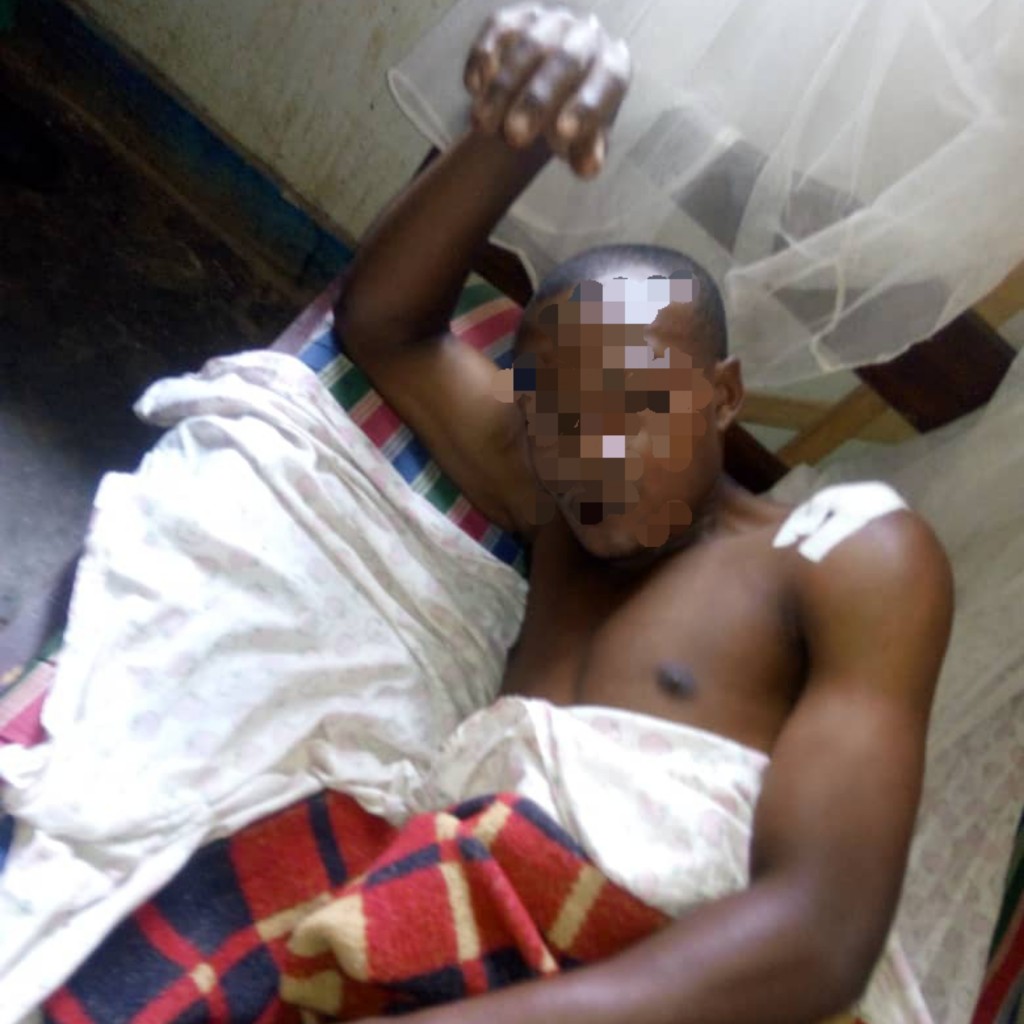 This isn't the first time such an incident is happening. In June this year, a man was shot by Rwanda military who were trying to pursue him as he ran towards the Ugandan border.
The incident occurred at Mushere Village in Nyagatare district near the Uganda – Rwanda border.
Reports state that a Rwandan man identified as Nayizimana Olivier in company of another Rwandan was carrying bananas from Uganda. The two met Rwandan Defence Forces (RDF) soldiers who tried to stop them.
The civilians refused to stop and instead dropped the bananas and ran back towards the Ugandan border. In the process, the Rwandan soldiers shot and injured one in the right arm.
Read More: Rwanda Military Shoot at Rwandans Who Were Carrying Bananas from Uganda
In May of this year, Rwandan Police officers deployed at the Ugandan border shot a male Rwandan citizen as he attempted to cross into Uganda at the Katuna border post.
The incident occurred at Rushaki B Cell, Nyinamuronzi ward in Katuna town council.
The victim, identified as Nadayimana Innocent, was shot in the right arm by officers of the Rwandan Police unit, Interforce, causing him several wounds.
In March, Rwanda "strongly" advised her nationals not to travel to Uganda. Rwandan students who study from Uganda on a daily were as well blocked from crossing for studies. Many were also stopped from attending their university graduation ceremonies in Uganda.
Read More: Rwanda Advises Nationals Against Traveling to Uganda over 'Arrests' and 'Harassment'