Singer Big Eye's performance at Freedom City on Friday ended prematurely after revelers started pelting empty plastic bottles at him on stage where he was singing.
The singer, real names Ibrahim Mayanja, was among the opening acts on Spice Diana's concert held at Freedom City.
However, when Big Eye set foot on stage, bottles began flying from the audience, which prompted security personnel to lead him off the stage. The singer initially refused to give in to the harsh response from the audience, but when it persisted, he was forced off the stage.
A defiant Big Eye kept commenting.. "I have my rights and Uganda is my country" as he was being escorted off the stage.
It's not the first time the singer is being assaulted on stage. On January 1, revelers at the NBS Uncut anniversary event at Uganda Museum hurled water bottles at Big Eye as he performed.
The singer's troubles began late last year after he began to associate himself with President Yoweri Museveni's political party – NRM. In November, the singer posted on his Facebook that he had received 30 cows from the President.
"Good morning beautiful people, kindly join me to thank Mr president H.E Yoweri Kaguta Museveni for increasing my level of income by offering me a herd of 30 cows.".
He said he would be doing music and at the same time, farming.
"Thank you Mr President may God continue blessing you with more life and favour".
However, in December towards the festive season, the singer began to express concerns that he was not being booked by promoters for music shows. He said repeatedly on his social platforms that this had to do with his political leanings towards NRM.
He said some elements were threatening  promoters against booking the singer or else the shows would be distabilized.
Big Eye later condemned Bobi Wine for keeping quiet while his fans (supporters of People Power) continue to sabotage his (Big Eye) shows.
"Mr Bobi Wine come out and tell your fans to leave me to work. Me am still a young man i still have many things to achive. Your fans have put a situation where by promoters don't give me business yet me am still an artiste who looks for money deep in every ghetto of this country and my fans miss me to," Big Eye wrote in a post on Christmas Eve.
"Me not to be booked for shows is costing me millions and millions of money. Only the festive season has sofar cost me not less than 80millionUgx. To me thats alot of money. I also need to build my own house like you and my family needs to be happy like yours. Kindly come out and tell your fans that Big Eye to support NRM/President Museveni is not a crime".
He has since made a litany of posts praising the ruling government and ranting about the violence he claims is being fueled by Bobi Wine's fans.
Recently, he announced he would march to Bobi Wine's residence in Magele, in protest of the assault on his music career. He later called this protest off.
On January 3, the singer met with President Museveni at State House Nakasero. In a video clip that he posted later, he could be seen shaking the President's hand and praising him in a song.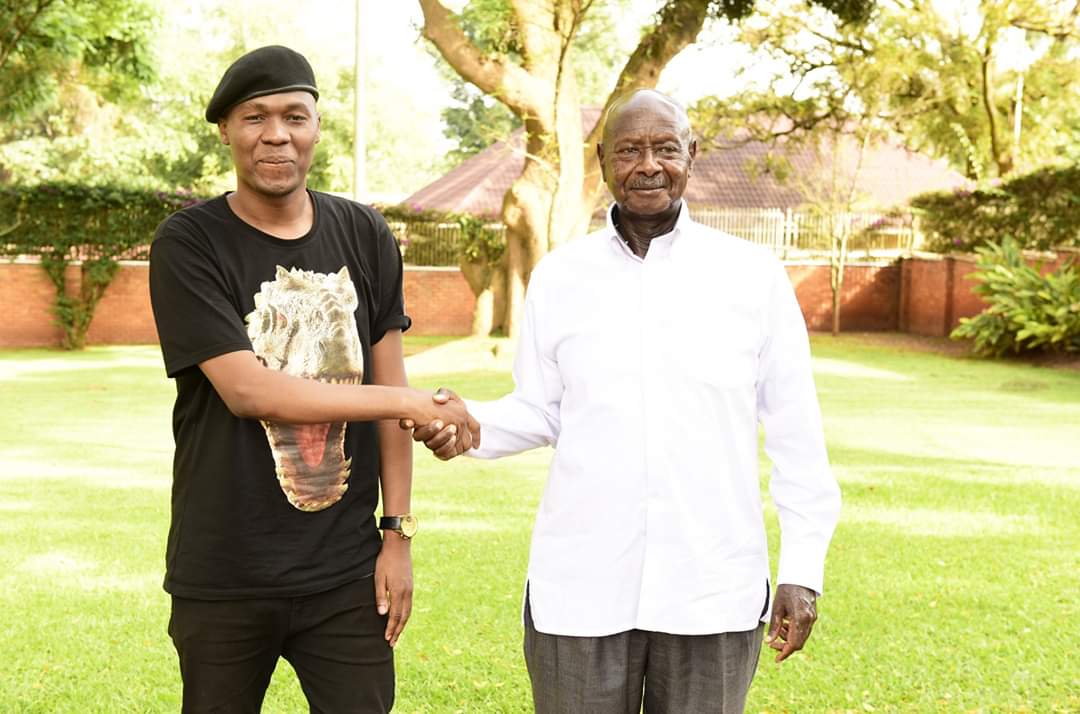 Big Eye is not the only singer who has been harassed on stage for his political affiliations. Musicians Catherine Kusasira and Bebe Cool, both supporters of Museveni have also had similar experiences on stage.
In August 2018, revelers at a concert in Lugogo forced Bebe Cool off the stage when they pelted bottles at him. He had in the previous days been condemned by a section of the public for not sympathizing with Bobi Wine when he was detained by the military and allegedly tortured.