Vivo Energy Uganda has said that while it is engaged in numerous initiatives to avert the threat posed by climate change, this cannot be enough without everyone taking on the responsibility.
The comment was made Thursday by Hans Paulsen, the Vivo Energy Executive Vice President for East and Southern Africa during a media breakfast meeting in Kampala.
Paulsen was responding to a query on how much investment the energy firm is making towards environmental conservation especially given that fossil fuels and car emissions contribute to global warming.
"There's no one magic bullet that will solve climate change. It is a responsibility for all. I could ask, how much are you doing? Are you shredding your paper, are you reducing your plastics?" he said in response.
He however cited some initiatives including the 'Tuve ku Kavera' campaign (against polythene bags), tree planting and solar energy at some of the Shell fuel stations.
He underscored the need to educate the public on the importance of engaging in activities aimed at preserving the environment.
"I don't know whether you know, but Shell was the first organization to bring unleaded fuel in Africa, starting with Kenya. We were the first before it became policy. So, that shows you that we are at the forefront. Now, we have moved into low Sulphur diesel, " he added.
He says Vivo Energy has worked to ensure that its fuels are better, cleaner, more efficient and with more combustion rates due to the chemical engineering.
"We collect the waste oil and dispose of it properly. If you want to ask me 'Are we ready for the electric car?' Were a retailer, when the day comes, you'll come and charge your car at our stations as is the case in Morocco," Paulsen added.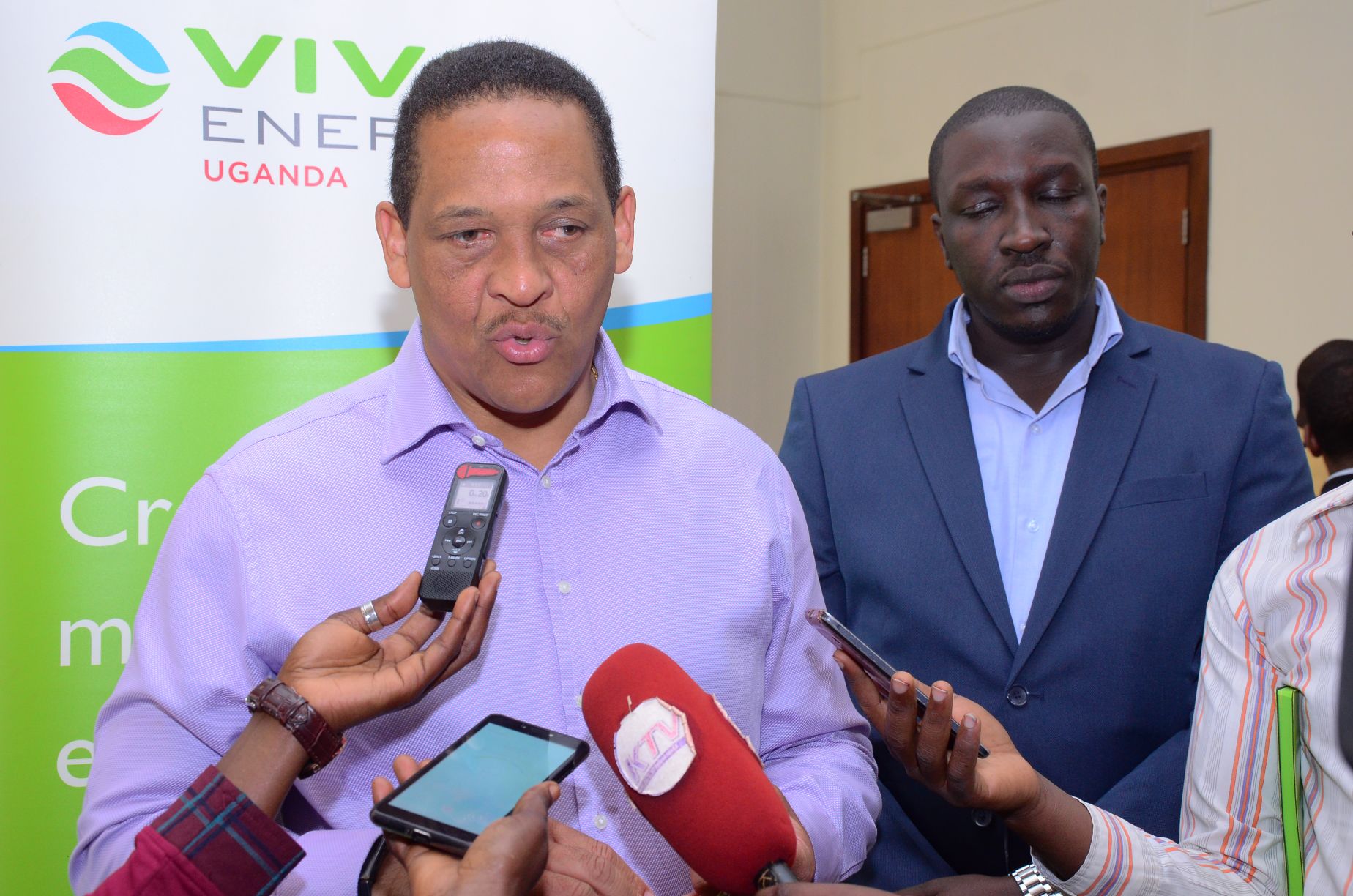 He however could not disclose how much revenue Vivo Energy is investing in environmental conservation related initiatives.
On his part, Gilbert Assi, the Managing Director for Vivo Energy Uganda, said the fact that over 90 percent of Ugandans still rely on trees (charcoal) for cooking paints a bleak picture.
He cited a 2014 survey on households in Uganda and the energy they use. The survey, he said, indicated that only 0.8 percent of the households in Uganda surveyed were using cooking gas, citing issues to do with safety and cost.
"72% are using firewood and 23% are using charcoal. This is 94% of the country cutting trees. And according to the study, if we don't change the trend, the whole country will be in a drought situation by 2051," Assi said.
"For us [Vivo Energy], climate change is a reality. We know it's happening and we know it is our responsibility as corporate citizens to contribute to fighting the climate change issue".
In his presentation, Assi touched on the company's go-green strategy, saying Vivo Energy piloted the use of solar at service stations in 2018 with implementation made on 4 stations year. More are to be added, he said.
Both Paulsen and Assi argue that getting more Ugandans to adopt Liquefied Petroleum Gas (LPG) for cooking is a viable way to reduce cutting down of trees.
Estimates by National Forestry Authority (NFA) indicate that Uganda has lost 2.4 million hectares of forest cover in the last 25 years. The same estimates project that unless this trend is reversed, there will be no single tree in Uganda by the year 2030. 
Paulsen says promoting the use of LPGs requires  the right policies, incentives and the right quality. 
He also said this will require partnerships between all stakeholders – customers, government and environmental agencies.
"One of the biggest fears is 'I will get an LPG and I will come back to my home and it's burnt'. But that won't happen if you follow the safety guidelines. And we make sure our products are safe, we also train people on how to operate them".
Vivo Energy Uganda, the company that distributes and markets Shell branded fuels and lubricants in Uganda.