In a rapidly changing policing landscape, training is a critical element in the delivery of high quality and professional services.
RNP has three major training institutions, the Rwanda National Police College in Musanze, the Police Training School in Gishali and the Counter Terrorism Training Centre in Mayange. RNP also has an integrated polytechnic.
The Department of Training has a strategy cutting across these schools that pursues a two-pronged approach- vertical and horizontal training.
Vertical training is career oriented and is compulsory for all Police officers. It includes courses in Senior Command and Staff at strategic level, Junior Command and Staff at the operational level and the tactical command course.
Other courses include Basic Training, NCOs as well as the Cadet courses. These courses prepare Officers for leadership and supervisory positions within the institution. For the past five years, 7,858 officers have undergone such training.
Horizontal training offers specialized skills in specific areas of law enforcement. Such include courses in criminal investigation, forensics, road safety, counter-terrorism, crime intelligence and analysis, VIP protection, defensive motor-vehicle operation, marine and diving, as well as Special Forces training for the last five years 5,975 Police officers have undergone such training.
The National Police College
The National Police Academy (NPA) was established in 2001, a year after the formation of the Rwanda National Police. In 2013 NPA became the National Police College (NPC).
The NPC offers Bachelor's degrees in Law; Forensic Science; Information Security; and Professional Police Studies. At another level, the NPC offers, a tactical command course, a Command and Staff course, a Police Station Commanders' course, all for Junior Police Officers.
Other courses offered include a Command and Staff course for Senior Officers drawn from across the African continent. It has so far graduated 150 senior Police officers from at least 18 African countries.
Similarly, the school offers Level 7 certificate in Strategic Leadership and Management also targeting Senior Police officers and for the past five years the NPC, has been offering a Master's degree in Peace Studies and Conflict Transformation to senior Police officers.
Police Training School
The school is located in Gishari, Rwamagana and aims to build the capacity of personnel with the appropriate skills for responding to contemporary policing challenges. It started in 1995 as a "Communal Police Training" centre.
In 2000 when the Rwanda National Police was established, it was upgraded to a Police Training School.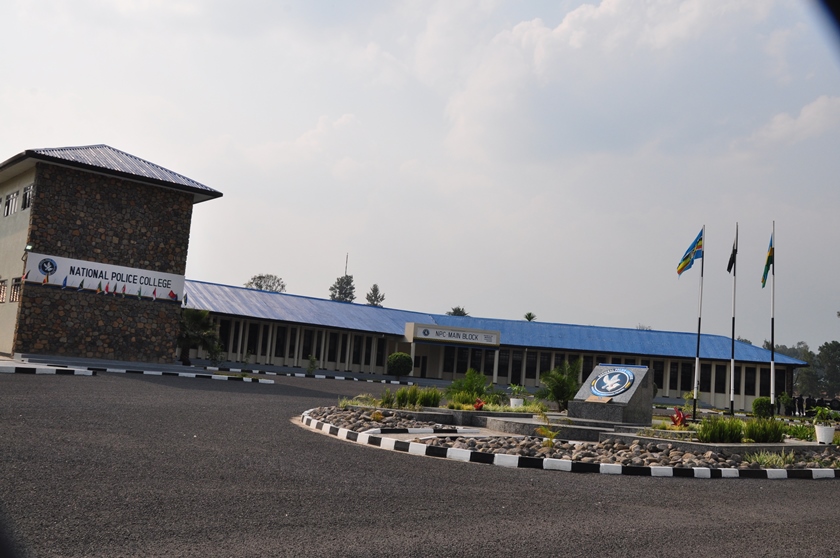 The school also offers the following courses: Non Commissioned Officers (NCOs) – 4th intake, Individual Police Officers (IPOs) – 6th intake, Driving 8th intake, Logistics – 3rd intake, District Administration Security Support (DASSO) – 3rd  intake, Storekeepers, Private Security Company – 2nd intake.
The school has partnership with local and International institutions and has trained a number of officers from 13 other countries.
Once  law enforcement personnel have been given the skills,  they  then  require the hard infrastructure to allow them  to  execute  the  tasks  as  duty calls. Over the past 17 years the Police have invested enormously in building efficient and appropriate response capabilities by establishing specialized intervention units and equipping them.
This involves having clear knowledge and understanding of the Police tasks as well as insight into the modern Police equipment in terms of quality- durability, performance efficiency, and comparative advantage with other equipment performing similar tasks.
In equipping Units, attention has been paid particularly to the Traffic department; Fire and Rescue department; the  Canine  brigade; the Police Air Wing; the Police Marine; the Special Airport  Unit; the VIP protection Force; the Police Engineering Regiment; and of course the aptly named Intervention Force that stands ready 24/7.
Rwanda National Police remains deliberate and committed to acquisition of the best and most relevant equipment for the force.
Counter Terrorism Training Center (CTTC)
In 2014, Rwanda National Police established "Counter Terrorism Training   Center – Mayange (CTTC – Mayange). The center conducts training for Police special and counter terror forces with view to meet possible asymmetrical and terrorism threats.
Other specialized courses conducted include Intelligence, Aviation Security and VIP protection. Counter Terrorism School in Mayange has greatly benefited from external partnerships and expertise and is at an exciting stage of building its own internal capacity.
Credit: Rwanda police force