Uganda Airlines will expand its route map to include the Kigali, Rwanda destination starting December this year once the national carrier has received the two remaining Bombardier CRJ 900 aircrafts.
The two aircrafts are set to be delivered mid October, according to Jeniffer Bamuturaki, the Uganda Airlines Commercial Director.
Currently, the operational routes include Nairobi, Mombasa, Juba, Mogadishu, Kilimanjaro and Dar es Salaam. The Mombasa, Kilimanjaro, Bujumbura flights are scheduled for October 11.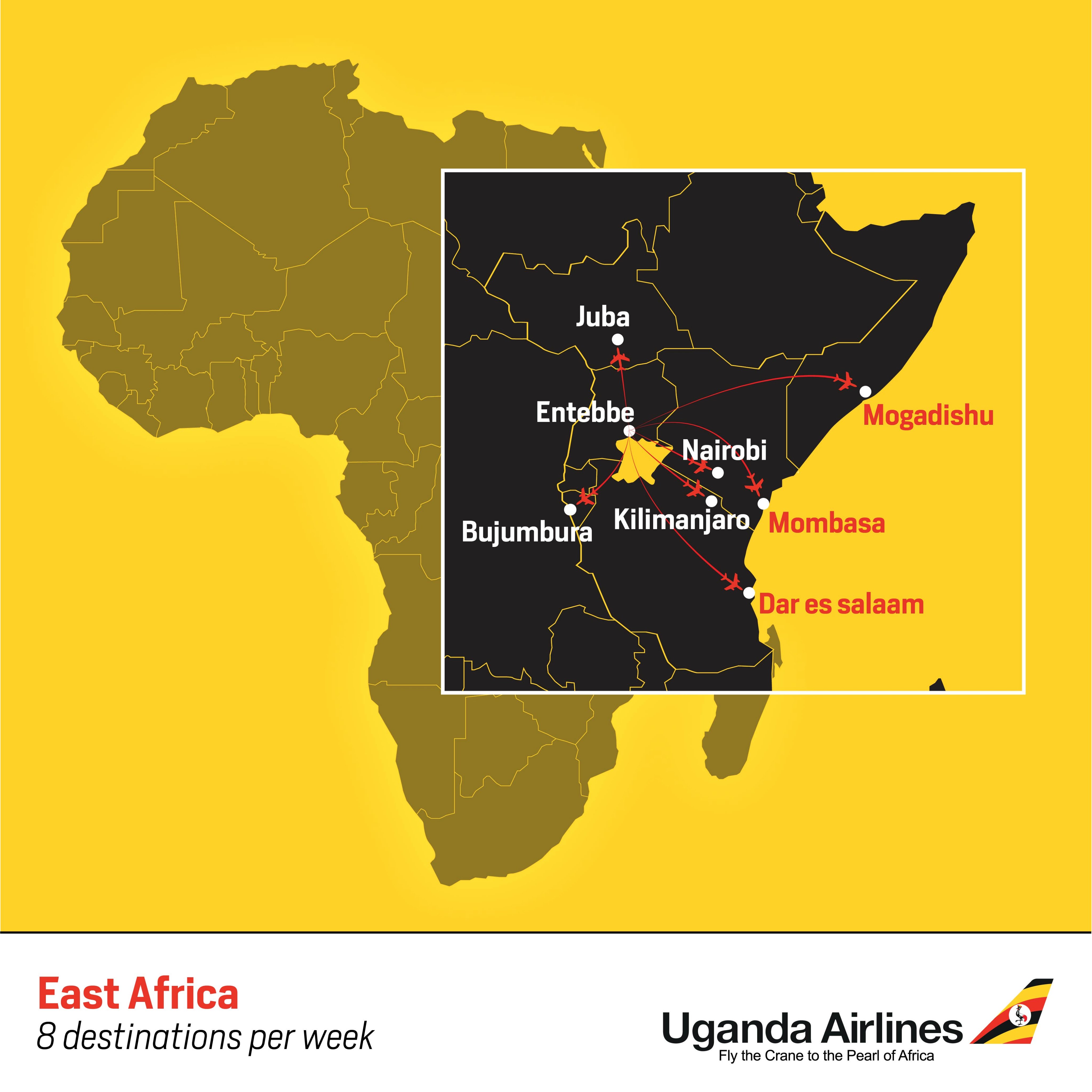 Later, on delivery of the additional fleet, the airline will also fly to Lusaka, Johannesburg, Zanzibar and Kigali. The planned schedule indicated that the carrier will be flying three times a day from Monday to Friday and twice a day every Saturday and Sunday.
SoftPower News spoke to Bamuturaki during a media breakfast organized by Uganda Airlines at Golden Tulip Hotel on when exactly the Kigali route is going online.
There has been a lot of speculation pointing to the ongoing frosty relations between the political administrations in Kampala and Kigali as the likely reason why Kigali was not included as a route when Uganda recently revived its initial schedule.
Last month, President Yoweri Museveni of Uganda and his Rwandan counterpart, Paul Kagame signed a peace pact committing that both countries will respect the sovereignty of each other and of the neighboring countries.
In February this year, Rwanda closed its main border with Uganda at Katuna and blocked cargo from crossing into its territory causing a customs crisis. Since then, there have been accusations and counter accusations between Kampala and Kigali mostly relating to security.
Nonetheless, RwandAir, the national carrier for Rwanda continues to make daily flights into Entebbe International Airport.
"When the third and the forth aircrafts come, all those other routes, including Kigali will start in December."
"I have to do a schedule starting December, but i haven't particularly scheduled which date it is scheduled."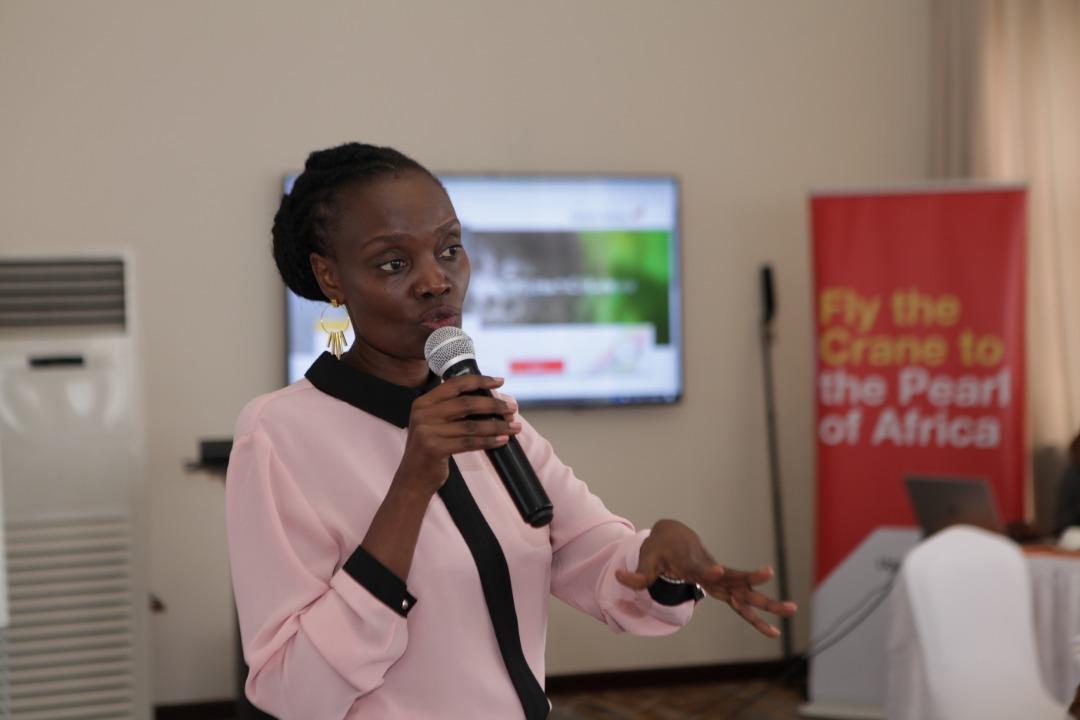 She said that drawing a schedule is based on designation, which is a mandatory procedure before an airline begins to fly into a particular destination.
In aviation, designation applies in cases where it is necessary to have a single, unique agency providing the service, and competition or selection between multiple providers is not possible.
Designation is therefore applied to Air Traffic Services (ATS) provision and can, at the discretion of States, also be applied to the provision of meteorological services.
The process of designation confers upon a service provider the sole responsibility of providing a service in a specified area of airspace. In each case, the State concerned has the legal duty to define the rights and obligations to be met by the designated service provider.
"We have requested for designation through Civil Aviation Authority, to the Ministry of Transport. They have to write to their counterparts (routes) and start the process".
It is this process that will determine which of the routes (Kigali, Lusaka, Johannesburg, Zanzibar) goes first.
On what is considered before choosing a route, Bamuturaki says the designation (loosely understood as permission from the destination) is primary. The other factors are whether or not Uganda Airlines will handle itself or opting for a sales agent.
Asked whether Rwanda and other routes are commercially viable for the airline, Bamuturaki said the airline did an analysis to establish this and that the fact that these routes are being considered implies that they are viable.
"By the time you decide to have the route mentioned among the routes you are going to do, you have already done your research. You have already agreed that its viability is worth the route starting".
Even when the two countries share gorillas as a key tourist attraction, players in Uganda's tourism sector have often said the lack of a national carrier has given Rwanda a competitive advantage since RwandAir has direct flights from major international cities into its capital Kigali. The distance between Kigali and Volcanoes national park where gorilla tracking takes place is only 110km on road.
This is against the 462km and 482km road distance from Uganda's Entebbe airport to Bwindi and Mgahinga national parks, the habitats for gorillas in Uganda. For most tourists, the factor of time and convenience in getting to a destination is a priority.
While Uganda is banking on aerodrones near these national parks to enable travelers connect easily from Entebbe, Uganda Airlines says the infrastructure is not yet suitable to accomodate their aircrafts.
On Friday, Bamuturaki said: "But we shall discuss with domestic players (chartered aircrafts) to have interlines so that we feed them with our passengers".
Uganda Airlines launched its commercial operations on August 28 with its first commercial flight to Nairobi (Kenya), two decades after the airline closed business.
On the issue of how the new player in the airspace intends to cut through the competitive sector, Bamuturaki said last month that Uganda Airlines is at an advantage and will deliver the best product.
"I don't want to speak for what the rest are going through. I will stick to my product. The type of aircraft we have is owned by us, so we don't have lease costs. That's why we can manage to have tickets that are affordable".
"Two, we have made our schedules as flexible as possible for the passenger. We don't have intermediary points. Dar es Salam we go direct, same as Mogadishu. So, people are able to save time".
She stressed that the airline will prioritize the issue of time keeping as was the case on the initial flight. The Commercial Director adds that they will ensure there is quality service.