Uganda's newly revived national carrier is prioritizing utmost standards in both product and delivery of service as one of the entry points to cut through the competition in the region, and they are not ready to compromise on it, Uganda Airlines top officials have said.
It comes amid skepticism within a section of the public that the airline might fail to soar over the other regional airlines, some of which are already struggling.
The first two aircrafts that will form the initial fleet of Uganda Airlines were delivered last month. They are Bombardier's latest CRJ model, the CRJ 900 Atmosphere Cabin which have so far only been acquired by Uganda and Delta Airlines while American Airlines has ordered 15 of them set to be delivered 2019 (Q2).
As part of the agreement between Uganda and Bombardier Inc., the manufacturer will service (maintenance) the aircrafts for a period of 9 months as Uganda Airlines builds its own capacity.
"We are not coming into the market as the underdog. We are coming into the market to compete fairly," Jenifer Bamuturaki, the Commercial Director, Uganda Airlines told reporters on Monday at the airline's offices in Entebbe.
She said the airline as required by international aviation standards set by the International Air Transport Association (IATA), Civil Aviation Authority (CAA) and others demand that every service provided – cabin crew uniform, menu, customer care and human resource – is internationally accepted. However, Bamuturaki said, this is not to negate the fact that all these services will be tailored to represent and showcase the culture of Uganda.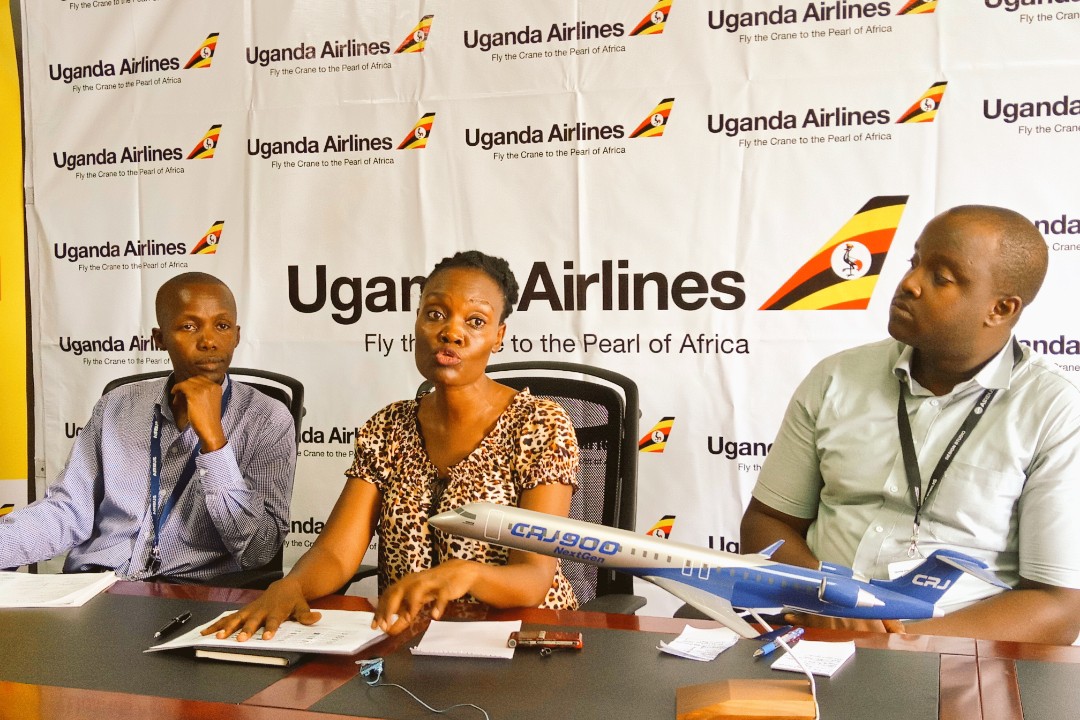 Michael Kaliisa, the Manager for Corporate Quality at Uganda Airlines says the airline has recruited only professionals with extensive experience in aviation and this is to ensure that they offer their best. Some of the staffers we interacted said that they have been employed with other airlines outside Uganda while others have been employed on domestic aircrafts.
"We want to assure the public that we've not just picked people off the streets and put them in the offices. People have come in with various levels of experience that satisfy a requirement set, to assure the people that when we operate, there will be a standard of quality that you will get," Kaliisa said.
He said the issue of adequate manpower is another aspect that will be not compromised on since international standards don't allow for a lean team. Staffing has a bearing on associated risks that could arise from safety issues to do with human error, he said.
All officials at the airline place emphasis on the fact that the 76-seater CRJs are brand new, which guarantees their operational worthiness and safety to the passenger.
"When something comes brand new, it has a certain warrant on it and it has an expected time before failure, and it gives you an additional level of safety," Kaliisa said.
With the new CRJ Atmosphere Cabin model comes comfortability with the improved leg room, overhead bins in first class that are 50% larger than the ordinary CRJ 900 (and 40% larger in business). The bins are deeper, extending over the two seats on the aircraft's right side.
It has larger entranceway, provides more "shoulder space" and includes a wheelchair-accessible lavatory with up to 90% more floor space than the previous layout. It also has translucent cabin dividers, LED lights and in-seat electric power. All these are selling points for Uganda Airlines over the other regional carriers, officials say.

The regional routes
Uganda Airlines has 90 days (from the date of delivery of the Bombardiers) to start its commercial flights. The first commercial flight can only happen upon acquisition of the Air Operator Certificate from CAA.
"Usually, when you are mapping out routes, you look at different things. One, do they (routes) have the numbers that will sustain you on the route? Secondly, who flies the route? When we have the Airbus, we shall create a hub in Entebbe, so that once the CRJs have flown to these regional routes, they come to Entebbe to feed the Airbuses," said Bamuturaki.
Some of the initial regional routes include: Nairobi, Bujumbura, Mombasa, Dar es Salaam, Juba, Khartoum, Mogadishu and Kilimanjaro.
"We looked at the traffic profiles out of Uganda to try and build our business out of that to service the Uganda market, and offer it the right type of aircraft, right frequency, and palatable pricing levels," said Cornwell Muleya, the Uganda Airlines Technical Director.
The Civil Aviation Authority statistics indicate that between 1.6m and 2m passengers transit through Entebbe International Airport annually. This traffic has been growing at a rate of 13 percent, and according to Muleya, this growth rate is expected to double in the next 10 years.
"This is enough market and this is the profitability we are targeting," said Muleya.
Part of the plan in the carrier's endeavor to get a portion of the market share will be a policy that makes it mandatory for Ugandan government officials to fly using Uganda Airlines.
"We are going to put parameters in place that we shall have them (government officials) fly with Uganda Airlines because this is what other nations like Rwanda and Kenya do. Since I'm employed by government, my first flight of choice will have to be Uganda Airlines especially on the routes that all the others (airlines) fly," Bamuturaki said.
Uganda currently has 47 bilateral air service agreements which means Uganda Airlines is allowed to fly into 47 countries, Muleya said.
Beyond the direct routes where the national airline will be flying, it will through the interline system, upon signing partnerships with other international carriers, sell its tickets to further destinations.
"If Uganda Airlines is going only to Nairobi and you are going to Japan or England, it means our ticket is able to be used on other airlines that go further. These are the processes we are carrying out during this 90-day period of certification," the Technical Director explained.
Between now and time for commercial flights
Since arrival of the two planes, the manufacturer (Bombardier) has been flying it to a number of destinations across the African continent including South Africa, Nigeria, DRC and Ghana as a way of showcasing their new CRJ 900 model, but as well as publicize Uganda Airlines.
There are several processes both internally and externally that Uganda Airlines will be occupied with until it takes to the skies with its maiden commercial passengers. Internal processes will include completion of the hiring of staff. Thus far, all Managers in the different departments have been hired, except for Finance which is done by the Ministry of Finance.
There has been what Kaliisa called "rigorous" and "thorough" skilling of the staff, some of whom were trained by Bombardier, and more of this skilling and counter assessment will continue until such a point when the personnel satisfy international standards.
"We need to get our permissions to fly to other countries which requires us to be designated by the government of Uganda. That is an important stage at which we file our timetables to all these countries and for that, we need to have finished documentation and certifications with CAA," said Muleya.
"We have to identify the routes we are going to start with since we have received two aircrafts. There is a phase in the program to contract people at all the places where we fly – people who will process our passengers and people who maintain our aircraft, people who clean the aircraft when it's there and all the services needed".
At a later point, CAA along with other authorities in the destination countries will have to assess the operation-worthiness of the airline.
Regarding the issue of local content, the officials gave reassurance that staff will be largely Ugandan. In addition, they revealed that minimum standard specifications have already been availed to several prospective Ugandan service providers. Whether food, fabric or mineral water, according to Bamuturaki, the Ugandan-ness of the product will come secondary to meeting international aviation standards.