The Second African Primatological Conference opened on Tuesday in Uganda with and researchers, scientists and other stakeholders in tourism calling for increased capacity of African primatologists in influencing global conservation agenda.
Hundreds of delegates are gathering at the Imperial Botanical Beach Hotel in Entebbe. They will use the three-day summit to discuss challenges and opportunities in primate conservation in Africa and to ensure that priority issues facing Africa's primates are pushed to the fore of the international primatological field.
Uganda's Minister for Tourism, Prof Ephraim Kamuntu said the decision to host the conference in Uganda is not accidental given that Uganda has 15 species of primates.
He said Uganda boasts of 54 percent of the world's mountain gorilla population and 5,000 chimpanzees, but was quick to add that these primates' habitat – national parks and forest reserves – is under threat.
"The habitat is threatened due to deforestation, disease outbreaks, hunting for bush meat and poaching. Sometimes, these animals get out of the forest and go into the peoples' gardens, and sometimes they (people) are revengeful.  And this is why this conference becomes important," said the Minister.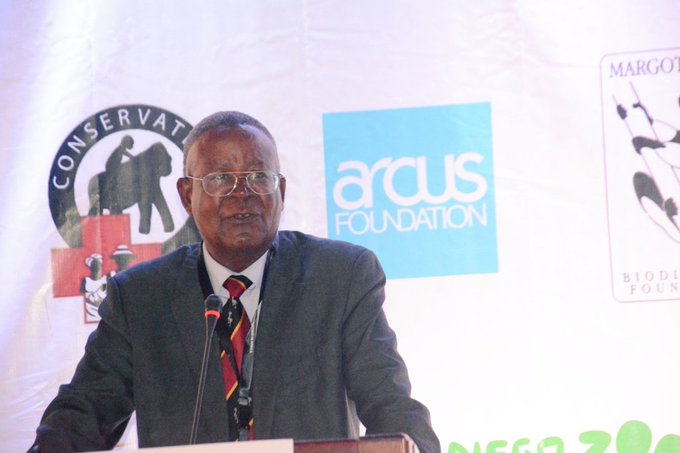 UWA has recently trained 500 rangers in addition to other interventions like trenches, bee hives, unpalatable plants like tea, electric fencing in a bid to reduce human-wildlife conflict, Kamuntu said.
The challenges notwithstanding, Kamuntu notes that Uganda's commitment to wildlife conservation is total as stipulated in the Constitution commands – protecting land, air and natural resources for the present and the future generations. Sustained security, peace and stability has also facilitated the rising population of primates in Uganda, said the Minister said.
"To demonstrate this commitment, we have set aside 14% of the total land area of the country as wildlife protected areas".
"Uganda is becoming one of the most popular eco-tourism destinations. If well managed, primate tourism has the capacity to sustain the conservation of critical biodiversity and contribute significantly to the country's GDP".
He also underscored the need to build African capacity in regards to primatology, and applauded APS for laying a significant foundation.
"It's absolutely important to build African leadership in primatology, we need to train native Africans to conduct good research and develop effective conservation programs as well as enable young and old primatologists to network and learn from each other".
Dr Inza Kone, the President of African Primatological Society (APS) says development needs must not supersede conservation, underlining the importance of natural resources.
"We are not saying we are against development. We are saying development can be compatible with wildlife conservation. We just have to think our development differently. The natural resources are key to the sustainability of any development scheme," Dr Kone told reporters on the sidelines of the conference.
He explained that 40% of the global economy relies on natural capital.
"Primates also play a huge role in maintaining this natural resource through regeneration and pollination. They disseminate seeds of many plant seeds and this role can not be compensated by any other animals".
Renowned Ugandan primatologist, Dr Gladys Kalema-Zikusoka who is Vice President of APS too says Africa needs more natives in the space of primatological research.
"We need to have more native Africans in research so we joined hands to work together to build African leadership in primate research and conservation. It's very important. When we go to other conference, there are very few Africans yet they are talking about primates in Africa. We want that to change," Dr Gladys who is Founder and CEO of Conservation Through Public Health (CTPH) said.
"We also want to influence the global agenda on primate research. Not waiting for people from other countries to tell us what to do but us taking the lead".
She says the biggest limitation to Africa's primatology society influencing decisions globally has been funds.