The government of Uganda has finally revealed that it is considering accepting about 500 Sudanese and Eritrean refugees that were forcibly deported from Israel, according to the Minister for Relief and Disaster Preparedness, Musa Ecweru.
The Minister made the revelation at a news conference that was held at the Uganda media centre on Friday.
A few months ago, the government of Israel through the Population and Immigration Authority issued the first batch of deportation notices to some 20,000 single men considered to have entered the country illegally between 2008 and 2012.
Israel offered them USD 3,500 and a plane ticket if they could pack up and leave voluntarily. If they refuse, they risk being incarcerated for an indefinite period and deported by force.
Authorities in Israel consider the vast majority of the migrants to be job seekers and says it has no legal obligation to keep them.
On their part, the migrants maintain they are refugees who have fled war and persecution in their native lands and that they have a right to seek asylum in Israel.
The move to deport these migrants was met by intense opposition from rights activists who have since been protesting the decision by Israel to deny asylum to persons facing threats and persecution from their countries of origin.
There have been several demonstrations by asylum seekers and activists at the Ugandan embassy in Tel Aviv as well as other Ugandan embassies in cities around the world, calling on Uganda to back out from the plan.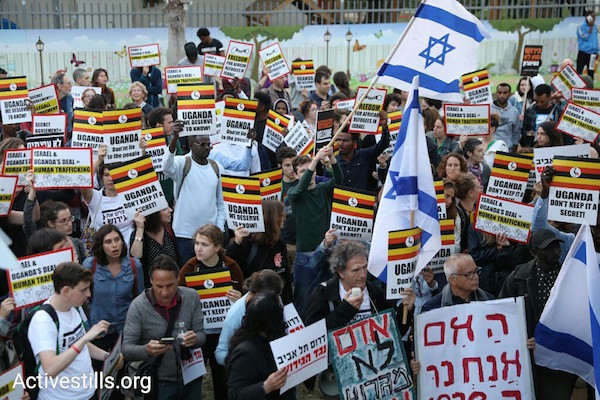 Now, Minister Ecweru says government is "positively considering" a request to allow about 500 Eritreans & Sudanese refugees to relocate to Uganda.
"In view of the above the State of Israel working with other refugees' managing organisations has requested Uganda to allow about 500 Eritreans and Sudanese refugees to relocate to Uganda," Ecwelu said in his statement.
When the reports about an 'agreement' between Israel and the government Uganda to have the deported refugees resettled here in Uganda, government denied saying there was no such arrangement.
Earlier in January, when the State Minister for Foreign Affairs Okello Oryem was asked to comment on the said agreement, he responded; "That is fake news. We don't know where that story is coming from. We don't know why it keeps coming up".
The Head of Public Diplomacy at the Ministry of Foreign Affairs, Kafero had also told this website; "There is no agreement in existence. We receive refugees on a daily. There is no need for some special agreement with Israel".
Uganda is currently grappling with over 1.4 million refugees, majority of whom are South Sudanese while the others are from Somalia, DRC, Burundi and Rwanda. This rising number of refugees has exerted pressure on the country's already scarce financial resources as well as social services which are now overwhelmed.
But Minister Ecweru insisted on Friday that the refugees will not be a problem to Uganda.
"We already have millions of refugees in Uganda from Somalia, Ethiopia so the few from Israel won't be a problem to Uganda as a third party country," he told the press.
He downplayed claims that Uganda had received payment in exchange of accepting the 500 refugees from Israel saying that it is instead Uganda that will incur costs to host these refugees.