President Yoweri Museveni has revealed that Uganda will by June this year acquire an additional 142 ventilators to better equip Intensive Care Units in the different hospitals across the country.
He said this Monday while outlining some of the steps government is undertaking to curb the spread of coronavirus but also to improve Uganda's health care system whose gaps the current pandemic has exposed.
The country for example has a capacity of 3,200 hospital beds which is not adequate for a population of 40 million.
The President said that soon, each of the hospital will have a fully equipped Intensive Care Unit (ICU), adding that procurement is ongoing.
There are 102 ventilators at Mulago national referral hospital currently while 35 others are spread across regional referral hospitals. 
Also Read: Govt's Bed Stock for Covid-19 Patients Stands at 3,650 with 300 ICU Units
"People have been talking about these ventilators. They see them on TV and worry whether Uganda has them. We do. We shall buy 142 ventilators by June. Each regional hospital will have at least 10 ventilators," Museveni said during his national address on Monday night. 
Recently, Health Minister, Dr Jane Ruth Aceng placed the total of ICU beds at 480, although a breakdown of the different figures she gave puts the total figure at about 288.
She said that Mulago national referral hospital currently has a stock of 36 adult and 27 pediatric ICU beds while the Specialized Women's Neonatal Hospital at Mulago has 35 adult beds and 30 pediatric beds.
On average, each of the 16 Regional Referral Hospitals has 10 beds, which when combined total to 160, Dr Aceng said. These exclude ICU units in private health facilities.
Intensive care units cater to patients with severe or life threatening illnesses and injuries, which require constant care, close supervision from life support equipment and medication in order to ensure normal bodily functions. They are staffed by highly trained physicians, nurses, and respiratory therapists who specialize in caring for critically ill patients.
ICUs are also distinguished from general hospital wards by a higher staff-to-patient ratio and to access to advanced medical resources and equipment that is not routinely available elsewhere.
Common equipment in an ICU includes mechanical ventilators to assist breathing through an endotracheal endotracheal tube or a tracheostomy tube and cardiac monitors for monitoring Cardiac condition.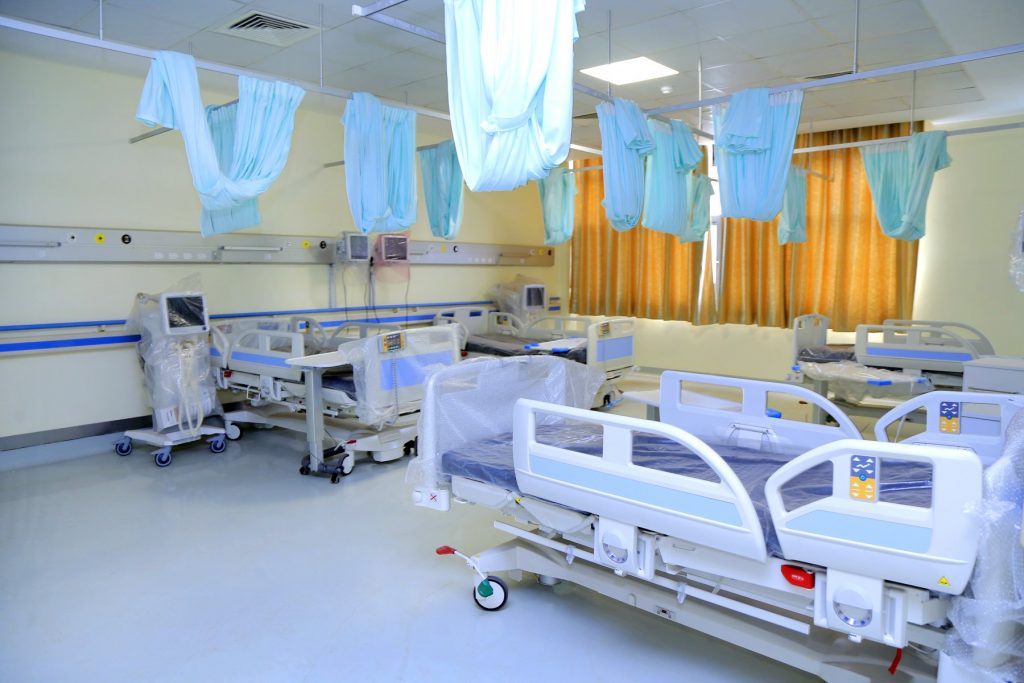 Speaking about the government strategy to contain Covid, the President praised Uganda's health workers for doing a commendable job. He said they are the best in the world, citing the low numbers of cases and the fact that no life has been lost to coronavirus disease yet.
By May 16, Uganda had tested 87,832 tests since the first case was reported on March 29. At least 227 people (including 98 Ugandans) had been confirmed to have Covid-19 as at May 16. 73% of Uganda's Covid cases are cargo truck drivers, majority of whom are foreign nationals.
Of the 87,832 people tested, 19,000 were returnees, their contacts and members of public who did voluntary tests, 52,000 were cargo truck drivers, while 16,000 were people tested during the ongoing random sampling in communities.
Out of the 166 truck drivers that have so far tested positive for Covid, 44 are Ugandan, 72 are Kenyans, 37 are Tanzanian, 3 are from Burundi, 7 from Eritrea, 1 from Rwanda, 1 from S.Sudan, and an unknown nationality who is being tracked.
Museveni said the current trend following tests so far conducted indicates that community transmission is very low. Only 9 out of the 227 confirmed cases were from the community. 
Some 63 people have already been discharged on recovery.
"I want to thank Ugandan doctors. They have done a very good job. I will give them medals when this is defeated. I'm really very proud because they are among the best in the whole world," Musevni said in his address on Monday. 
"The Bible says we shall know them by their fruits, not how they talk or dress. So, Ugandan Doctors have proved by action, not talking and boasting, but by work. That's why we haven't lost anyone yet and 63 have recovered," he added.
He said that the strategy of lockdown and the stay-home orders has saved Uganda from big numbers of sick people. 
"It has helped us minimize the infection and to have a rough idea as to where the enemy is coming from and prepare better," he said.
Museveni identified returnees, cargo drivers and the porous borders as the three key sources of the Covid problem.