A group of women who have made exceptional and positive contribution in the different fields of society have been rewarded in the first ever Women for Women Awards.
The Women 4 Women Awards is an initiative of influential women in Uganda, including Ambassadors, heads of mission, Directors and leaders seeking to promote change and make gender equality a reality for Uganda and elsewhere.
The Awards jury was headed by the French Ambassador, Stephanie Rivoal while other members included U.S Ambassador, Deborah Malac, Norwegian Ambassador, Susan Eckey, Turkish Ambassador, Seded Yavuzalp and UN Resident Coordinator, Rosa Malango.
Other members are UNDP Country Director, Almaz Gebru, IMF Resident Representative, Clara Mira, Junior Achievement Uganda CEO, Josephine Kaleebi, Resilience Africa Network Director, Eng Dorothy Okello and UMSC Secretary for Women and Youth Affairs, Radhiyyah Namakula.
A pompous, star studded and well attended awards ceremony was held on Tuesday evening at the residence of the French Ambassador in Nakasero, Kampala. It brought together nominees and other invited guests from various groupings.
Categories for the Awards included Business, Academics, Sports, Civil Society, Rights, Youth and Arts and Culture.
On top of receiving a prize and goodie, winners in the respective categories were offered trips to different countries including U.S, Turkey and France while the first and second runners up won mentorships from the different embassies.
The Winners were: Evelyne Zalwango (Business), Joy Mwesigwa (Academics), Flora Along (Civil Society), Patricia Apolot (Sports), Hildah Twongyeirwe (Art and Culture) and Sephora Uzele Mugoro (Youth).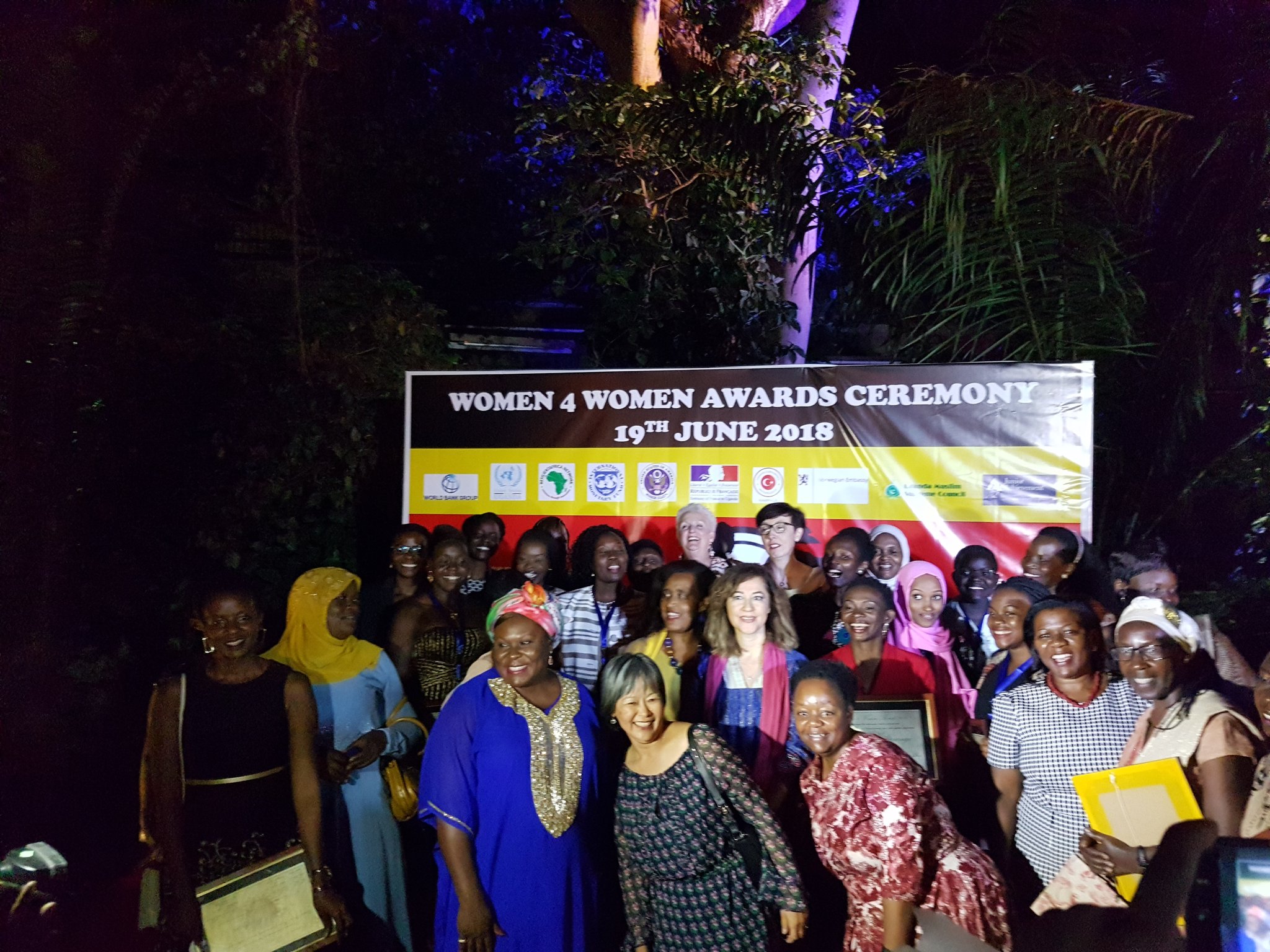 The other special category titled 'Josephine' was also formed out of the coincidental fact that the process had several applicants named Josephine. Under this category, Josephine Karungi (News Anchor, NTV), Josephine Wapakhabulo (CEO – Uganda National Oil Company), Josephine Nakafeero (Joza Creations), Josephine Kasya (District Chairperson – Kanungu) and Josephine Okui Ossiya (Chief Finance Officer, Bujagali Energy Ltd) were awarded.
Speaking to SoftPower News on the sidelines of the event, French Ambassador, H.E Stephanie Rivoal said "We are trying to build an initiative for women to help other women, building self confidence. Another woman who has already achieved something big such as being an Ambassador or Director, looking at the profile of a young lady an telling her 'I see what you are doing and it is phenomenon'".
"So, we want to give our help to groom and help these ladies if they need us and when we go, we hope Ugandan women can keep it going because it is for their own benefit," she added.
Over 100 applications were received by the Jury.
She said that while Uganda has many women of influence and power across the different fields, there is a gap when it comes to rural areas. This gap, she said is often driven by lack of education, violence, early marriage and teenage pregnancy.
"I don't think there are massive huddles for any woman who wants to get up there, because there is no sexism in Uganda, but in rural areas, they are stuck in their own room," Ambassador Rivoal told this website.
She said that awardees will receive tailored mentorship which will also open opportunities to meet other people in their line of work, building networks, skills in business and promotion of their work and giving them exposure.
We spoke to Joy Mwesigwa, the Director of Kampala School for Physically Handicapped, a school that educates, rehabilitates and equips children with physical disability for self reliance. She won the Award in the field of Academics and will get a trip to the U.S.
"It's a surprise. It's so beautiful and overwhelming, one of those things when you run short of a reaction," Joy Mwesigwa reacted when asked about the feeling of winning the Award.
"I am looking forward to meeting many other people in my field to bring back so much more that will help me improve on my work," she said.
The school which marks its 50th anniversary next year currently looks after 186 children and she said that priority is given to instilling confidence and self esteem to enable them achieve the best our of themselves.
She said that the aim is to get the school to become a model school in Uganda and that the Women for Women Awards is a great opportunity to get ideas, skills, technical support, and knowledge especially from countries that have made significant advances.
For Joy, the motivation has always been to see the lives of these disadvantaged children transformed. But she notes that for a woman, such work demands investing a lot of personal time in order to build a relationship with the children.
Winners and Runners Up
YOUTH
Sephora Uzele Mugoro (Winner)
Khaiyrun Hussein
Aisha Ali
ACADEMICS
Joy Mwesigwa (Winner)
Vanessa Atom
Nancy Kili
Nanyange Rose Mukwaya
BUSINESS
Evelyn Zalwango (Winner)
Zila Mary Arach
Aisha Nakasujja
HUMAN RIGHTS
Tina Musuya (Winner)
Peace Kyamureku
Brenda Akia
CIVIL SOCIETY
Flora Aling (Winner)
Peace Kuteesa
Whitney Achieng Okumu
SPORTS
Patricia Apolot (Winner)
Mindred Gamba
Immaculate Nalwadda Chocho
ART & CULTURE
Hilda Twongyeirwe (Winner)
Judith Adong
Teesa Bahana